Someone was asking in comments recently about whether there was much in the way of hard data out there to confirm the general impression many of us have that the Bulgarian economy is tanking. Well, by accident I came across this little detail today: retail sales down 25.7% month-on-month in January. For an economy which has been driven by a consumer borrowing and lending boom, that looks like dramatic evidence of some kind. It looks like dramatic evidence, but it isn't really so dramatic as it appears at first sight, and the first warning I would issue to anyone who wants to study the Bulgarian economy is never to believe anything you see at first sight.

The data came from a Bulgarian press source, but they evidently had no idea what they were talking about, since they confused the basics - see below - of year on year and month on month, and obviously non seasonally adjusted sales are down massively January over December, every year. Actually according to Eurostat, seasonally corrected sales were down only 0.15% month on month, and were even still up 4.79% year on year, although this is still a very large drop from the 20% rate of increase registered earlier in the year. So the basic point would seem to hold, that Bulgaria's economy is now in freefall, but I have learned something: never, ever, cite material from direct Bulgarian sources without checking.
Retail sales revenue in Bulgaria declined by 25.7% in January from the same month of last year, the National Statistical Institute (wwwo.nsi.bg) said in a statement. The slump was attributed to a sharp decrease in retail sales of larger consumer goods, although a decline is normal for the beginning of each year. A major 31.5% drop was reported in sales of vehicles and technical maintenance. Revenue generated by non-food sales went up by 3.0% year-on-year, the data showed. Revenue from food, beverages and cigarettes sales showed a minor increase of 0.5%.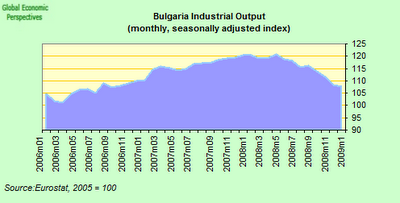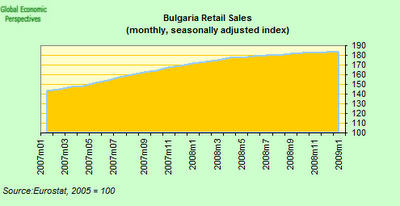 Anyway, now I have found a bit more actual more data. First off industrial output.
Bulgaria's industrial output fell by 19% in January 2009 month-on-month, after rising by a monthly 1.7% in December, preliminary data of the National Statistics Institute (NSI) showed on Tuesday. This is the fourth drop in a row, causing the index to go below the 2006 levels. The industrial output index is mainly determined by the indicators of the processing industry, which dropped by 21,4% in January, compared to December 2008. There is a 66,5% decrease in the production of metal goods, excluding machines and appliances. In the production of non-metal goods the drop is by 42,1%, and in the food processing industry by 24,8%.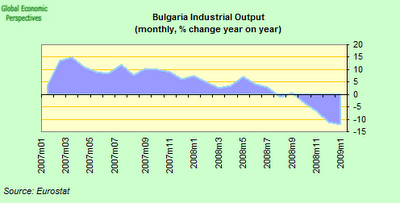 As can be seen in the chart below, the output index is now somewhere round the level of summer 2006, and falling.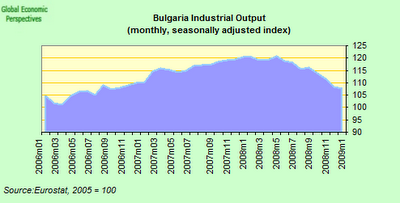 Construction is also falling, and has been slowing all through 2008.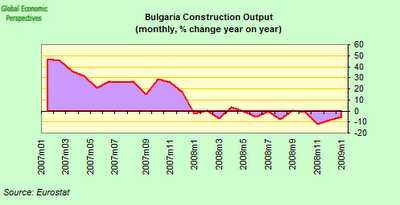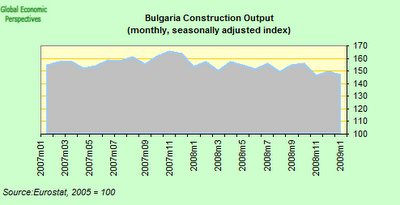 Unemployment Rising and GDP Slipping Back

Bulgaria's unemployment rate has not spiked dramatically upward yet, but it is continuing to rise, and was up for the fifth consecutive month in a row in February, with 248,000 Bulgarians registering as unemployed, up by 7,000 over January. The average jobless rate for Bulgaria is now 6.69%, up by 0.9% since September.

And while Bulgaria's gross domestic product still seems to be growing, it was at the very best a close shave in Q4 2008, since the economy grew by a preliminary 3.5% year on year, down from the 6.8% rate registered in the previous quarter. This is sharp enough to mean that the economy may actally have contracted on a seasonally adjusted quarter on quarter basis, but since the statistics office don't publish this level of data we simply don't know (that is, an educated guess would be that it did contract, but I certainly couldn't swear to the fact).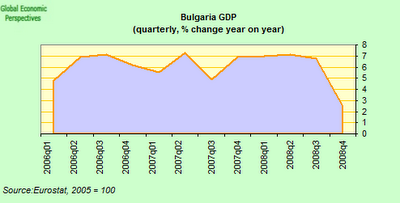 Sharp Current Account Contraction

According to the Bulgarian National Bank last week Bulgaria's current account deficit was EUR 439.7 M in January 2009, down from EUR 806.8 M in January 2008.
PM Sergey Stanishev said "the country's deficit has begun rapidly shrinking which means that the economy has unsurprisingly slowed down," Bulgarian National Radio reported.
The current and capital account deficit was EUR 288.7 M in January compared to EUR 806.2 M recorded in the previous year. And January's trade deficit was EUR 339.3 M, narrowing from EUR 607.8 million in 2008. All this is consistent with a very sharp and rapid contraction of the economy, as imports collapse and fund flows dry up, rather than any positive news on exports. Exports fell by 27.2% to EUR 811.8 billion in January, while imports dropped by 33.2% to EUR 1.1 billion.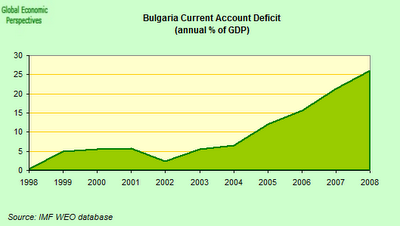 Inflation Still A Problem

Bulgarian inflation slowed again in February for the eighth consecutive month and hit 6 percent - down from the 7.1 percent registered in January, but prices are still rising far too fast for an economy which is slowing rapidly. Consumer prices gained 0.1 percent in the month.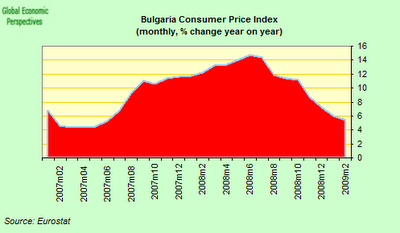 And the core index - taking out food, energy, alchohol and tobacco - has almost stopped rising but has yet to fall. So we have had a significant period of price deflation, but we have yet to see price reductions, and these of course, as in the case of the Baltics, are vital for a country operating a currency peg which has seen a substantial loss in competitiveness.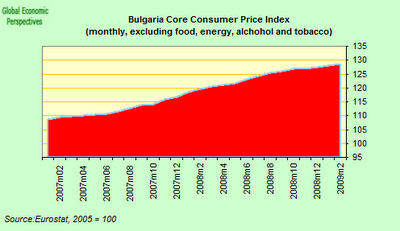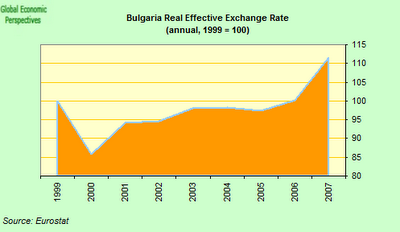 Moody's Review

The credit ratings agency Moody's this week affirmed Bulgaria's Baa3 local and foreign currency ratings, with a stable outlook, but said that Bulgaria's economy faced tough times this year.
"Bulgaria is likely to experience a difficult recession in 2009 as the economy suffers from shrinking exports and slowing inflows of foreign capital," Moody's sovereign risk group analyst Kenneth Orchard said in a statement. "Nevertheless, many years of prudent fiscal policy and low debt mean that the government is well positioned to cope with the situation."
Having averaged Budget surpluses of 2.7 per cent of gross domestic product [GDP] since 2004, the Cabinet has strengthened its financial position, but the main threat did not come from the Government debt, which was a very low 14 per cent of GDP. Moody's argued Bulgaria's most pressing problem comes from the large quantity of private sector debt that has been accumulated and needs refinancing in 2009. Short-term external debt totaled around 13 billion euro at the end of 2008, which is equivalent to 40 per cent of GDP.
Much of this debt is likely to be rolled over, but automatic re-financing can no longer be assumed in the current financial environment. The low Government debt is seen as a safety net, because it allows Bulgaria (like Latvia) to borrow funds to support the private sector and the currency board without immediately threatening the government's creditworthiness. The debt-to-GDP ratio could rise and still remain well below the EU average, according to Moody's.

And as if to prove Moody's point, Bulgaria announced during the week that it was going to borrow a further 50 million euros from the European Bank for Reconstruction and Development in 2009 than it did in 2008, in order to cope with the impact of the global financial crisis. Half of the 250 million euros total 2009 borrowing will go to local banks to spur corporate borrowing, EBRD President Thomas Mirow said. The rest will go toward energy efficiency projects, municipalities and direct lending to "sound companies".
Disclosure: None