After every announcement or news event that occurs surrounding Facebook (NASDAQ:FB), it is inevitable that comments from readers and analysts alike pop-up with the same pessimistic underlying tone.
A Comment from SA Reader Movies555
A Comment from SA Reader Rummeljordan
I certainly can't blame any investor for being wary of an internet technology company, especially if that person were around to experience the dot com bursting bubble. That being said, it's time these people realize that companies like Facebook and LinkedIn (NYSE:LNKD) are not like the internet companies of the late 90's and 2000's. It is time to put the fear mongering to bed and focus on what will eventually become a blue chip stock of the Dow. I know, bold statement right?
An Uncanny Economic Moat
While the barriers-to-entry for any internet company are practically nonexistent, Facebook exhibits (as coined by Warren Buffett) a unique economic moat which makes it the unrivaled titan of social networking. What makes this moat so uncanny is that it expands as the user base grows and as users deepen their relationship with the company.
Take, for example, a company such as Apple Inc (NASDAQ:AAPL). They've created several products that users love and remain loyal to, up to the point of even developing a "cult like" following. That being said, the company remains ever on its toes to drive innovation and outsell rival competitors, mainly Samsung. Despite having a beloved product, failure to innovate will surely lead to the company's demise.
Facebook exhibits a quite contrary situation. Users are not logging in to accounts with the hope of seeing new changes. In fact, with every refresh of the main page, users tend to be slightly more disgruntled because of the human nature to oppose change. Above all things, the Facebook moat becomes ever more impenetrable because of the complications associated with disassociating from the site. If a user truly wanted to leave the Facebook ecosystem entirely, any photos that a user wished to keep that were not their own, would needed to be downloaded individually because let's face it, how many people are printing all of their photos? If you've been a member of Facebook for even a few months, you know that it is easy for hundreds, even thousands, of photos to accrue depending on how social your lifestyle is. Imagine sorting through the photos you wished to keep, past fishing trips, birthdays, ceremonies, etc., and taking the time to right click, save as, choose the file location, rename the photo and save. I speak from experience after I tried to leave the site a year ago after feeling as though I could do without it. After just the 20th picture saved, I had had enough and was ready to accept that Facebook had just become a part of society. Choosing not to leave has been the best decision, especially after breaking a cell phone and losing all of my contacts, take a guess how I retrieved all my old contacts!
No rival networking site has the capability of overcoming not only the ecosystem of Facebook, but the human nature with regards to our laziness in transition as well as our tendency to resist change. Face it, Facebook has been accepted, and integrated smoothly, into society.
Connect with Facebook
Despite gobbling up Instagram, Facebook seems to have adopted an "If you can't beat them, join them" mentality. If Facebook comes across a company or idea they like, rather than buying them outright or developing their own imitation, they can latch on through "Facebook Connect." These "Facebook Blue" rectangles are seen all over the internet and allow users of the sites to log into other sites with the same login information, with the ease of a mouse click and granting access permissions (which many people fail to read). Take internet radio for instance, rather than compete with Pandora (NYSE:P) and Spotify, you can log in to Spotify using your Facebook profile. Pandora allows users to link the site to their Facebook account to save and share their channels on the networking site. This convenient login accessory allows Facebook to gain insight into web traffic data to better focus their targeted advertising, all while running in the background. Facebook Connect demonstrates how integrated the company has become in our lives. Consider the number of sites you connect to using Facebook, now imagine having to remove that connection and set up a user name and password for each of those sites... one more way Facebook has widened and deepened that economic moat. The Facebook login tool is utilized by pretty much all the major players on the internet. See the list below for just a handful of popular sites utilizing the feature. This is just a small sampling of the universe of companies that use Facebook Connect and this doesn't even begin to count the endless mobile apps that require Facebook login.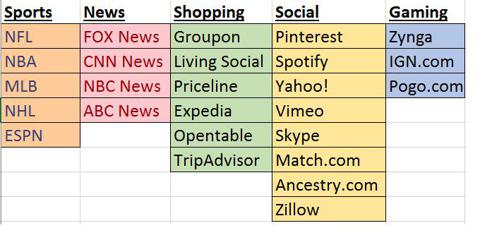 You may notice that missing from that list are several big players including: Amazon (NASDAQ:AMZN), eBay (NASDAQ:EBAY), Netflix (NASDAQ:NFLX), LinkedIn, Twitter and Google (NASDAQ:GOOG). Amazon is currently in the midst of beta testing a settings option where customers can connect their Facebook profile with their Amazon account so that Amazon can offer recommendations based on likes, suggest gift options based on friends' likes, and other possibilities. eBay allows sellers on the site to link their accounts to allow sellers to show friends on Facebook what they are selling. As for Netflix, there is already an app on Facebook that allows users to discover movies and TV shows based on their friends' likes. The app can also publish what the user has recently watched, a luxury that was only recently added due to the necessity of a bill from congress needing to be passed first.
The Facebook Competitors
With "Facebook Connect" integrating the social networking giant with major market players across various industries, who then is the competitor? The names that come to mind are the three names not implementing Facebook Connect that have been mentioned already, Google, Twitter and LinkedIn. Some might argue that Myspace should be thrown into the mix as well, so that should be addressed first to remove the surface nuisance that it is. This site is easily discounted given its checkered history, complete failure as one of the first social networking websites usually tends to do that, in fact maybe Facebook has them to thank!. If its past history weren't enough, then the time visitors spend on the website should also be an indicator. While 3 minutes per user isn't a horrible start, it pales in comparison to the 27 minutes the average user spends on Facebook. Even twitter keeps the attention of visitors for almost 9 minutes, impressive in my eyes for a website built off users rattling off 140 character sentence fragments. Finally, a big tell for the company's growth (or lack thereof) story, is the insight web analytics offer into its user base. Analytics show that about 10% of Myspace users are viewing a Facebook page immediately before coming while 11.3% of Myspace users go directly to a Facebook page following Myspace. What this seems to imply is that the rate at which users enter Myspace from is slower than the rate at which they leave for the ultimate competitor.
The next, and first real conceivable threat to Facebook would be LinkedIn. For those unfamiliar with the site, LinkedIn bills itself as a professional networking site reaching 200 million users across 200 countries. Currently, the stock has enjoyed a meteoric rise, most notably after its most recent Q4 earnings beat and showing signs for strong international growth. Since the site labels itself for professional networking, as opposed to social networking, it's clear that these two companies can coexist without trouble. Facebook did make an attempt at stealing LinkedIn's web traffic with the app BranchOut, however it has failed to raise eyebrows. One would presume that users fear having their personal accounts overlapping their professional ones, who knows what secrets might spill if that were the case, and so as long as LinkedIn and Facebook are separated by web addresses, there will always be a convenient firewall.
The second of the "real" threats to Facebook's business is the privately-held Twitter. Many people, casual readers and analysts alike, have claimed that Twitter is the new Facebook among both the younger and older crowd. One writer, Ellis Hamburger of The Verge, claims that his teenage cousin is quoted as saying:
"I find it boring, and I don't really care about knowing all my friends' details anymore."
This claim, that the younger generation prefers the 140 character lifestyle of Twitter over the more "full profile" driven Facebook, is what I would consider a maturity issue that will wane as kids such as Ellis' cousin grow up. Sure, while in high school and college these kids don't need all the benefits of Facebook, but once friends and acquaintances begin to go their separate ways, Facebook plays an essential role in staying connected. Consider the benefits of Facebook over Twitter. An unlimited amount of storage for photo albums and videos all organized in a central location under the Facebook account versus unlimited storage but completely random storage, only accessible by sifting through past tweeting history. Facebook also offers more than just a way to save contacts, but also reminders for birthdays and anniversaries, and allowing users to set up pages for events. Twitter offers users 140 characters to get a message through. It's not exactly like comparing apples-to-apples. What it boils down to is that Facebook is focused on building and deepening a networking site versus while Twitter maintains its core objective as being the one-stop website for real-time information networking. Just as with LinkedIn, there is no reason these two companies cannot coexist. This is certainly not the case with the third and final combatant of social networking.
Google is the head-to-head threat that truly competes with the core business model of Facebook. The physically imposing search giant launched its response to Facebook, Google+ in 2011. By December of 2012, the networking arm of the search giant claimed over 500 million users. It took Facebook until 2010, 6 years from startup, to reach this milestone number.
While this might seem like astronomical growth, it is important to realize that by January of 2012, anyone signing up for a Gmail account was automatically enrolled in Google+. Thus, while the 500 million users may seem like astronomical growth, in a sample of 81 profiles, only 19 users had actually uploaded photos. While being a small sample, it underscores the misleading numbers that Google reports as Google+ users. To add to the already clouded data by the Google+ subscription forced upon Gmail subscribers, Google has further required android users to register with Google+ in order to fully utilize the functions of the android phones, similar to the way iPhones require Apple I.D.'s for iTunes. So while Google+ may have the same great benefits as Facebook, it was late to the game by about 7 years.
Another sign of the strength of Facebook over Google+, the number of users "liking" or "+1-ing" each developers social network. Google+ has 1.9 million members who have +1'ed the social network. Facebook has had its own Facebook page "liked" 89 million times. While not necessarily being statistically significant, it can act as a sign of the more devoted user base.
Facebook Growth Potential?
While it is clear to see that Facebook can coexist with Twitter and LinkedIn, and equally clear that Google+ amounts to little more than a minor threat, what isn't apparent is the company's growth perspectives. With over 1 billion users, it can be argued that member growth will be capped and revenue growth will rely entirely on targeted advertising and product innovation. Taking a deeper look at the user statistics by country we can see that the years of significant growth opportunity may be numbered. As of December 2012, Facebook had penetrated approximately 48.4% of the internet accessible community within Europe compared to 67.7% within the United States. Even if penetration rates in Europe reach that of the United States, Facebook would only see another 100 million users, representing an approximate 10% growth to its current user base.
If member growth won't be driving revenue growth, then product development will need to take the reins. Executives at the company seem to have paid recognition to the fact that adding members will no longer be what grows the bottom line and the company has explored alternative revenue initiatives. Such initiatives include Facebook Exchange, Facebook credits, Facebook Gifts, sponsored stories, and sponsored search.
A Better, More Efficient Way To Advertise
First there is Facebook Exchange, the real time bidding marketplace for advertisers to purchase advertisement. It might sound like the same old run-of-the-mill advertising campaign, but Facebook Exchange is different and when you fully understand it, you love it. The process is outlined next:
1. Users visit websites of companies participating in Facebook Exchange.
2. A cookie is dropped into the user's computer after visiting the site, usually after showing purchasing intent.
3. If the user fails to make a purchase or the company wishes to advertise more to that user, they contact Facebook with an anonymous code for that user.
4. The advertiser loads their own advertisements they may want the user to see.
5. When the user visits Facebook, it recognizes the cookie and contacts the company to let them know the present opportunity to advertise to the user.
6. The company then uses real time bidding to bid for the advertising space. Since every company partnering with Facebook Exchange can drop a cookie, there may be multiple companies wishing to bid on the advertising space.
7. The winning bidder gets their advertisement shown. Furthermore, if the user doesn't want to see advertisements such as that one they can "X" out the advertisement on Facebook and that data is sent back to the company, further enhancing the ability to target its audience members properly.
For more on Facebook Exchange, you can see the same process outlined here. The optimized targeting advertising has proven successful for Facebook, over the past year click through rates increased 20%, cost per clicks increased 26% and costs per thousand impressions increased 51%.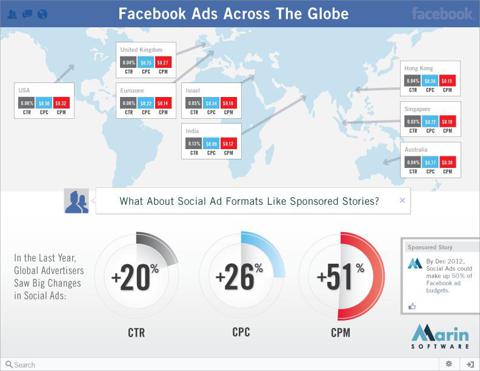 (Obtained from Marketing Insights)
Tangible Sales
Facebook Gifts and Facebook Credits both allow the company to reach in to the retail potential for the site. Facebook earns 30% off of Facebook credits purchased for games such as Zynga's (NASDAQ:ZNGA) Cityville 2, The Sims Social, and World Poker Club just to name a few. While this helps to diversify the company's revenue stream, currently virtual goods only account for approximately 15.1% of the company's revenue. Facebook Gifts have been around since the beginning, but only recently have the gifts become tangible things such as flowers, gift cards, candy and even wine. This area of revenue generated less than 1% of all revenues for 2012, but is expected to grow as users realize the convenience. Typical margins on gift cards sales for iTunes, Starbucks (NASDAQ:SBUX) and other gift cards typically range between 13 and 18%, not a bad stream of revenue given that the audience is already established.
As has been previously stated, Facebook's methods of advertising has been a game changer. No longer are advertisements just rectangular annoyances on the top and side of web pages. Thanks to the rejuvenated news feed, sponsored stories will be highlighted even more and mixed amongst the videos and photo albums of friends rather than being the eye sores of past advertising.
Facebook also recently implemented Sponsored Search. When using the search box at the top of the Facebook page, users searching will find recommended, and sponsored for a fee, pages, apps, and games. Just one more way that the company has found to advertise inconspicuously and not irritate and alienate users.
The Future of Facebook Stock
EPS for FY 2012 for Facebook came in at $0.02, a significant decrease from 2011's EPS of 0.49, both on an undiluted basis. Growth didn't suddenly stop, quite the contrary revenues grew 37.1% year-over-year, however, the company made significant expenditures in R&D and had significant increases in general administrative expenses. Moving forward into 2013, I believe Facebook will lighten up on the R&D spending to allow for current changes to go into effect.
With many arguing that a recession could only be one poor economic policy away, business will be ever fervent in making sure their advertising dollars are used the most efficiently. Businesses recognize the improvements in both PC and mobile advertising and are allocating resources to reflect such attitudes. It is projected that 15% of all advertising spending will be on online advertisements, with Digiday estimating that the total social media advertising budget will surpass $4 billion. A recent survey indicated that 64% of companies will increase their online advertising expenditures versus only 2% saying they will decrease that budget.
Earnings estimates for the first quarter of 2013 from 32 analysts have the company earning $0.13 per share. Those estimates range from a low estimate of $0.10 and a high of $0.16. Seeing the company's aggressive push towards new revenue initiatives has me convinced that the company can meet and exceed the high-end estimates. Over the next month or two, I'll be keeping an eye on the news stream to see if Facebook begins to place more emphasis on its social commerce revenue stream. While only amounting to a sliver of overall revenue for the current year, it will be interesting to see if Facebook executives can prop this unit up to boost sales and further diversify revenues.
With what I anticipate being a strong quarter, and year overall, for Facebook, I see next quarter's earnings coming in ahead of expectations at $0.15/share and $0.64 for the full year. With growth initiatives hitting their stride over the next year-and-a-half, I estimate earnings growth to be 30% over the next three years, driven by continued improvement in CPM, the company's growth in social commerce, and increased spending for online advertisements across all industries. With all this taken into consideration, I find my 1-year price target for Facebook to be $42/share. You can find my thorough analysis here with much thanks to the preset excel sheet from wikiwealth.
Disclosure: I am long FB, AAPL, ZNGA. I wrote this article myself, and it expresses my own opinions. I am not receiving compensation for it (other than from Seeking Alpha). I have no business relationship with any company whose stock is mentioned in this article.