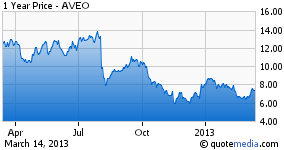 Tivozanib is an oral inhibitor of vascular endothelial growth factor (VEGF), and inhibits all three VEGF receptors. AVEO Pharmaceuticals (NASDAQ:AVEO) submitted an NDA in September 2012, based on results of the global Phase III TIVO-1 trial, a randomized superiority-designed pivotal trial evaluating the efficacy and safety of tivozanib compared to sorafenib (Nexavar®) in 517 patients with advanced renal cell carcinoma ((RCC)) who had no prior treatment with a systemic therapy, as well as data from 17 clinical studies involving over 1,000 subjects who received tivozanib.
The primary endpoint for the Phase III trial was progression free survival or PFS. Improvement in PFS determined by investigators was 5.1 months (14.7 vs. 9.6), while an independent assessment showed only 2.8 months (11.9 vs. 9.1, p = 0.042). This difference between unblinded (investigator) and presumably blinded (independent) evaluation of PFS demonstrates one of its weaknesses as an endpoint. There are other issues, such as PFS duration depending on the time intervals between assessments. However, perhaps most important, it is unclear whether PFS provides patient benefit. Indeed, it may provide solace to the oncologist who may believe s/he is providing effective treatment without the treatment providing benefit in overall survival or quality of life to the patient. A meta-analysis of agents targeting VEGF and mTOR pathways in RCC concluded that they improve PFS but that "no placebo-controlled trial has reported a health-related quality of life benefit."
In TIVO-1, a secondary endpoint was overall survival at 24 months. As best as can be determined from the published abstract discussing OS, the protocol-specified, final OS sweep included a total of 219 deaths (42% of patients), 118 deaths (45.4%) on the tivozanib arm and 101 deaths (39.3%) on the sorafenib arm. A trend toward longer OS was observed in the sorafenib arm compared with the tivozanib arm (median OS in the tivozanib arm was 28.8 months vs. 29.3 months in the sorafenib arm; HR=1.25, P=0.105). Given such a trend, it is interesting to then look at OS results from the Phase III data of sorafenib versus placebo. In a publication of the Phase III data it is stated "The final OS of patients receiving sorafenib was comparable with that of patients receiving placebo (17.8 v 15.2 months, respectively; hazard ratio [HR] = 0.88; P = .146)." While formal conclusions cannot be drawn about the differences in OS between tivozanib and placebo, by implying a transitive relation between these two studies, such data are certainly disquieting and do not support the effectiveness of tivozanib.
AVEO argues that The OS comparison between study arms was confounded by differential use of next-line cancer therapies. "In the TIVO-1 study, 53% of all patients randomized to the Nexavar arm of the study went on to receive a subsequent cancer therapy after their disease progressed, nearly all of whom received tivozanib after Nexavar. In comparison, only 17% of all patients randomized to tivozanib went on to receive a subsequent therapy." But such an argument is circular, for it presupposes that tivozanib is effective. In this context it is illustrative to review the rescindment of the approval of bevacizumab for the treatment of breast cancer by the FDA in 2011. Bevacizumab was approved in 2007 on the basis of a statistically significant improvement in PFS of bevacizumab plus paclitaxel versus paclitaxel alone. However, additional studies did not substantiate an improvement in PFS or OS, and raised safety issues. The same argument was made that PFS was preferable to OS because in the case of OS treatment effects could be confounded by the addition of other drugs after progression began. The FDA's view was that this dynamic was not supported by the literature.
Just a brief word on the safety of tivozanib. In TIVO-1, diarrhea, palmar-plantar erythrodysesthesia and alopecia were more frequent in the sorafenib treated patients (p<0.05) and hypertension, dysphonia and back pain were more common in the tivozanib treated patients (p<0.05). Hence, the safety profile of tivozanib may, all other things being equal, make it preferable to sorafinib to certain patients or in certain patient populations and vice-versa.
Finally, if approved tivozanib will compete in a crowded market. As of 2012, there were seven targeted therapies approved for RCC. Thus, there is not a pressing medical need for another targeted therapy for the treatment of RCC. It is difficult to predict the outcome of the Advisory Committee scheduled to meet on May 2, 2013. However, given the relatively weak data supporting efficacy, it would appear unlikely that the Advisory Committee would support use of tivozanib as first line treatment for RCC. It is more likely that, if there is support for approval, it will be for use in second or third line.
Disclosure: I have no positions in any stocks mentioned, and no plans to initiate any positions within the next 72 hours. I wrote this article myself, and it expresses my own opinions. I am not receiving compensation for it (other than from Seeking Alpha). I have no business relationship with any company whose stock is mentioned in this article.