TheStreet.com (TSCM) announced layoffs after announcing that their long time CEO Thomas Clarke was leaving the company.
TCSM is one of the 20 or so companies we have had M&A talks with over the years. Our brief discussions with TheStreet.com date back to May 2007. I never met with Mr. Clarke, but rather, some of his lieutenants.
Trading for Less Than Cash
Today, TheStreet.com sports a market cap of $62M, but, they have $72M in cash! For all intents and purposes, the company broke even in full year 2008, though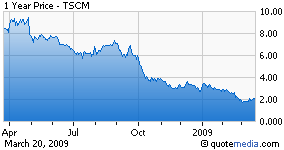 they seemed to have dipped into the red in Q4 2008, with about $2M in losses.
But would that explain trading for less than cash?
Debt, you ask? Nope, no debt.
So, what gives?
The F Word: Finance
You'd almost think that they were being traded as a financial company instead of what they are: a media company focused on the financial industry. To quote Chris Rock: is that a crime?
Anyway, when I met them, I did not initially see obvious fits (even though I emailed them first, it was to ask why they did not buy Wallstrip, who sold to CBS (NYSE:CBS) instead), but once we chatted about passing on WallStrip (which CBS bought for $4M but has since ceased producing), I thought that TheStreet.com could acquire us to:
diversify into lifestyle content, and
bolster their video capabilities.
Personally, I was interested in moving some of the operations of our company to NYC, but the diversification away from both finance and text was wise. And… having Jim Cramer as your boss? Priceless…
Cramer and TheStreet.com are obviously not newbies when it comes to video content but to put their advertising business on turbo, it wasn't enough, neither in scope nor in breadth (to be clear: this is not a knock against the videos they produce, but a comment on their need for more content and to focus on other topics).
Golden Rule of Finance: Diversify
The diversification card was wise, and in hindsight, a missed opportunity for TheStreet.com. I'd done / seen it once: my old company AskMen was a publisher of men's lifestyle text content, and it got acquired by IGN who was strong in video games but weak in lifestyle. They did a bunch of acquisitions and sold to News Corp. (NASDAQ:NWS) for $650M. In a crazy way, I could see TheStreet.com growing rapidly and selling for something in the same ballpark range, if not more, especially with both NBC and News Corp. ramping up financial news.
While we never signed an NDA, out of principle I will leave out some of the more private details out of courtesy, but some general, public points and observations:
- At the time, TheStreet.com was an interesting case study in a company that could go either way. The stock was trading at about $11/share (the hand marks the week I was in their office). Today it's flirting with $2.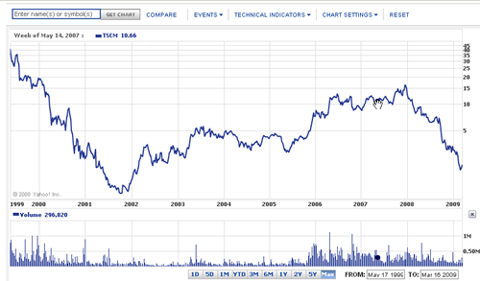 Click to enlarge
How much of that is systematic and how much is unique? Let's see.
- They had a decent sized subscription business at a time when everyone was looking to shore up their advertising business.
- Despite fairly strong revenues and a huge cash hoard, they did not benefit from the multiples of advertising based companies during the run-up of the stock market of this decade.
- They had a market cap north of $250M with $50M in cash, for an enterprise value of $200M.
- They then tried to get into advertising and non-subscription revenue streams (they acquired Promotions.com) but they never diversified away from financials quickly enough.
- By 2008, when the financial sector imploded, their exposure to the segment was too high and I guess this is reflected in the stock price now. Admittedly, all of the media companies have seen their market caps get decimated.
If TheStreet.com had more exposure to advertising, it would not have guaranteed success, of course, given their focus on financials and the nature of this slowdown: while financial sites' traffic rises when markets are both extremely good or bad (or when a scandal like Bernie Madoff hits), it's hard to convert the traffic in bad times, because
a) investors trade less and revenue share programs with online brokers dries up, and
b) financial advertisers themselves were losing money by the truckloads, so they could not advertise.
But what really exacerbates matters, I think, is precisely the reliance on subscriptions and their focus on finance. Since the market took a nosedive, fewer users feel the need to maintain subscriptions because stocks are headed for the toilet and expert analysts look like novices themselves.
Ultimately, talks never progressed to talk about price and integration, but I think this is a classic textbook example of why diversification matters. People always asked me why WatchMojo.com publishes content across automotive, business, health, fashion, travel, entertainment, etc., and I told them it was all about diversification and strength in numbers…
It's kind of ironic that a media company that focused on finance overlooked the golden rule of investing: to hedge yourself.
Ultimately though, with its balance sheet and income statement, the stock kind of seems attractive, but don't take this advice and opinion as anything other than entertainment, because the current market continues to have difficulty going anywhere but down.