Avago Technologies (NASDAQ:AVGO) is a smartphone supplier I first profiled in early January when it was trading at $32 a share. The stock is up some 15% since then. However, it looks poised to move higher and still sports a reasonable valuation, an increasing dividend, and good growth prospects.
Here are some recent positives for Avago:
The company just announced a 11.7% dividend hike to 19 cents a share up from 17 cents a share.
In late February, the company provided quarterly earnings of 65 cents a share, five cents above consensus estimates.
The stock has been in a strong pattern since bottoming near longer-term technical support late last year. It also recently crossed its 200-day moving average (see chart).
Click to enlarge image.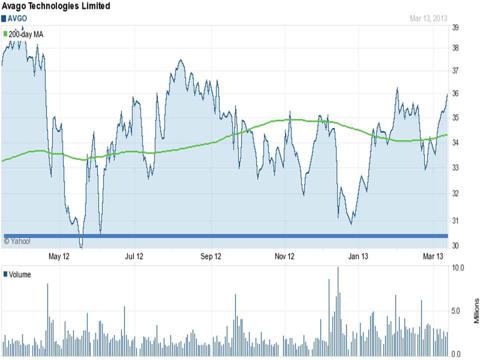 Avago Technologies engages in the design, development, and supply of analog semiconductor devices with a focus on III-V-based products. Its product portfolio is comprised of RF amplifiers, RF filters, RF front-end modules, and other communication products.
Here are four reasons why AVGO is a solid value at under $37 a share:
The company supplies Apple (NASDAQ:AAPL), Samsung (OTC:SSNLF), and even BlackBerry (NASDAQ:BBRY) in the smartphone space. Regardless of who ends up gaining market share in this sector, Avago will be supplying products to them.
The company has a pristine balance sheet with no net debt and over $1 billion in net cash on the books. It also now yields 2.1% with this latest dividend raise.
After showing slight positive growth in revenues this fiscal year, analysts expect the company to resume double-digit sales growth in FY 2014. The median price target by the 19 analysts who cover the stock is $42. Credit Suisse has an "outperform" rating on the stock as well.
The company has now beat earnings estimates for four straight quarters and sells at a reasonable 13x 2014's projected earnings.
Disclosure: I am long AVGO. I wrote this article myself, and it expresses my own opinions. I am not receiving compensation for it (other than from Seeking Alpha). I have no business relationship with any company whose stock is mentioned in this article.