Oracle Corporation (NASDAQ:ORCL) is a provider of enterprise software and computer hardware products and services, including databases, middleware and applications. ORCL has spent $38B on acquisitions since 2005 and an active acquisition program contributes to the fundamental component of Oracle's overall strategy.
On March 13, 2013, Oracle announced its acquisition of Nimbula, a provider of private cloud infrastructure management software. As quoted, "Nimbula's technology helps companies manage infrastructure resources to deliver service, quality and availability, as well as workloads in private and hybrid cloud environments. Nimbula's product is complementary to Oracle, and is expected to be integrated with Oracle's cloud offerings. The transaction is expected to close in the first half of 2013." According to Jim Xavier from Silicon Valley Business Journal, Nimbula could help Oracle shore up a major weakness in its product portfolio. As quoted,
"Nimbula reportedly has a very solid software, and it's got some big customers, notably Yandex, the Russian internet firm that is sometimes called the Google of Russia."
On March 13, 2013, Canaccord Genuity upgraded ORCL from hold to buy with a price target of $42.00 (from $35.00). Analyst Richard Davis said the firm is set up well to gain 20% this year. He expects Oracle deliver 9 to 11 percent EPS growth this year and thinks its multiple relative to peers IBM (NYSE:IBM) and SAP AG (NYSE:SAP) can expand given its current 10 to 25 percent discount valuation.
Analysts currently have a mean target price of $37.73 and a median target price of $38.00 for ORCL. Analysts are estimating an EPS of $0.66 with revenue of $9.39B for the current quarter ending in February, 2013. For 2013, analysts are projecting an EPS of $2.71 with revenue of $38.24B, which is 2.70% higher than 2012.
On March 7, 2013, Oracle announced the latest evolution in Oracle's strategy of socially enabling the enterprise, Oracle Social Relationship Management (SRM). SRM is the industry's first unified, end-to-end social management solution for the enterprise. Oracle SRM unifies social marketing and social engagement & monitoring, delivering a complete, integrated and enterprise-ready social business solution. The current social landscape is very unorganized with hundreds of social products, which are driving significant change across enterprise. Enterprises need to rethink, restructure, and leverage social products efficiently to adapt and drive more sales growth.
There are a few positive factors for ORCL:
Higher revenue growth (3 year average) of 16.9 (vs. the industry average of 8.2)
Higher operating margin of 38.3% and net margin of 28.4% (vs. the industry average of 36.6% and 28.3%)
Lower P/E of 16.8 (vs. the industry average of 26.0)
Lower Forward P/E of 12.0 (vs. the S&P 500's average of 13.9)
ORCL generates an operating cash flow of $13.53B with a levered free cash flow of $11.55B
ORCL currently offers an annual dividend yield of 0.67%
Technical Analysis
ORCL was up 0.41% and closed at $35.58 on March 13, 2013. ORCL had been trading in the range of $25.33-$36.31 in the past 52 weeks. ORCL has a market cap of $168.42B with a beta of 1.08. The MACD (12, 26, 9) indicator is showing a bullish trend. The momentum indicator, RSI (14), is indicating a slightly bullish lean at 55.62. ORCL is currently trading above its 50-day MA of $34.98 and 200-day MA of $31.57, as seen from the chart below.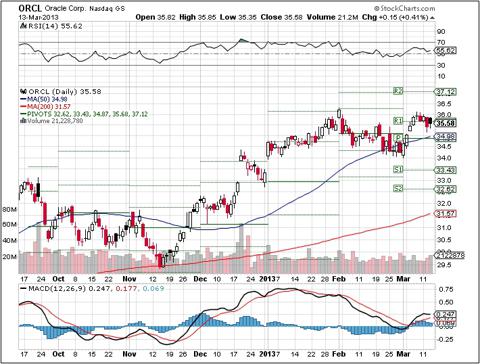 Source: StockCharts.com
How to Invest
With strong cash flow and steady revenue growth, ORCL remains a great holding at current valuation (Forward P/E of 12). For bullish investors, a credit put spread of May 18, 2013 $32/$34 put can be reviewed, which will allow investors to gain some upside credit premium or to acquire ORCL stock at a price below $34. Investors can also review the following ETFs to gain exposure to ORCL:
Dow Jones U.S. Technology Index Fund (NYSEARCA:IYW), 5.56% weighting
QQQ (NASDAQ:QQQ), 5.09% weighting
Technology Select Sector SPDR (NYSEARCA:XLK), 4.68% weighting
Note: All prices are quoted from the closing of March 13, 2013. Investors and traders are recommended to do their own due diligence and research before making any trading/investing decisions.
Disclosure: I have no positions in any stocks mentioned, but may initiate a long position in ORCL over the next 72 hours. I wrote this article myself, and it expresses my own opinions. I am not receiving compensation for it (other than from Seeking Alpha). I have no business relationship with any company whose stock is mentioned in this article.