Investors and traders love turnaround stories. Today we are going to look at a stock that has faltered over the last two years but has turned the corner now and is profitable again. It also trades at a large discount to the valuation in its sector. Dynatronics Corp (NASDAQ:DYNT) designs, manufactures, distributes, and markets physical medicine and aesthetic products in the United States and Canada. The company''s physical medicine application products include electrotherapy, therapeutic ultrasound, light therapy, thermal and oscillation therapy. Since 2011, when DYNT last traded at $10.70, the stock has been in a downward move. This small company with a low float is now profitable and should look to move back to this previous price range thanks to the success of their new product line SolarisPlus.
On December 19th the company announced a 1 for 5 reverse split of its stock price to maintain its listing. Recently there have been some very large moves in stocks that have had recent reverse splits. Yesterday Superconductor Technologies Inc. (NASDAQ:SCON) saw its stock price increase over 50%. Today ARCA Biopharma, Inc. (NASDAQ:ABIO) gained 30%. After its recent reverse split, DYNT now only has 1.64m shares in its float and a market cap of only $6m. Unlike the other reverse split runners DYNT is PROFITABLE.
Fundamentals:
Net income for the quarter ended December 31, 2012, tripled to $140,983 ($.06 per common share), compared to $46,334 ($.02 per common share) for the same quarter in the prior fiscal year. Net income for the six months ended December 31, 2012, increased to $89,839 ($.04 per common share), compared to a net loss of $21,926 ($.01 per common share) for the same period in the prior fiscal year. The net income growth from the same quarter one year ago has significantly exceeded that of the S&P 500 and the Health Care Equipment & Supplies industry. The net income increased by 206.5% when compared to the same quarter one year prior, rising from $0.05 million to $0.14 million. DYNT also has a healthy 40.40% gross profit margin. The 204 percent jump in net profit for the quarter resulted from the introduction of its new SolarisPlus product line. This looks to continue in the quarters ahead. Thanks to a cost cutting program DYNT has been able to reduce its SG&A expenses by 50%, dropping over $259k to the bottom line. This is a VERY good sign going forward. Any incremental increase in revenue will increase EPS here dramatically.
Technicals:
The stock has had a nice retrace over the last month from the big move in December. A breakout above $2.50 should set the stage for a move to the 50-day moving average at $3.06. Above this next resistance is $4.65.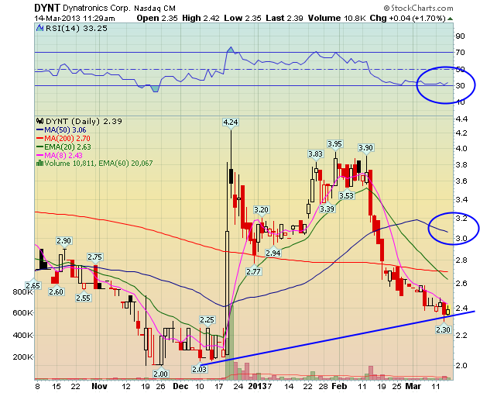 Click to enlarge
(Click to enlarge)
Outlook:
Peers in the DYNT's sector trade with market caps at or above their revenues. Currently DYNT trades 80% below its revenues. If DYNT were to trade at a revenue based market cap it would be $12 per share. At $12 per share DYNT would have a market cap of only $30m. Also keep in mind the stock is profitable. Also, based on the average PE in this sector, DYNT trades 50% under this metric as well. If we go off both of these sector metrics DYNT can be considered extremely undervalued. It should also be noted that based on the expense reductions in DYNT over the last quarter, and increasing sales of their new product line, it can assumed EPS will continue to grow in the upcoming quarters. With the market pushing to all time highs on a daily basis, speculative money is flowing into stocks. Profitable stocks, such as DYNT, should see increased investor interest in this stage in the rally. With a very low market cap and a recent large retrace in price, the current price of DYNT appears to be a steal. DYNT would be considered cheap if it was trading at $5. At this current price it must be considered an absolute bargain that traders and investors should love.
Disclosure: I am long DYNT. I wrote this article myself, and it expresses my own opinions. I am not receiving compensation for it (other than from Seeking Alpha). I have no business relationship with any company whose stock is mentioned in this article.