By: Jayson Derrick
There is no doubt that the auto market has improved drastically since the 2007 recession lows. With revamped product lines, a higher focus on quality, a commitment to cost cutting and targeting a global market with billions of potential customers, General Motors (NYSE:GM) and Ford (NYSE:F) are at the forefront of the battle. While I believe that the domestic and global market are large enough for both companies to survive over the long term, I am going to explore which of the two appears to be the better investment.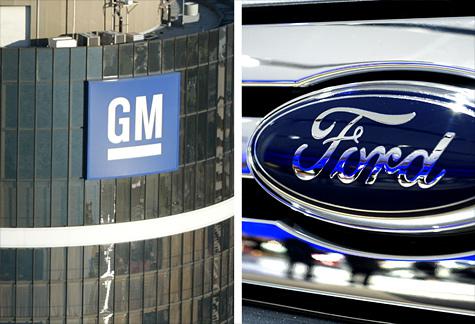 North America
General Motors
In 2012, GM's North American operation earned a whopping $US6.9 billion profit, making the segment the most profitable in the world. The company increased both North American sales (up 3.5% from 2012) and average transaction price (up 0.6%). Despite the positive results, GM's market share fell to 18%, down from more than 20% a year ago.
In a recent article I explored the direct correlation between sales in pick up trucks and an improving housing sector. GM is revamping trucks by improving the fuel efficiency, and cutting the weight of popular sellers like the Chevrolet Silverado and GMC Sierra.
Ford
North American operations brought in a profit of US$8.3 billion and the company is even giving out cash bonuses to 45,800 U.S based workers. Ford lost some market share in North America, but the company is expecting to reverse the trend and re-gain a stronger foothold in the most profitable market.
In terms of the extremely important pick up segment, Ford is developing a new F-150 pickup truck that uses aluminum instead of steel which will cut 700 pounds in weight to improve fuel efficiency. The car is expected to make its way to the streets in late 2014. The F-150 is by far Ford's most important and valuable product, accounting for most of the company's worldwide profit. The F-150 has been the best selling vehicle of any kind in the United States in 2012, and the company is hoping a revamped car will please customers and continue bringing in large profits.
Verdict
Aluminum is costly, and Ford can be forced to raise the prices of their trucks if the price of aluminum rises which may play to GM's price advantage. Pick up trucks can generate between US$8-10,000 per unit, which can be 10 times higher than a passenger car. Ford loyalists will have to wait until the second half of 2014 for a new model, while GM users and shareholders can cash in this year. GM wins this segment (1 point).
Africa
General Motors
In 2012 GM sold 1.4 million vehicles in Africa, an increase of 17.5% from the previous year. In East Africa the GM/Isuzu brand led the way and GM maintained a 27% market share.
African sales of all GM cars are expected to rise to 2 million units by 2016 compared to 1.4 million units sold in 2012. The company operates four manufacturing plants for the African market. Leading the way for GM is the Isuzu line which is produced in South Africa, with Egypt production lines opening later on in 2013.
Ford
In 2011 Ford completed a US$500 million upgrade to manufacturing plants in South Africa. Since then, Ford is aggressively playing catch up to the other major manufacturers, and saw exports rise from "statistically irrelevant" to one in four exported to the African continent from South Africa.
Verdict
The continent's total economic output is valued at $2 trillion, an increase of threefold over the past 10 years, during which six countries have been amongst the 10 fastest growing global economies. As the continent continues to develop both economically and socially the demand for transportation of goods and people will continue to increase. General Motors is banking on their Isuzu pick up trucks, while Ford is hoping their Ranger pickup truck will capture a higher market share.
Africa represents a relatively small market in the global scale, and General Motors is currently the market leader with 27% of new auto shares in 2012, up from 25% the year before. General Motors' forte is pickup trucks, and as the current leader, General Motors is the clear winner in the continent. (1 point).
Europe
General Motors
Europe is a major problem in GM's global operations as their losses widen in the troubled continent in 2012, the 13th street year of losses. Total losses tallied in at US$1.8 billion, more than double from 2011. This is not surprising to anyone as the company faced higher competition and European economic and political problems.
General Motors hopes to be profitable in the continent with an expanding product offering of 23 new products and 13 new engines by 2016. GM is ready to invest several billions of dollars in the continent as well as forging an alliance with PSA Peugeot Citroen to jointly manufacture commercial and passenger vehicles.
Ford
Ford lost $1.75 billion in Europe (original expectations was $1 billion) and recently released guidance for 2013 that shows the company is expecting further losses to the tune of $2 billion. Despite this, Ford Europe's CEO Stephen Odell is claiming that the expected 2013 losses will be "different in nature than 2012." I'm not quite sure what is meant by this as a $2 billion loss on the balance sheet can't be justified by claiming it is "different".
All is not gloom for the company, as one of their cars is a best seller in Europe. Ford's Focus ST beat out local competition and named the best selling hatch back in Europe. The company expects to be profitable by2015 with a 40% new product offering while simultaneously cutting production by 355,000 units by the end of 2014 as the company will be shutting down several production lines.
Verdict
General Motors' CFO admitted that he is not confident that a recovery in the European market will be seen in 2013, and the forecasts for profitability in the near future are admittedly based on "conservative assumptions." Ford has a history of revising guidance for Europe, so we can't take the company's US$2 billion loss at face value.
Ford seems to be taking more proactive steps through the closing of factories, meanwhile GM is admitting "We know we are behind". An in depth Reuters article claims that Ford's recovery plan has at least a 1 year "head start." Despite the fact that the two companies combined are expected to lose around US$4 billion (or more) in 2013, Ford is the winner (or less of a loser) in Europe (1 point).
South America
General Motors
In 2009, GM announced a US$3 billion investment in Brazil which was a great move as the emerging country is the fourth largest auto market in the world and accounts for more than half of all GM sales in South America.
In 2012, GM profited US$99 million before taxes compared to a US$225 million loss a year ago on the strength of seven new models such as the Chevrolet Onix introduced to the market.
GM is investing an additional US$450 million in hopes of maintaining their leading 18.5% market share, an accomplishment held on for 11 years.
Ford
In 2012, Ford also announced a strategy to gain market share in the continent, by replacing all the old outdated vehicles with a new and exciting line up. This move was much needed as Ford was hurt by import limitations on cars manufactured in Mexico. As a result Ford's profit for the continent in 2012 was $213 million, down from a 2011 profit of $648 million.
Ford is betting on their Brazil plants that have the capacity to produce 20% more vehicles than the market can handle, but management is not optimistic about a profitable 2013 based on expected government actions that will require manufactures to utilize local production.
Verdict
South America's auto market as a whole is larger than Japan making the continent an important market. Brazil's market is growing rapidly and is currently the 4th largest auto market. The auto market will continue to grow as the "BRIC" country continues to see improving macro and micro economic factors. Playing in GM's for is the fact that their Chevrolet division is considered a "local brand," a title that any manufacturer would wish for. Ford offers SUVs to the Brazil market, something GM is playing catch up on by developing the Chevrolet Trax SUV due out in 2014. Despite the one advantage Ford currently has, General Motors is the clear winner in South America based on their dominance in Brazil and overall market leading share. (1 point).
Asia
General Motors
In 2012, GM earned US$473 million from operations in China and the rest of Asia. GM plans to continue the momentum and hold off a fierce competition consisting of Asian manufactures who are typically held in a much higher regard by the locals. GM will be investing significantly in Korean design centers to manufacture six new vehicles for the Asian market. GM is also teaming with Asian manufacturer Isuzu to jointly develop pickup trucks designed for the Asian markets.
In a previous article, I singled out GM as a company that will benefit greatly from the Chinese growing economy based on the company's growing sales and a strong luxury vehicle line up. China will become the largest car market in the world for both standard and luxury high end cars in just a few short years. GM is already in prime position to fill the market need and currently sells more cars in China than they do in the U.S.
Ford
Ford has been heavily investing in Asia since 2006, investing US$6 billion by opening factories throughout Asia with a focus on China and India. In 2012, Asia was insignificant as the company earned a pre tax profit of $77 million.
In 2010, one in every six vehicles sold globally was sold in Asia. The company has hopes to bring this statistic to one in three. Ford plans to introduce 15 new cars to the Chinese market, 8 to India, 4 to Taiwan, and 8 to ASEAN nations by the end of the decade.
Within the Chinese market Ford reported record sales in January selling 61,475 vehicles, up 98% from the year before. Ford introduced a new SUV lineup which includes EcoSport, the all new Kuga, and the well known Explorer. Ford also introduced the Focus ST and a 1.0 liter eco boost.
Ford recently moved their Asian headquarters from Bangkok to Shanghai in an attempt to gain additional market share and announced a "15 by 15" plan - 15 new cars for the Chinese market by 2015.
Verdict
By 2020 there will be over 2 billion additional people (with an emphasis on China) that are of driving age and have the economic means to afford a car within Asia. Ford entered the Chinese market in 2003, a full six years after GM. Ford executives did not see the Chinese growth story like GM did and as a result they are playing catch up in the most important auto market. Unfortunately for both manufacturers the Indian market seems to be impossible to break in to as Hyundai and local manufacturers are dominating the fast growing market. Vice President of GM India is not optimistic that the company will ever gain a foothold in the market, and it is safe to assume Ford shares the same sentiments.
The market is more than big enough for everyone to succeed in, however GM can leveraging their strength with their Asian partners, so I am awarding GM the winner (1 point).
Taking a look at the stock
| | | |
| --- | --- | --- |
| Item | General Motors | Ford |
| Price per share | $28.23 | $13.44 |
| 52 week hi-lo | $18.72 - $30.68 | $8.82 - $14.30 |
| EPS | 2.92 | 1.42 |
| P/E | 9.68 | 9.44 |
| Dividend yield | No dividend | 3.1% ($0.40 per share) |
| Market Cap | US$38.5 billion | US$52.73 billion |
| YTD performance | 7.68% | 6.25% |
Final Tally and Conclusion
General Motors - 4
Ford - 1
The auto industry best exemplifies the fact that we are living in a global economy with key market segments spread out through the entire world. The North American market is the most profitable while China the fastest moving and arguably the most competitive. Brazil can't be overlooked, while the African continent is full of potential in the future.
Even though GM has won my analysis, Ford remains a fantastic investment full of potential in 2013 and beyond. Both companies are investing billions of dollars in key markets throughout the world in an attempt to gain market share in places where just 15 years ago the companies had no presence. I believe that 2013 and 2014 will mark a transition year for both companies to shift strategies and priorities to the ever changing global market.
Personally I find the auto industry very interesting to follow and I look forward to seeing how they perform in the global stage.
Disclosure: I have no positions in any stocks mentioned, and no plans to initiate any positions within the next 72 hours. I wrote this article myself, and it expresses my own opinions. I am not receiving compensation for it (other than from Seeking Alpha). I have no business relationship with any company whose stock is mentioned in this article.