Daily CBOT Wheat: Stock Up On Your Corn Flakes
It seems wheat futures put in an interim bottom last week, as the May contract busted through overhead resistance (20-day MA, light blue line) in intraday trading. Having already spent five weeks in oversold territory, I'm thinking this bounce could be the first or second inning of a trend reversal to the upside.
Prices have closed higher each of the last 6 sessions. Wheat hasn't put in a six-day winning streak since last June. While past performance is not indicative of future results, that six-day streak last summer triggered a 30%-plus rally in the May contract. Let's see if this just-begun wheat rally has the same vigor. We'll get further confirmation of this potential bull trend if prices penetrate the down-sloping trend line that has been in place since prices peaked last November.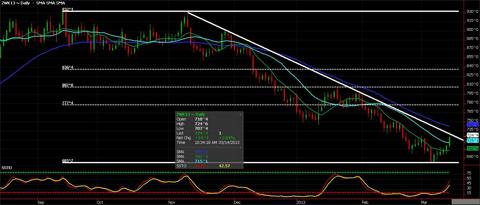 Exports this morning were strong. Following the good shipments earlier in the week, this market may have turned the corner. The latest Commitments of Traders (COT) report adds further evidence of wheat's upside potential. This report provides a breakdown, every Tuesday, of open interest for each market in which 20 or more traders hold positions equal to or above the reporting levels established by the CFTC. Basically, it tallies the net positions of big traders. Wheat prices could jump higher from short covering alone, as large speculators with considerable bearish exposure take profits near wheat's roughly 9-month lows.
I have advised traders to allocate monies to bullish trade and suggest using the Fibonacci levels (see chart above) as potential profit targets. I suggest giving this trade ample time to work out, so I'm advising clients to gain bullish exposure in either the July or December contracts. For now, my preferred method for gaining bullish exposure is buying futures while simultaneously selling out-of-the-money calls, 1:1. As of this writing, I'd look to sell July calls 30- to 50-cents out-of-the-money (OTM). December calls should be 60- to 80-cents OTM.
Risk Disclaimer: The opinions contained herein are for general information only and not tailored to any specific investor's needs or investment goals. Any opinions expressed in this article are as of the date indicated. Trading futures, options, and Forex involves substantial risk of loss and is not suitable for all investors. Past performance is not necessarily indicative of future results.
Disclosure: I have no positions in any stocks mentioned, and no plans to initiate any positions within the next 72 hours. I wrote this article myself, and it expresses my own opinions. I am not receiving compensation for it. I have no business relationship with any company whose stock is mentioned in this article.