The third-biggest economy of the eurozone is in the spotlight again. Last Friday, Fitch cut Italy's credit rating one level to BBB+ with a negative outlook, citing that political trouble may limit the country's ability to respond to the recession and debt crisis.
Current Credit Rating
| | | | |
| --- | --- | --- | --- |
| | S&P | Moody's | Fitch |
| Rating | BBB+ | Baa2 | BBB+ |
| Outlook | Negative | Negative | Negative |
With that negative outlook in mind, let's take a quick look at Italy's numbers to assess the current status of the country.
Stock Market
The stock market (NYSEARCA:EWI) has been trending down since late January while the S&P 500 (NYSEARCA:SPY) has been trying to reach all-time highs.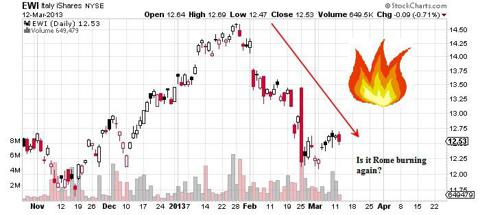 Bond Market
The yield of the 10-year bond started to trend up again in 2013, reflecting renewed fear. Meanwhile, the U.S. long-term treasuries (NYSEARCA:TLT) and 10-Year bonds (NYSEARCA:IEF) have been trending down, clearly expressing the bullish risk-on action in the U.S. equity market.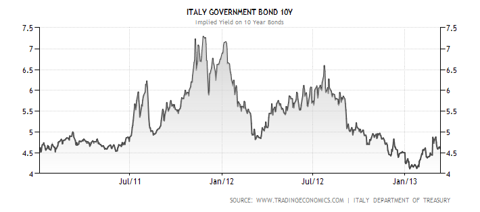 Gross Domestic Product
Still going down since 2011.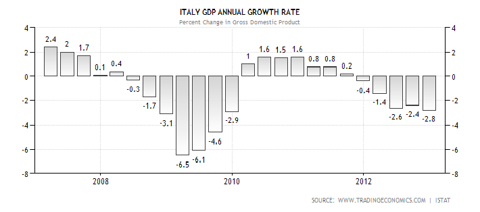 Unemployment
Up to 11.7% in latest report.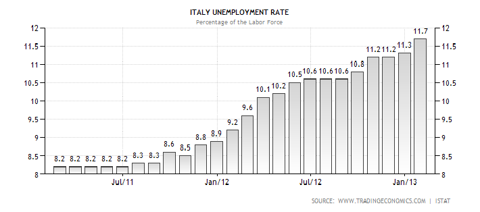 Inflation
CPI reading trying to stabilize, but still going up.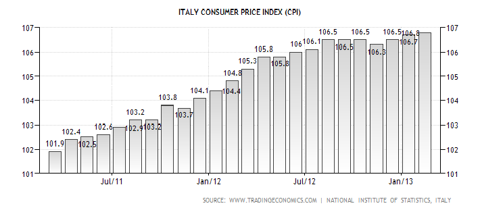 Sovereign Debt
Debt/GDP ratio is skyrocketing.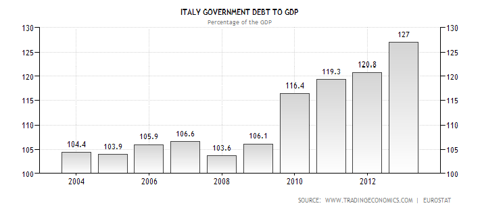 Government Budget
A light of hope at the end of a very dark tunnel?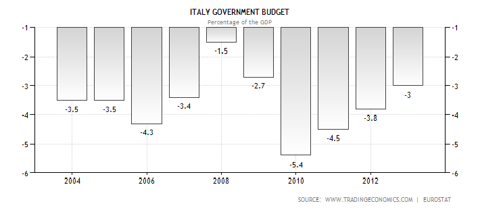 Consumer Spending
Trending down fast.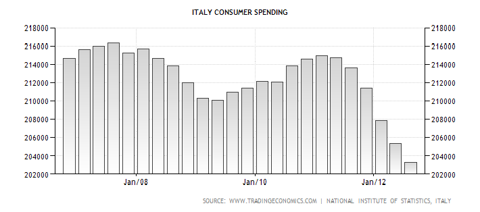 In short, the country's status is in bad shape in many ways. Austerity has consequences. On the other hand, the constant reduction in government deficit is the end of the bargain that has suppressed the bond market fear since last summer by allowing the "euro help" to come, but now dark clouds are approaching.
The left and right political battle in the parliament may head the country into more elections this year. This will probably add more fuel to the Italian bond market fear, which in turn, may tone down the animal instincts in the U.S. market. Will the light at the end of the tunnel be a coming train? Stay tuned.
Disclosure: I have no positions in any stocks mentioned, and no plans to initiate any positions within the next 72 hours. I wrote this article myself, and it expresses my own opinions. I am not receiving compensation for it (other than from Seeking Alpha). I have no business relationship with any company whose stock is mentioned in this article.