Overall, it's about time that someone downgraded Amazon.com (NASDAQ:AMZN), given the deep fundamental deterioration it has undergone as well as the now obvious growth deceleration it's undergoing.
Still, given how rare downgrades are on bubble stocks, I have to commend JPMorgan for stepping out and downgrading the stock before it plunged. Usually these things only come afterwards.
That said, there are a couple of things in the report which I feel I must address. So here it goes.
3P (third party) sales having no fulfillment
In page 5 of the report, JPM writes (bold is mine):
CSOI growth disproportionately impacted by 3P slowdown. We think non-FBA 3P (sales commissions) are likely Amazon's most profitable segment on a CSOI basis as they do not include any fulfillment expenses. As a result, we think decelerating 3P revenue and gross profit growth could have a disproportionately negative impact on CSOI.
This is false. Even on non-FBA (Fulfilled By Amazon) 3P sales there are significant fulfillment expenses. Indeed, the fulfillment costs of these sales exceed the weight of fulfillment cost on 1P (first party, Amazon) revenues. Why? Because fulfillment costs include the credit card charges, and these are levied on the entire sale amount - whereas Amazon.com naturally only records the commission it gets from 3P sales, so the credit card charges become a significant fraction of this commission.
As an example, let's say Amazon.com charges a 10% commission on a 3P sale. Then it pays the card issuer 3% on the entire amount of the sale - right away, this charge alone eats up 30% of Amazon.com's 3P commission. Amazon.com states this very thing in its 10-Qs and 10-Ks (bold is mine):
Fulfillment

Fulfillment costs as a percentage of net sales may vary due to several factors, such as payment processing and related transaction costs, our level of productivity and accuracy, changes in volume, size, and weight of units received and fulfilled, timing of fulfillment capacity expansion, the extent we utilize fulfillment services provided by third parties, mix of products and services sold, and our ability to affect customer service contacts per unit by implementing improvements in our operations and enhancements to our customer self-service features. Additionally, because payment processing costs associated with seller transactions are based on the gross purchase price of underlying transactions, and payment processing and related transaction costs are higher as a percentage of sales versus our retail sales, sales by our sellers have higher fulfillment costs as a percent of net sales.
This is also something which is systematically forgotten by analysts: that the for the same reason Amazon.com's gross margins will expand versus revenues, so too will fulfillment charges and marketing expand versus revenues.
Indeed, not only do 3P sales pay significant fulfillment costs, but they also pay marketing costs when an affiliate links in and results in a sale. It is such that any given 3P sale which happens to pay affiliate commissions and fulfillment charges can actually have a very low profitability.
Non-recurring items
In Figure 13, page 15, JPM provides an Amazon.com Income Statement. In this Amazon.com Income Statement we see the following: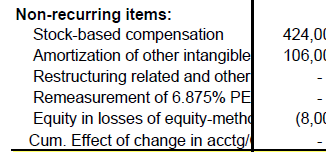 This one is self-explanatory. Stock-based compensation? Non-recurring?
It recurs and recurs hard. One can try finding some other reason to leave it out. Usually its non-cash nature is used. But calling it non-recurring and dismissing it makes no sense whatsoever.
Conclusion
There are other issues I wouldn't agree with in the report. But overall I must congratulate JPMorgan for doing the right thing. A bubble getting downgraded is an exceedingly rare event. The usual modus operandi is to just downgrade after things have gone south in a hurry.
So again, congratulations for doing the right thing, JPMorgan.
These comments of mine point out a couple of flaws are only so that a clearer picture can emerge regarding Amazon.com and not some kind of derisive appreciation of JPM's work. Amazon.com is a very opaque company and it's not hard to have misconceptions about its accounts.
Disclosure: I am short AMZN. I wrote this article myself, and it expresses my own opinions. I am not receiving compensation for it (other than from Seeking Alpha). I have no business relationship with any company whose stock is mentioned in this article.