This article focuses on Horizon Technology Finance (NASDAQ:HRZN) and compares it to the 18 BDCs covered in my previous articles. Please visit bdcbuzz.blogspot.com for updated info or see the list of previous BDCs covered at the end.
Business Development Companies (NYSEARCA:BDCS) lend to small and mid-sized businesses, with limited financial leverage, paying out most of their income to investors and paying little to no corporate tax.
These are the five general criteria I use to evaluate BDCs:
Profitability (EPS to cover dividends, growth)
Risk (diversification, volatility, leverage)
Payout (sustainable, consistent, growing)
Analyst Opinions
Valuation (P/E, PEG, NAV)
For more information about BDCs, how I evaluate them, and my BDC investment philosophy, please see this article.
Below is an oversimplified table evaluating the companies I have reviewed among a universe of 30 BDCs giving them a relative score between 0 and 10 (10 being the best). In reality I use different weightings for almost 100 data points on each company and my personal rankings (based on my risk/return comfort) are close to these but far from exact. In future articles I will add the new companies to this table as well as updated info.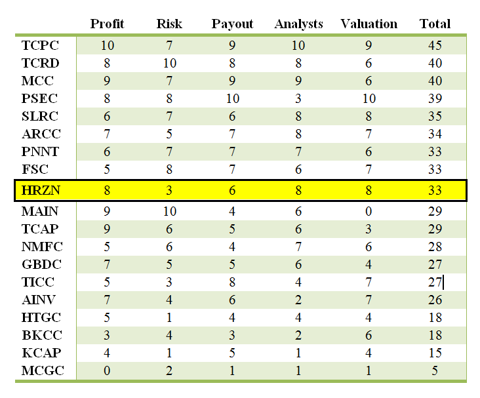 Horizon Technology Finance
Market Cap: $141 million
Div Yield: 9.3%
Div/EPS: 96%
P/E: 10.5
Price/NAV: 0.98
Debt/Equity: 0.65
Recent Developments
March 12 - Announced monthly dividends of $0.115 per share for each of April, May and June 2013.
March 12 - Reported results and beat EPS estimates.
Profit
HRZN recently announced 14% growth in annual net investment income, from $10.5 million in 2011 to $12.0 million in 2012, and earned enough in Q4 to cover future dividends. Total liquidity as of December 31, 2012, was approximately $53.9 million and analysts are projecting EPS growth of 8% to 10% a year.
Risk
HRZN has lower industry diversification by design and targets development-stage companies in the technology, life science, healthcare information and services, and "cleantech" industries. For the environment friendly investors, "cleantech" includes alternative energy, water purification, energy efficiency, green building materials and waste recycling. Many of these companies may have limited operating histories and conduct business in regulated industries that could be affected by changes in government regulations.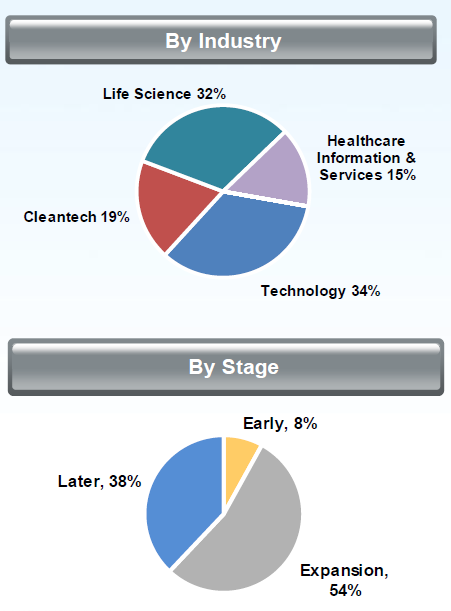 During Q4 three loans were placed on non-accrual and had fair value impairments on each of them reducing NAV. "Even with these credit impacts, the performance of our portfolio since inception has been excellent," said Robert D. Pomeroy, Jr., Chairman and Chief Executive Officer.
Insider ownership as a percent of stock varies widely by BDC but averages around 5%. As Alan Brochstein calls it "skin in the game" and the alignment of interests between management and shareholders. Total insider ownership for HRZN was listed as 13.4%, almost all of which was held by Anholt Investments/Compass Group. Senior management, including the president and CEO, directly hold about 5,000 shares each (or $75,000). Most BDCs have management with larger personal holdings such as Apollo Investment (NASDAQ:AINV) whose CEO owns almost $2 million, Solar Senior Capital (NASDAQ:SUNS) CEO with $4 million, or Ares Capital (NASDAQ:ARCC) whose president owns $6 million in stock. Some companies have CEOs with significant holdings such as Fifth Street Finance (NYSE:FSC) with $22 million, Prospect Capital (NASDAQ:PSEC) with $30 million, and Hercules Technology Growth Capital (NASDAQ:HTGC) with $21 million.
The debt to equity ratio as of December 31, 2012, was 0.65 - average for BDCs.
Payout
HRZN recently reduced dividends to match net investment income as well as moving to a monthly payment. Mr. Pomeroy stated: "Our approach to sharing 2011 net realized gains was to pay out a substantial portion of those gains through incremental cash distributions to our stockholders over and above net investment income levels. With nearly 80% of those gains now paid to our stockholders, we believe now is an appropriate time to implement our new dividend strategy to more closely align dividends with net investment income. We will retain the remaining realized gains as well as future warrant gains as undistributed income or 'spillover income' for future payout consideration."
Currently the dividend yield is 9.3%, just above the group average.
Analysts
Most analysts consider HRZN a "Buy" with a target price between $16 and $17.
Valuation
HRZN is one of the few BDCs currently priced under book value and has a P/E of 10.5 which is lower than average.
Summary
Hopefully HRZN has turned a corner after going through a rough patch with three companies entering non-accrual status, reducing asset values, and dividends that are now covered by net investment income. The valuation multiples are attractive and the yield is average but the lack of industry diversification, insider ownership and exposure to regulated industries increases the risk profile. This BDC is a "maybe" and could be useful in balancing out a portfolio lacking healthcare and technology.
Previous articles:
Disclosure: I am long TCPC, MCC, TCRD, MAIN, PFLT. I wrote this article myself, and it expresses my own opinions. I am not receiving compensation for it (other than from Seeking Alpha). I have no business relationship with any company whose stock is mentioned in this article.