Insider trading can be a powerful indicator of future stock performance if interpreted correctly. However, it often seems more predictive on the buy side when a company executive purchases its company shares on the open market. Trying to determine if insider selling is sending a warning signal is much harder to decipher. The level of stock compensation many insiders at large corporations receive today naturally leads to more selling than buying. Consider an example where 75% of an insider's compensation is stock based. In this case they are simply exercising a prudent strategy to liquidate a portion of that compensation from time to time.
The amount of insider selling at Adobe (NASDAQ:ADBE) over the past 3 and 12 month periods should raise a red flag. This becomes more prevalent in the context of the trend of short selling seen over the past few years. This uptick in selling is conveniently timed with a company defining strategic transition currently ongoing at Adobe.
Reviewing Recent Company Performance
The chart below shows the historical stock price of Adobe from 2006 until March 2013: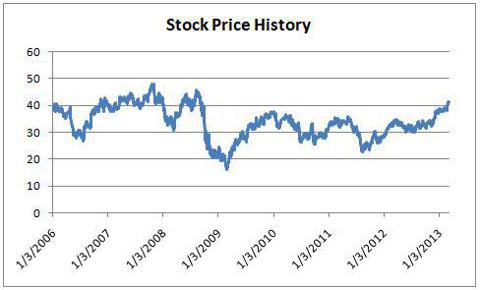 The stock peaked at about $48 a share in 2007, bottomed at about $16 a share in the crisis of 2009, and recovered all the way to about $42 a share as of March 2013.
The next table shows a summary of financial results for a portion of that period just discussed. Coming out of the market crash in 2009 the company saw over 100% EPS growth from 2009 to 2010. After that the earnings story takes a significant slowdown as EPS growth in 2011 was only 12% and in 2012 was only 1%. The outlook for 2013 presents an entirely different view of the company discussed later in the article.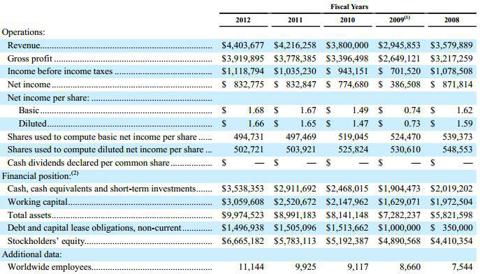 (Source: Adobe Systems Inc. December 2012 10-K, p. 54)
What Do Insiders Know And Why Are They Now Selling?
The chart below shows the relative level of insider sales from 2006 to 2012: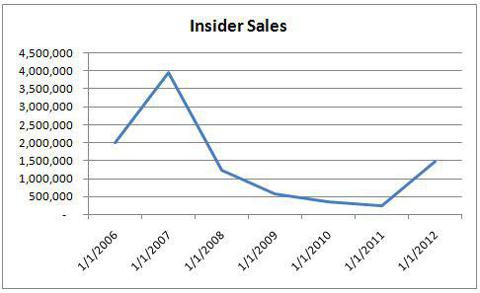 At the insider selling peak back in 2007 close to 4M shares were sold. That same year an all time high in the stock price was reached at $48 a share. As the market tumbled in 2008 and 2009 Adobe's stock price was not immune, and insider sales also fell along with the stock price. In 2010 when Adobe had over 100% growth in EPS YoY less than .4M Insider shares were sold. In 2011, as growth was stalling at 12%, less than .3M Insider shares were sold. Then 2012 arrives and EPS growth slows to 1% YoY and all of a sudden insider selling triples from the prior year to over 1.2M shares. About 50% of that selling took place in the last 90 days of 2012 when the stock reached its highest level in 3 years. The question becomes, is this simply a case of insiders making prudent capital planning decisions with their own money? The alternative may be that they are telegraphing their belief that the stock price has surpassed a reasonable valuation based on what they know.
Adobe Business Transition
As chronicled in detail in this Fortune article from late 2012, Adobe has embarked on a massive shift in its business model. In the past, the company sold flagship products such as Photoshop and Acrobat as part of a suite of services. This package could be licensed for around $2,500 and upgrades typically cost about $1,500 and saw releases about every 18 months. In an effort to stay relevant with the changes in the marketplace, the company has totally discarded their old business model. Just yesterday the company announced they will no longer sell the boxed version of their software. Adobe has thoroughly embraced the "cloud" so to speak. Their new business model, much like that of others in the SaaS field, is now a subscription based model with access to the product offerings online through the cloud. They now offer the same suite of products through their offering called the "Creative Cloud" for a monthly subscription that ranges from $20 to $50 a month.
They also have moved into the digital marketing and analytic field over the last few years with some of the acquisitions they have made. Adobe has pushed all their chips into the middle of the table and bet the future of the company on this shift in their business model. Arguably this was a necessary move to make. But at the same time they now compete directly against such large players as Google (NASDAQ:GOOG), Salesforce (NYSE:CRM), IBM (NYSE:IBM), and others. These companies are significantly larger with more cash to fund R&D as well as the ability to undercut Adobe in pricing if they desire. This creates added pressure for Adobe to offer a service that is differentiated enough that consumers and businesses feel it is a must have. However, the Adobe Flash product should serve as a warning to how quickly a flagship product can be put in the trashcan if not adopted by influential companies. When Apple (NASDAQ:AAPL), specifically Steve Jobs, refused to adopt Flash it was only a matter of time before Adobe lost that battle and moved on from continuing to support and develop that product.
Financial Outlook
The consensus financial estimates for 2013 are for revenue of $4.1B and EPS of 1.41. This is down from revenue of $4.4B in 2012 and EPS of 1.66. The YoY revenue and EPS declines are 7% and 15% respectively. At a stock price of over $41 today, the company trades for close to 30x their forward earnings expectations. The bull camp would argue that the company has significant runway for growth ahead of it with their business model transition. However, what seems odd is that typically even outstanding companies that choose to redefine their business find themselves in the penalty box from a valuation perspective until they prove their success. Adobe has seen no such impact to its valuation and on the contrary the company has seen its valuation and PE multiple increase significantly.
Returning To The Original Question: Why Are Insiders Selling If Success Is Likely?
It sends a warning signal to see insider selling reach its highest point in 3 years given the company defining business transition currently underway. In the near term, Adobe is not a bankruptcy risk due to a decent balance sheet. However, they do face a significant risk that if growth does not materialize as both the company and the market anticipates that the stock will fall drastically. If this does not turn into a growth story, even if Adobe meets their 2013 earnings estimates, the stock has an extremely large downward move to make as expectations are reset. If company management truly believes in the long term success of their business transition, it is difficult to understand why the pace of their stock disposition ramped up so quickly this past year. It would be a good time to leave this high flying stock just like the company insiders are.
Disclosure: I am short ADBE. I wrote this article myself, and it expresses my own opinions. I am not receiving compensation for it (other than from Seeking Alpha). I have no business relationship with any company whose stock is mentioned in this article.
Additional disclosure: I am short the company through April $38 Put Options