This article focuses on Fidus Investment (NASDAQ:FDUS) and compares it to the 19 BDCs covered in my previous articles. Please visit bdcbuzz.blogspot.com for updated info or see the list of previous BDCs covered at the end.
Updates
March 12 - KCAP Financial (NASDAQ:KCAP) announced it will release its financial results for 2012 on Friday, March 15, 2013 after the close of the markets.
March 13 - Hercules Technology Growth Capital (NASDAQ:HTGC) closed its underwritten public offering of 7,000,000 shares and an over-allotment of 1,050,000 additional shares at $11.90 per share, with net proceeds of approximately $95.3 million.
March 13 - Medley Capital (NYSE:MCC) priced an offering of $60 million in aggregate principal amount of 6.125% senior notes expected to mature on March 30, 2023.
Business Development Companies (NYSEARCA:BDCS) lend to small and mid-sized businesses, with limited financial leverage, paying out most of their income to investors and paying little to no corporate tax.
These are the five general criteria I use to evaluate BDCs:
Profitability (EPS to cover dividends, growth)
Risk (diversification, volatility, leverage)
Payout (sustainable, consistent, growing)
Analyst Opinions
Valuation (P/E, PEG, NAV)
For more information about BDCs, how I evaluate them, and my BDC investment philosophy, please see this article.
Below is an oversimplified table evaluating the companies I have reviewed among a universe of 30 BDCs giving them a relative score between 0 and 10 (10 being the best). In reality I use different weightings for almost 100 data points on each company and my personal rankings (based on my risk/return comfort) are close to these but far from exact. In future articles I will add the new companies to this table as well as update info.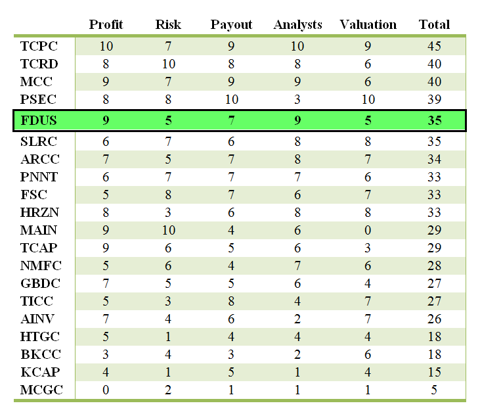 Fidus Investment
Market Cap: $250 million
Div Yield: 8.3%
Div/EPS: 95%
P/E: 11.8
Price/NAV: 1.19
Debt/Equity: 0.79
Recent Developments
February 8 - Issued 1,725,000 shares of common stock in a follow-on public offering at a price of $17.60 per share resulting in net proceeds of approximately $29 million.
February 22 - Declared a quarterly dividend of $0.38 per share.
March 7 - Reported financial results beating earnings expectations.
Profit
Since its IPO in June 2011, FDUS has consistently grown quarterly earnings, dividends and net asset value (see chart below). It recently reported Q4 2012 financial results beating EPS expectations with $0.40 and covered its $0.38 dividend.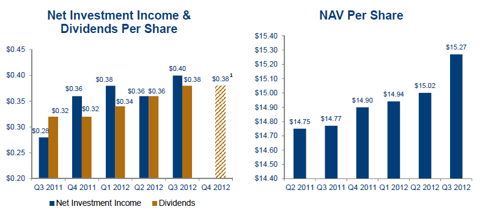 On October 15, 2012, they applied for a second SBIC license after receiving a green light letter from the SBA. If approved, the second license would provide access to an additional $75 million of long-term, low-cost SBA debentures to grow the portfolio without shareholder dilution. Analysts are projecting at least 10% annual EPS growth over the next two years.
Risk
As of December 31, 2012, the portfolio totaled $274 million and consisted of 30 companies. Only 12% of the portfolio was senior secured debt, 71% was subordinated notes, 17% in equity and warrants, and no investments on non-accrual status. The debt portion of the portfolio was entirely comprised of fixed rate investments. FDUS has one of the most diversified portfolios with a good balance of growth and stable industry sectors (see chart below).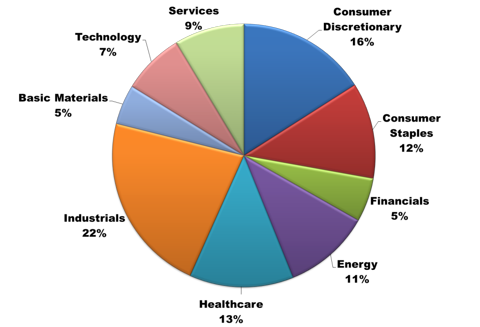 The debt to equity ratio of 0.79 is higher than average and since it is one of the newer BDCs volatility ratios and down market performance are not comparable.
Payout
The current dividend yield is 8.3% and below the current average, but with EPS growth expectations of 10% and a history of dividend increases hopefully it will continue to rise.
Analysts
Most analysts rate FDUS between a "Buy" and a "Strong Buy" with a wide range of target prices from $16 and $21.
Valuation
FDUS is currently trading at a 19% premium to book value but with the recent growth in NAV, this might be expected and the P/E of 11.8 is a bit higher than average.
Summary
In my BDC portfolio I like to have a balance between more stable and established companies vs. rising stars with higher growth potential. The valuation multiples for FDUS are average and the yield is a little lower, but with the recent history of growth in EPS, NAV, and dividends, along with excellent industry diversification, I would consider FDUS one of the "Good" BDCs.
Previous articles:
Disclosure: I am long TCPC, MCC, TCRD, MAIN, PFLT. I wrote this article myself, and it expresses my own opinions. I am not receiving compensation for it (other than from Seeking Alpha). I have no business relationship with any company whose stock is mentioned in this article.