US Oil inventories are at or very near 20 year highs: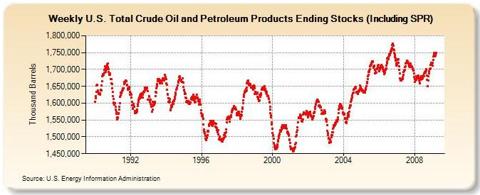 Meanwhile, US oil consumption has dropped significantly (7-8%) since last summer.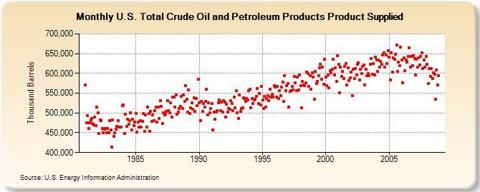 The question is then: why is oil trading over $53 today when the supply/demand picture is so bearish?
No doubt part of the reason is a jubilant market response to the fiscal policies unveiled by the Obama administration recently. That said, printing money to reflate the economy has its drawbacks. The US dollar index has dropped from 89 to 83.3 in two weeks (6.4%) and this supports oil and most other commodity prices.
Underpinning the rally in crude oil (which could falter as short covering abates) are memories of 2008. The fundamentals of peak oil are still in place. While unemployment, housing, and consumer spending will remain a problem as the US works through the recession, one must remember that OPEC is cutting production while worldwide E&P budgets are down as well. The next oil price spike could make 2008 look like child's play. Don't be surprised to see front month oil contracts trade at wider and wider discounts to oil futures as the US recovers from recession and governments the world over fiscally reflate the world economy. Traders will not forget the $145/barrel prices of 2008 any time soon. Neither will they forget that production at many US oil companies was actually down in 2008 despite those high prices.
On the natural gas front, new shale production has US nat gas weekly underground storage volumes trending higher.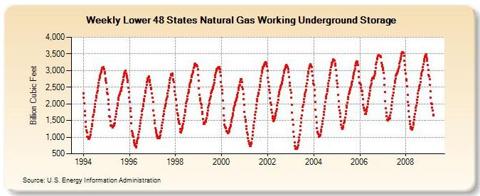 This increased production in natural gas was met with slackening demand from electric power generators in 2008 (year over year). Residential demand was flat to down.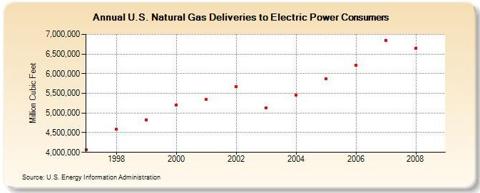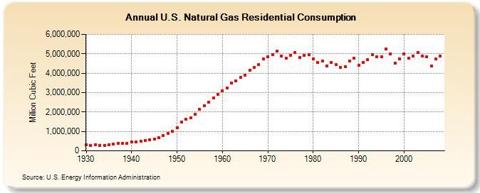 I like this last chart because it vividly portrays what Robert Hefner accurately pointed out in his book The GET. US natural gas consumption was organically growing until the disastrous energy legislation passed by Congress in the 1970's. Since that time, coal usage has grown exponentially and natural gas demand has been basically flat. How sad is it that the US chose to burn toxic coal when clean and efficient natural gas resources were available all along? I wonder what the residents of the beautiful (and now thoroughly polluted) Tennessee Valley think about this as well…
The result of increased natural gas supply and slackening electrical, industrial, and residential demand has played havoc with natural gas prices. Yesterday natural gas closed at $4.33 MM BTU. As low as this price is, it's a 3 week high! Some analysts are calling for natural gas to fall as low as $3 due to abundant new shale supplies. I'm not so sure. The Baker Hughes rig count was down -41 in the last week, and down a whopping -699 rigs from one year ago. Layoffs have been announced at ConocoPhilips (NYSE:COP), Schlumberger (NYSE:SLB) and other companies exposed to natural gas drilling. Natural gas producers are not going to drill new wells and give their product away. Shale well depletion rates are, generally, higher than "conventional" (forgive me Hef) wells. We're setting up for another bull market in natural gas down the road. I bet next time, the natural gas boys will be a little less enthusiastic to over drill.
Life on foreign oil addiction is boom-and-bust. Our economy will continue to be on an ever more violent yo-yo as we head into peak oil until our policymakers take meaningful action to reduce foreign oil imports.
Bottom line: the US continues to be addicted to foreign oil for 65% of its supply while the realities of peak oil have not abated. ExxonMobil (NYSE:XOM), Chevron (NYSE:CVX), ConocoPhilips, BP, StatOil (NYSE:STO), and Petrobras (NYSE:PBR) can all be bought on weakness (and most have been weak). Yesterday's rally withstanding, there will be opportunities to pick these stocks up on the cheap. Long term, these stocks are going to print money just like they did over the last oil price spike. On natural gas, I am not so optimistic in the short-term. Long term, if the Obama administration would simply grasp the notion that America can reduce foreign oil imports AND cut CO2 and particulate emissions by transitioning cars and trucks to run on natural gas, I would be very bullish on CHK, COP, and BP. Unfortunately, the economic, environmental, and national security advantages of such a natural gas transportation policy have yet to be understood in Washington, DC. No surprise there.
Disclosures: The author owns COP, SLB, PBR, and STO.