Most indexes and their related ETFs are market-cap weighted. There are some fundamentally weighted ETFs, but what if you wanted to create your own fundamentally weighted S&P 500 sector ETFs portfolio - how might you do that?
Here is a table that shows how the S&P 500 sectors are weighted by market-cap within SPY or IVV, but also how you might consider weighting them by any one of these criteria:
Street consensus 12-month target price change
Yield
Expected total return (target price change + yield)
Historical 3-year mean total return
3-year Sharpe Ratio
3-year capture ratio spread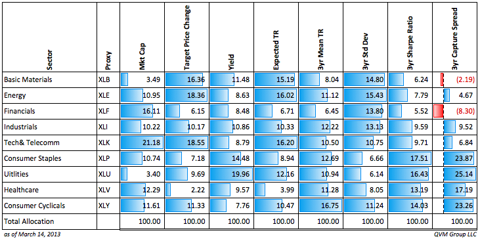 Click to enlarge
Note: To achieve the negative weight associated with the weighting by upside/downside capture ratio spread, you would have to short the negative weight sectors.
You can create the same table for yourself from time-to-time from data available at Morningstar, along with a constituent-by-constituent calculation of the expected price change for each sector.
Note: To create the sector price change expectations, download the current allocation weight of each holding in each sector fund, then look up the Street consensus 12-month target price for each holding; convert that to a percent change from the current market price; then multiply the percent change for each holding by the weight of each holding and sum the products.
A spreadsheet containing the details of the calculations for this iteration of the table is available for download by those who join our email list using this link. Even if you are not interested in the expected sector returns, you may want to see the target prices as they relate to the current price as of March 13 for all 500 stocks in the S&P 500 that are in the spreadsheet.
Here is a table of the raw data we used to calculate the weights in the table above: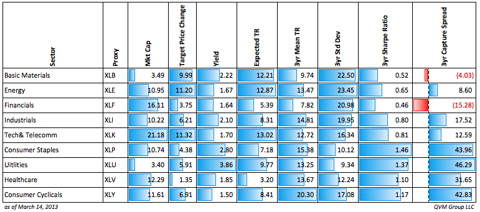 Click to enlarge
To What Use Might This Data Be Put?
Rather than owning the overall index entirely in something like SPY, IVV or VFINX, an investor might decide to tilt exposure toward one or more sector ETFs that show up as a high weight by one of the fundamental weighting schemes. That investor might own an S&P 500 index fund, and then also purchase the sector ETFs that have the highest weight in the fundamental category of choice to create the tilt.
Alternatively, some investor may decide to be more aggressive and simply own all of the sectors, without owning an S&P 500 index fund. Instead of owning all of the sectors in the same proportions they are in the S&P 500, that investor would weight them according to a weighting scheme more focused on the fundamental most suited to their personal circumstances.
An even more aggressive investor might simply choose a fundamental scheme most aligned with their situation, and own some or most, but not all of the sector ETFs.
It's just one more way to look at slicing the pie for those who do not necessarily wish to be totally dependent on market-cap weighted indexes.
Of course, those who use individual stocks instead of sector funds, for example, are just taking it to the next level by not wanting the market-cap weighting inside of the sectors ETFs themselves.
Different investors have different levels of interest and capacity to deviate their holdings from the broad index funds to more specialized funds to individual stocks.
There are important trade-offs no matter how you choose to invest in all or part of the S&P 500, but this data may help make more clear, just what some of the opportunities and trade-offs may be.
Sector Symbols in Tables:
XLB, XLE, XLF, XLI, XLK, XLP, XLU, XLV, XLY
Disclosure: QVM has positions in the S&P 500 index and several of the sector ETFs as of the creation date of this article (March 14, 2013). We certify that except as cited herein, this is our work product. We received no compensation or other inducement from any party to produce this article, but are compensated retroactively by Seeking Alpha based on readership of this specific article.
General Disclaimer: This article provides opinions and information, but does not contain recommendations or personal investment advice to any specific person for any particular purpose. Do your own research or obtain suitable personal advice. You are responsible for your own investment decisions. This article is presented subject to our full disclaimer found on the QVM site available here.