With $30.6 billion in total assets, Calamos Asset Management, Inc. (CLMS) remains a far cry from being a small company. The asset management company was founded in 1977 and has partnered with institutional clients to provide investment solutions in equity, credit and alternative strategies. As seen in the graph below, the company has struggled in recent years as a public company. The company went public in 2004 at $18.00, but has since fallen to the current price of $11.20 after a strong fall from over $40 right before the Great Recession.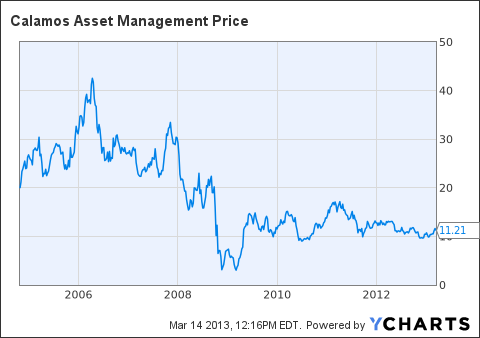 The company's latest earnings call was also far from impressive as the company performed poorly. Year-over-year, total revenues fell from $352.3 million to $326.7 million. Likewise, in the last quarter total assets dropped from $34.3 billion to $30.6 billion. Mr. John P. Calamos, Sr., the company's CEO can be quoted as saying the following in the same call:
"We're disappointed in the short and mid-term performance of a number of our strategies and we are very focused on overcoming these performance challenges. We now feel our outlook in 2012 was too pessimistic, which hindered the performance in some strategies."
Yet despite the poor performance and the almost apologetic rhetoric, the one thing that is doing the talking is the confidence of Mr. Calamos as he puts his money to work back into the company he founded. In February alone, the CEO purchased 309,954 shares with a total transaction value of $3,333,739. The chart below also shows that his purchases have not yet ceased, albeit it in smaller increments.

Calamos Asset Management now holds a market capitalization of $228 million. The company maintains a price-to-sales ratio of 0.70 and a price-to-book ratio of 1.16. With a trailing price-to-earnings ratio of 12.75 and a forward price-to-earnings ratio of 15.58, the company appears to stand fairly valued on the basis of current expectations.
Yet despite its recent setback in a less than ideal year for the company's managed assets, upper management continues to set an upbeat tone for investors. The company approved a share repurchase program for 3 million shares, which is quite significant considering the roughly 20.8 million shares outstanding. Even though this was implemented to primarily offset the dilution of a long-term incentive program, the buyback still stands as a welcome measure for investors.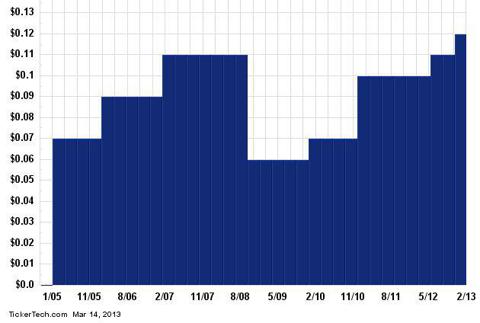 Likewise, the company raised its dividend last quarter by 13.6% thereby increasing the quarterly rate from $0.11 to $0.125. In turn, the company now yields annually a rough 4.5%. A look at the chart below shows that the company continues to adequately manage its payout ratio even as its rate increases.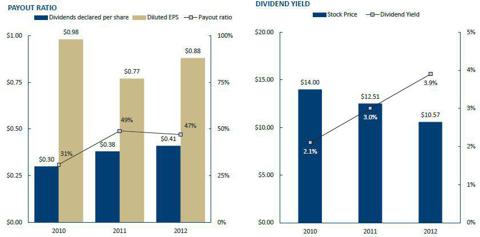 Altogether, Calamos Asset Management may not be the strongest winner in its industry. Yet for what it's thus far lacked in performance, management continues to provide a very shareholder friendly environment. The high dividend yield and growing rate remains impressive at these levels and the buyback remains a positive indicator. Most importantly, the CEO's strong purchasing action remains another reason to believe the company has not yet seen its best days. As a diversifying investment in a dividend portfolio, Calamos Asset Management remains a worthy investment to hold onto.
Disclosure: I am long CLMS. I wrote this article myself, and it expresses my own opinions. I am not receiving compensation for it (other than from Seeking Alpha). I have no business relationship with any company whose stock is mentioned in this article.