For lack of a better term, this "new normal" economic environment poses extremely difficult questions in terms of the likelihood that we will see substantial inflation, or possibly deflation over the medium term. Both sides of the argument have incredibly intelligent supporters, and although I lost my crystal ball pertaining to macroeconomic predictions long ago, I tend to side with the inflationary camp. The biggest reason for this is that I'm not aware of any coordinated and global efforts of loose monetary policy, of this scale, in the history of the world. At some point it will be too much, and the reaction to these money-printing actions, is likely going to be elevated inflation. The reason I bring this up is that to me the two cheapest areas of the market are financial and energy stocks, and for this article I wanted to touch on Chevron (NYSE:CVX) in particular. In an inflationary environment, prices should rise for oil and natural gas, and I believe that Chevron's prudent capital management and focus on high-margin opportunities gives it the flexibility to weather short-term volatility in commodity prices, while maintaining huge upside potential if prices do indeed increase significantly. Chevron's stock is priced for flat-to-declining energy prices, and I believe that this sets the stage for excellent long-term return potential for this energy giant.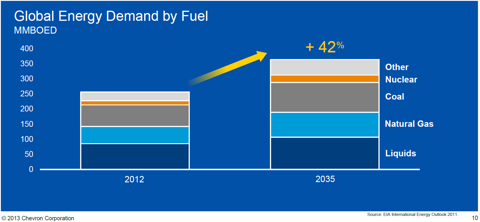 Source- Chevron Analyst Day Presentation 2013
There is little doubt that the long-term demand will be higher than it is currently. New technologies are both enhancing efficiency in how energy is used, and creating new capabilities in how we find energy resources. These forces make predicting prices difficult, but the fact that there has been unprecedented money printing is what leads me to be a long-term bull on energy prices.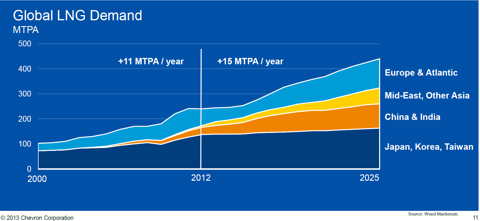 Source- Chevron Analyst Day Presentation 2013
LNG is the fuel of the future. Oil production growth is generally much more expensive to accomplish, and the super-fields are much more costly to develop than prior eras of cheap production resources, such as the Middle East. I'd expect natural gas to become the fastest growing energy resource in North America and abroad, as LNG exportation reduces global prices, while arguably increasing natural gas prices in North America.
I believe that Chevron and Exxon Mobil (NYSE:XOM) are the two best run integrated oil companies in the world. Both benefit from carefully thought-out, long-term strategies, which lead to higher returns on capital employed. In 2012, Chevron generated net income of $26.2 billion or $13.32 per share, which equated to a return on capital employed of 19%. The company accomplished this with a debt-to-capital ratio of 8.2%, and a nearly $10 billion net-cash position. Chevron produces about 2.67 mmboe a day and its reserve replacement ratio was 112%. This is in stark contrast with many of its competitors, which also carry much more debt in relation to capital than Chevron does. While other E&P companies are leveraging up their balance sheets to excessive levels, forcing them to divest assets at unattractive times, Chevron focuses on huge projects where it has technological or financial advantages, which lead to higher probabilities of attractive margins. This has been very evident in Chevron's downstream operations, where it radically reduced its footprint, cut costs, and is focusing on areas like Asia with greater growth potential. Chevron's technological acumen of providing added value in both refining and chemicals should lead to higher long-term margins, than the majority of its refining competition.
Source- Chevron Analyst Day Presentation 2013
Chevron's upstream operations are positioned for robust long-term production growth, that barring large declines in commodity prices, should lead to above-average returns on capital. In Australia, the company is heavily invested in liquefied natural gas to capture the value of massive offshore deposits of natural gas. The Gorgon project is scheduled for startup in late 2014, and will add more than 200,000 boe per day of production at its peak. Unfortunately for Chevron and its partners, this project has been subject to massive cost-overruns. Chevron views the Australian dollar as a reasonable proxy for commodity prices, therefore, it hopes to recoup the cost overruns with higher realized prices. The Wheatstone project is scheduled for startup in 2016, and will add another 200,000 boe per day of production at its peak. Both projects are interesting in that they have substantial reinvestment opportunities if prices make the incremental investment worthwhile. The reality is that Asia's energy demands are growing at a vastly faster pace than more developed economies, and there are insufficient internal sources to meet that demand. Australia has cheaper export costs to Asia than potential competitors, so barring a deflationary scenario, I'd expect Chevron to do okay on these. It is to-be-determined whether or not the company should have hedged that currency exposure more than they did, but as always, hindsight is 20/20 I can count on one hand the companies that have the size, financial strength and acumen to execute these types of projects. This is what separates a Chevron from the run-of-the-mill E&P's, which often still maintain wildcatter-type tendencies. Even if you are bullish on long-term commodity prices, having too much leverage like a Chesapeake Energy (NYSE:CHK) or SandRidge Energy (NYSE:SD) can be a recipe for disaster if capital markets become less favorable.
In the Gulf of Mexico (GOM), Chevron is investing in massive, highly technical projects. Big Foot and Jack/ St. Malo are scheduled for startups in 2014. Big Foot is estimated to contain more than 100 mmboe and although the EPA's regulations have added to the cost of offshore development, GOM wells have been producing at high margins, and I have no idea why Big Foot and Jack/St. Malo would be exceptions. Chevron also has a large LNG project in Angola, which is very close to being operational, as well as investments in Thailand, Africa etc. These projects have led the company to set a 2017 production target of 3.3 mmboe per day based on 2010 Brent prices of $79 per barrel, implying downside due to production-sharing agreements if oil prices turn out to be higher, and about 90% of this is in production or construction stages currently. The other 10% of the target could likely be achieved through ramping up shorter-term production, such as drilling more wells in the Permian, Marcellus or Utica where Chevron has huge land bases. Chevron's capital and exploration budget is $36.7 billion in 2013 and isn't likely to go down significantly in the near future. 90% of the CAPEX is designated for the upstream segment, and Chevron has peer-leading oil exposure of close to 80%. Some of this is from LNG with oil-linked prices attached to it, but barring a material change in how LNG contracts are priced, Chevron should maintain a very high ratio of oil-linked production.
Source- Chevron Analyst Day Presentation 2013
Chevron does have significant legacy legal issues in Ecuador and other locations across the globe, that do present risks, which could potentially require Chevron to have to pay large settlements to get rid of. It is tough approximating these types of exposures due to the complexities of various legal systems, but I believe an investor should always demand an adequate margin of safety on exploration stocks. Both Chevron and Transocean (NYSE:RIG) have faced a great deal of controversy off the coast of Brazil because of a smaller oil spill, and the fact that Chevron's projects tend to be highly ambitious does increase the probabilities of these types of events occurring. Chevron has received a great deal of criticism pertaining to its net cash balance, but the scale of its projects, and the prospect of settlements to some of its legal exposure, make this prudent capital management in my estimation. The company is not stupid and they know that for every dollar they are employing they are making 19%, but Chevron is built for the long-term. I believe Chevron's partner in the Kitimat LNG facility, Apache (NYSE:APA), would be the ideal candidate for an eventual acquisition. Even if Chevron were to pay a 25% premium to Apache's current price, the deal would be highly accretive to earnings in year 1. This is a very manageable deal for Chevron but I'll admit it is unlikely until the company completes some of its massive ongoing upstream projects, where cost overruns have already been a problem.
Based on 1.95 billion shares outstanding, and a $120 stock price, Chevron has a market capitalization of $234 billion. If you subtract the roughly $10 billion net-cash position, the enterprise value is about $224 billion. I believe Chevron should earn about $13-$15 per share in 2013, and I'd expect earnings to increase significantly up to 2017. CAPEX will be elevated until at least 2017, which will hinder free cash flow production. Chevron just raised the dividend 11.1% to $.90 a quarter, so the current yield is about 3%. That is 100 bps higher than 10 year treasury yields around 2%. Therefore, at current prices, investors get a solid and growing income stream, with upside and downside that will be highly correlated to changes in energy prices. I believe that Chevron's growth profile gives it larger upside than some of its peers such as Exxon, while its financial strength gives it less downside than a stock like BP. Management has proven to be wise stewards of capital and if their growth plans come in line and energy prices increase alongside production costs, I believe Chevron could potentially earn $16-20 in 2017. A 10 multiple on the middle of that range puts the stock at $180 or up 50% in 4-5 years, which isn't amazing, but the total return factoring in dividends would be quite attractive on a risk-adjusted basis. Stock buybacks or an acquisition of a company like Apache would increase the upside potential assuming anything but a deflationary environment for energy prices.
Disclosure: I am long CVX, BP, APA, SD. I wrote this article myself, and it expresses my own opinions. I am not receiving compensation for it (other than from Seeking Alpha). I have no business relationship with any company whose stock is mentioned in this article.