On Thursday, shares of affordable luxury brand Vera Bradley (NASDAQ:VRA) got hammered. The price reaction was in response to the full year earnings, which included a bearish tone on the next fiscal year. However, with new stores and products, I believe shares are undervalued.
In fiscal 2013, total revenue increased 17%. All business segments saw increases for Vera Bradley. Direct sales through Vera Bradley stores increased 30%. E-commerce sales rose 18% during the fiscal year. Indirect sales grew 6% on the fiscal year, led by large increases in the fourth quarter. Earnings per share for fiscal 2013 hit $1.70, representing a 19% increase from fiscal 2012. Analysts on Yahoo Finance were predicting earnings of $1.65 per share. Total revenue of $541.1 million beat analysts' predictions of $531.4 million.
Fourth quarter revenue increased 21% to $162.6 million. Sales at Vera stores increased 27% in the fourth quarter, despite a 0.4% decrease in same store sales. E-commerce sales were up 23% in the quarter. Indirect sales increased 11%, led by the expansion into more Dillard's (NYSE:DDS) locations. Vera Bradley bags are now available for sale in all 284 Dillard's locations. Earnings per share in the fourth quarter came in at $0.62.
Vera's online sales also continued to increase. A total of 62 million people visited verabradley.com, which represented an increase of 45%. The company also continues to increase its social media presence. The company's Facebook page had over 1.4 million fans in the fiscal year. The company will switch to a more permanent full price strategy on the website. This should help margins and perhaps increase traffic in stores, as customers will have more of an incentive to visit.
During fiscal 2013, Vera opened an additional 20 new stores. The company ended the fiscal year with 65 full price stores and 11 outlet stores, making up a total count of 76 stores. In fiscal 2014, the company expects to add 23 stores. This marks a slight increase from the 20 that opened in fiscal 2013. Six of the 23 will be opened in the first quarter. As I reported in a previous Vera article, the company's long term goal is to have 300 stores in North America.
The wonderful relationships Vera has with partners are helping increase the indirect sales segment. One new partnership could pay off huge for Vera and help drive further double digit gains for the indirect sales segment.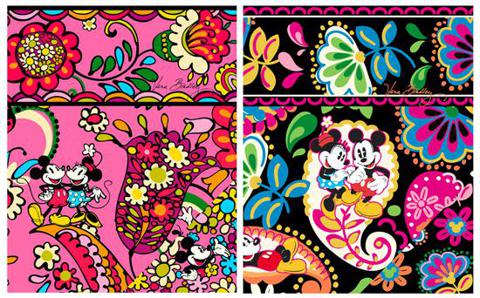 Vera Bradley announced a partnership with Disney (NYSE:DIS) that will include Disney inspired Vera items for sale at Disney Theme Parks. Cathy Dawson, a merchandiser at Disney Parks, had this to say on the partnership, "We are thrilled to introduce the Vera Bradley to our accessories assortment. In recent years, we've seen several guests in our parks and resorts sporting fun, colorful bags by Vera Bradley. Even our Disney Cruise Line team recently added some items by Vera Bradley to the Disney Dream and Disney Fantasy. We thought it would be wonderful to add a splash of Disney to these popular and colorful accessory items."
Two Disney patterns have been shared and can be seen in the photo above. The patterns come with the names "Midnight With Mickey" and "Just Mousing Around". The bags will release in the fall, but customers can get an early look through May at select Disney events. The announcement of the partnership on Disney received over 40,000 likes, showing strong interest in the product
The other new item from Vera is a complete baby line. Details were announced today and the items can be seen on Vera's site. Items in the line include:
· Diaper Bags
· Clothes
· Blankets
· Changing Pads
· Toys
The baby line is a smart move that seems well overdue from Vera. The company's main target demographic is women. This adds several products for mothers or as gifts for new moms. These products are designed to sell and should provide a nice tick in revenue. Analysts are underestimating the sales potential from this new segment and it should not be overlooked.
Analysts on Yahoo Finance expect Vera Bradley to post earnings per share of $1.87 in fiscal 2014. Analysts expect revenue to increase double digits to $601.6 million. Vera is calling for revenue of $120-$122 million in the first quarter. Revenue for the fiscal year is projected to be $585-$590 million. Despite the revenue that falls shy of analysts' targets, Vera's earnings remain on track. Vera is projecting full year earnings in a range of $1.83 to $1.88.
Investors are worrying over two items from the Vera Bradley earnings, quarter one guidance and inventory. The company used an overall bearish tone towards the next fiscal year. In the first quarter, the company sees a "weak consumer environment" that could hurt revenue and earnings. The company saw inventory rise 23%, despite the 21% increase in sales.
Shares of Vera trade at only 12 times 2014 expected earnings from analysts. The company's weaker guidance provides an excellent buying opportunity for long term investors. The company's long term store count goals should also help long term investors. There may be another buying opportunity if first quarter earnings come in weak, but I believe the second half of the year will provide upside from today's share price.
Disclosure: I have no positions in any stocks mentioned, and no plans to initiate any positions within the next 72 hours. I wrote this article myself, and it expresses my own opinions. I am not receiving compensation for it (other than from Seeking Alpha). I have no business relationship with any company whose stock is mentioned in this article.