With the market craving yields, it is amazing that several business development stocks can still yield around 10%. Both Solar Capital (NASDAQ:SLRC) and TICC Capital (NASDAQ:TICC) have had yields around 10% for a considerable amount of time. While Prospect Capital (NASDAQ:PSEC) remains a favorite (see Prospect Capital: Prospecting For Even Higher Dividends) with a yield of nearly 12%, the question is whether either of these less followed BDCs provide a better investment?
Solar Capital
The company operates as a closed-end investment company that invests primarily in leveraged, middle market companies in the form of senior secured loans, mezzanine loans, and equity securities. The stock has a market cap of $1.1B and currently yields 9.7%.
Solar Capital reported Q412 results that beat analyst estimates by $0.04. The net investment income of $0.63 covers the $0.60 quarterly distribution.
The company recently made an acquisition of Crystal Financial, which immediately added 23 loans at a par value of approximately $440M. Crystal provides asset-based and other secured financing solutions to U.S. middle-market companies with unique financing situations. The deal is expected to be immediately accretive.
Analysts expect the company to report earnings slightly above the annual distribution over the next two years not providing much room for increased distributions. The Crystal Financial deal provides potential for upside that isn't baked into the estimates yet.
The stock has a NAV of $22.70 and trades roughly 9% over that value.
TICC Capital
The company is a publicly-traded BDC that principally engages in providing capital to established businesses, investing in syndicated loans and purchasing debt and equity tranches of collateralized loan obligations (CLOs). The company is worth $504M and currently yields 11%.
TICC recently reported Q412 results that missed estimates by $0.02. In addition, the company only reported net investment income of $0.25, which was $0.04 below the distribution rate of $0.29.
The company is focused strongly on technology related investments and CLOs. It had an average yield on debt investments of 9.4% sequentially down from 10.3% in Q312.
Analysts expect the company to report income basically equivalent to the annual distribution in the next couple of years. With the last two quarters being considerably below both analyst estimates and the distribution rate, the estimates appear questionable.
The heavy investment in CLOs makes this BDC less appealing. The attraction of investing in a BDC is obtaining stock in an investment vehicle that owns equity or directly lends to middle market firms that typically lack access to capital providing the BDC with attractive investment returns. The CLOs bought on the secondary market are less transparent than direct investments in portfolio companies.
The stock has a NAV of $9.90 and trades roughly 7% above that value.
Strong Dividend History (Recently)
Besides during the financial crisis, all three firms have a consistent history of paying dividends. Solar Capital and Prospect Capital have paid virtually flat dividend rates since mid-2010. TICC Capital has dramatically raised its dividend yet the level is potentially too high: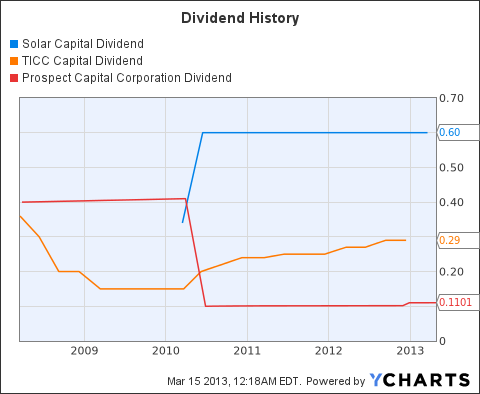 SLRC Dividend data by YCharts
Conclusion
For investors that want a BDC focused on technology investments or CLOs, then TICC Capital would be an ideal option. Otherwise, the BDC is less diversified and has less direct investments in portfolio companies where it is more of an owner than an investor.
Solar Capital provides a strong investment option with a yield nearing 10%, yet Prospect Capital appears more attractive with a yield of nearly 200 basis points higher. On top of that, Prospect continuously earns more than the distribution, suggesting it has more room for increasing the yield, unlike the other two.
Disclosure: I have no positions in any stocks mentioned, and no plans to initiate any positions within the next 72 hours. I wrote this article myself, and it expresses my own opinions. I am not receiving compensation for it (other than from Seeking Alpha). I have no business relationship with any company whose stock is mentioned in this article.
Additional disclosure: The information contained herein is for informational purposes only. Nothing in this article should be taken as a solicitation to purchase or sell securities. Before buying or selling any stock you should do your own research and reach your own conclusion or consult a financial advisor. Investing includes risks, including loss of principal.