Market Recap:
The market makes it ten days in a row to the upside, and the market continues to move higher despite any issues. The initial jobless claims came in at 332K versus expectations at 350K. That number helped the market continue higher Thursday despite its continuous run that is the longest one since the 1960s. Other than that, though, the news was quiet, which has kept the market on buying mode. At some point, though, the market will have to digest cuts to government spending through the sequester, issues with Italy, and a strong dollar. We believe that a correction may be around the corner.
The Dow (NYSEARCA:DIA) finished up 84 points while the S&P (NYSEARCA:SPY) added 8 points.
Stocks To Trade:
Today, we are looking at bullish positions in Sirius XM Radio (NASDAQ:SIRI), AIG (NYSE:AIG), iShares Emerging Markets (NYSEARCA:EEM).
Sirius XM looks very solid right now to make another big move higher for the rest of 2013. We believe that SIRI has strong growth prospects moving forward. For 2013 and 2014, the company is expected to see 12% and 10% revenue growth, which are both solid rates of growth. We believe the company has solid catalysts in automobile connections, strong short holding, and new radio stations. Automobile connections is the best reason to like SIRI, and it will continue to be strong as more and more companies add SIRI to their automobile offerings.
Currently, the company has satellite offerings in 50M cars through their production in new cars. In the next ten years, that rate should go from 50M to 150M. Tripling the revenue in ten years is a great long-term revenue stream. On top of that, SIRI will benefit as new cars move into the used car industry. As new owners own those cars, they have the ability to instantly turn on the satellite radio. In 2013, the company will see 1.5M gross additions in 2013 to satellite radio. Here is the company's CFO talking about the user car potential:
The next phase is as those cars begin to turn over into the used car market and, by the way we continue to build the new car production, so in the next, we have gone from zero to 50 million cars in the first 10 years of factory installed radios. In the next 10 years, we'll go from 50 million to a 150 million enabled vehicles. But the real story and I think the next 10 years is going to be about access to the previously owned car buyer. 80% of the households in the countries have a previously owned car in them and 70% of the cars sold in the country every year are previously owned vehicle. So, it's a market that we have not really tapped in this first 10 years of execution and I think we are going to have a great long-term growth story in the next 10 years.
This penetration in the market is something that gives SIRI an advantage over Pandora Media (NYSE:P). On top of this, we believe that the short holdings in SIRI are actually a major positive. If you like Sirius, you should see the 13% short float as a major positive. As shares rise, the short float will need to close positions, adding more volume to the buy side. On top of that, in December, the company announced a $2B share buyback program. That decrease of shares outstanding from 6.56B to 5.9B will put further pressure on shorts as well as make share more valuable that do exist. Finally, the company is set to add two new stations in "Bon Jovi" and "South By Southwest," which are not game changers. Rather, the company is showing they want to continue to adapt with new shows and increase offerings that bring in new users.
Trade: SIRI, Long
Entry: Break of $3.25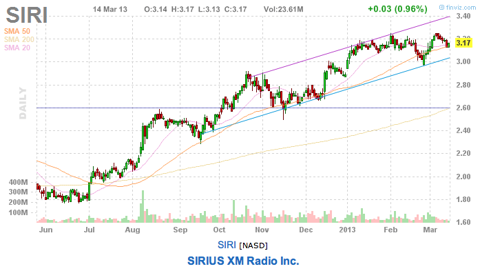 Another stock we like right now is AIG. AIG has great growth potential moving forward this year, and we believe that value is still there even with 10% growth this year already. First off, AIG's value is very strong. Future P/E is still under 10 and price/sales is at 0.9 (under 1 is a sign of great value). Both levels show great value, so what will be a catalyst for more upside? The company is making a HUGE turnaround. In 2013 and 2014, the company will see fairly flat revenue growth, but they are expected to see nearly 20% growth in earnings. Further, the company looks very likely to institute a dividend this year as well as a share buyback plan. Bernstein commented that the company will launch a $5B share buyback plan by mid-year. A share buyback plan will reduce shares outstanding by 1.48B to 1.35B, which is a major benefit to upside in the stock. And with value levels as low as they are, we do not believe that the deal has been priced into shares.
Further, the company's latest round of earnings showed some very promising upside in the company's business as well. The company beat expectations with a profit at 0.20 EPS while expectations were for -0.08. The company's earnings report, though, was most positive because it showed a profit despite being hit by Hurricane Sandy. Further, we believe that the company's turnaround story is going to continue moving forward. With value very low and lots of upside, AIG looks like a great buy right now. The best way to play this company is through a bull put spread in case of a strong decline in the market.
Trade: AIG, Apr20, 37/36 Bull Put Spread
Max Gain: 17%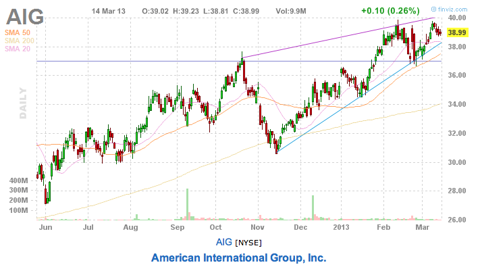 With the market looking like it could start to be toppy, where may money flow next? Emerging markets look very solid moving into the summer. One of the best ETFs to play the Emerging Market is iShares Emerging Markets. Emerging markets are going to account for a strong percentage of the growth in world growth. Did you know that 70% of world market growth will come from emerging markets through 2020? Right now, EEM has lost some of its appeal as American markets have been so strong over the past several months. And with QE-infinity continuing to prop up markets, the American markets look solid. Yet, emerging markets are expected to grow 5.7% in 2013 versus 5.2% in 2012. In 2012, EEM returned over 10% to investors, but emerging markets are expected to grow at an even larger rate than last year.
According to recent research, emerging markets have seen an outflow of over $600M in investments as American markets have looked more enticing. One of the main reasons these markets look great is that emerging market currencies are dropping, which is great for equities. EEM's top holdings include Samsung (OTC:SSNLF), Taiwan Semi (NYSE:TSM), China Mobile (NYSE:CHL), China Construction Bank, and Gazprom. EEM is mostly a China and Southeast Asia ETF along with other BRICs, and EEM will do best if China, Taiwan, and Russia do well. China has looked weak due to recent results that have missed expectations. From IBD:
Retail sales climbed 12.3% in the January-to-February period over the year-ago period, undercutting expectations of a 15% increase and below its historical average of 15.8% since 2010, according to TradingEconomics.com. Industrial output rose 9.9% in the January-February period year over year, missing expectations of 10.6%. Industrial output on average surged 13.3% a year from 1990 to 2013, according to Trading Economics.
China has missed this global rally, but the decline in EEM has left shares at great value. P/E has come down to 18.4, which is the lowest level the P/E ratio has been at for several months. While things look bad, how much longer can the American markets keep up this rate? We believe that over the next several months, American markets will start to look toppy while EEM will show great value. As most of the best investors note, when no one else believes in a stock it might be the best time to buy. And what most people are forgetting about the BRICs is the coming FIFA and Olympics. Brazil has the FIFA World Cup in 2013 and Olympics in 2016. Russia has the Olympics in 2014 and World Cup in 2018. Both of these moves are major infrastructure boosts. The question for investors is, do you believe that emerging markets will continue to be growth for the rest of the world? We do. The recent pullback in EEM is a great opportunity for investors.
Trade: EEM, Long
Entry: Break of $44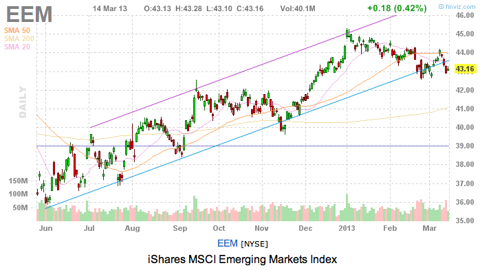 Friday's Outlook:
Friday, is it the day we finally start to see some correcting? The market has been on fire for quite some time, and it's likely that some consolidation and profit taking will need to occur to allow more buyers to enter the market. Friday, the market will be reacting to initial jobless claims and the PPI. If the PPI comes out under 1%, then it means that companies are successfully passing on costs to consumers. Jobless claims will likely be the main catalyst. If those come out weak, it could take out some of the recent euphoria in the market. With little news expected for the day, though, the market could end up fairly flat.
Chart courtesy of finviz.com.
Disclosure: I have no positions in any stocks mentioned, and no plans to initiate any positions within the next 72 hours.
Business relationship disclosure: The Oxen Group is a team of analysts. This article was written by David Ristau, one of our writers. We did not receive compensation for this article (other than from Seeking Alpha), and we have no business relationship with any company whose stock is mentioned in this article.