We got a good weekly unemployment claims report before the opening bell, and the S&P 500 bolted from the gate with its best ten-minute gain of the week. It certainly seemed like today was the day for the index to follow the Dow and set a new all-time high. The index oscillated through the day and mounted a rally in the final minutes that looked like it might do the trick. But, alas, the 0.56% gain for the day left it less than two points from its all-time high. All we needed was another 0.12 percent.
Let's hope there's no bad news in the morning from the eurozone and that tomorrow's Industrial Production report doesn't have any downside surprises.
Here's a 15-minute look at the week so far.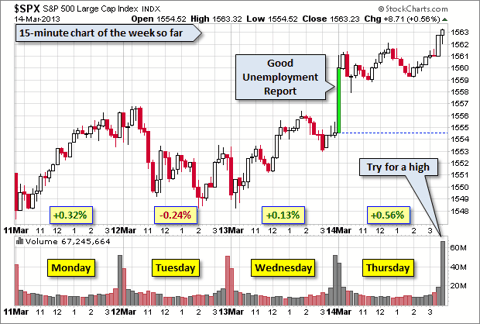 Click to enlarge
(Click to enlarge)
Here's another daily chart of the SPY ETF, which gives an idea of trader mentality. The volume was stronger than yesterday, but still on the light side.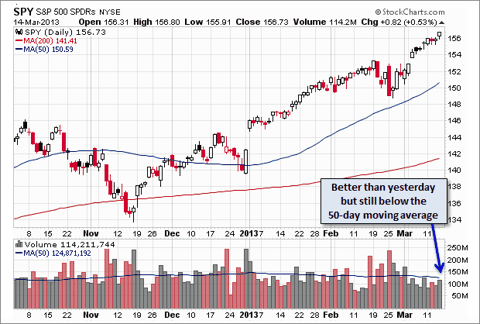 Click to enlarge
(Click to enlarge)
The S&P 500 is now up 9.61% for 2013 and at a new interim high.
From a longer-term perspective, the index is 131.1% above the March 2009 closing low and only 0.12% below the nominal all-time high of October 2007.
For a better sense of how these declines figure into a larger historical context, here's a long-term view of secular bull and bear markets in the S&P Composite since 1871.