The Dow has been hitting all-time highs lately, so why not the S&P as well? It appears that the market is going to give it a try and we will open today around 6 points below that level. This might be a project where it takes a couple of days to break through that level or maybe even a week or two, but the fact is that we are here and the market seems healthy and fully capable of getting over this hump. If we do break through though, do not be surprised to see a pullback with some people taking profits.
Chart of the Day: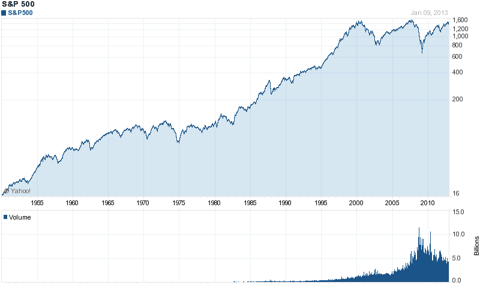 Chart courtesy of Yahoo Finance.
We have economic news due out today, and it is as follows:
CPI (8:30 AM EST): 0.5%
Core CPI (8:30 AM EST): 0.2%
Empire Manufacturing (8:30 AM EST): 6.5
Net Long-Term TIC Flows (9:00 AM EST): N/A
Industrial Production (9:15 AM EST): 0.4%
Capacity Utilization (9:15 AM EST): 79.4%
Michigan Sentiment (9:55 AM EST): 77.6
Asian markets finished higher today:
All Ordinaries - up 1.70%
Shanghai Composite - up 0.36%
Nikkei 225 - up 1.45%
NZSE 50 - up 0.14%
Seoul Composite - down 0.78%
In Europe markets are trading lower this morning:
CAC 40 - down 0.45%
DAX - down 0.13%
FTSE 100 - down 0.11%
OSE - down 0.23%
Technology
A lot has been said about Apple (NASDAQ:AAPL) and their moves since Steve Jobs passed away. The company was once off limits to those trying to force their hand both in the industry and on Wall Street, because everyone knew that you did not want to cross Steve Jobs. If you thought you knew better than him, he would come up with something to destroy you (there are some great stories out there about this). With Tim Cooke at the helm it is a different story, and the company's image has been tarnished as both the industry and Wall Street have taken shots recently and gotten Apple off track. The watch idea might be a great add-on to their family of products, but everyone wants an Apple TV and we could see this easily disappointing people should sales not meet lofty expectations. Furthermore, over the next few months BlackBerry and Samsung will be introducing some new smartphones aimed directly at the iPhone and we think that it will be telling as to how loyal Apple consumers are at this point. Remember, everyone was a "crackberry" addict before the iPhone, so how many will venture back to give the next generation a try?
Biotechnology
We have been discussing Celgene (NASDAQ:CELG) lately and mentioned that $115/share was the next stop for the company and should it take that level out then $120 would be very likely. Yesterday the shares hit another all-time high of $115.44/share, however the shares could not hold all of their gains into the close and finished at $114.28/share. We are still bullish here but as far as someone putting an initial investment or new money into this one at these levels we cannot recommend. We think it goes higher, but the risk/reward is no longer as lucrative as it once was.
Financials
We love the E-Trade (NASDAQ:ETFC) baby commercials, however the stock we do not. There are far better run brokerages out there with more attractive franchises in our view, but one cannot argue with the gains achieved by those who made their entrance into the stock during the downturn. Even this year the stock is up very healthily. News that the hedge fund Citadel, LLC is exiting its remaining holdings of the company sent shares down as it is a matter of time before these hit the primary market (they were sold via a private transaction in a block) and could cause a bit of a pause and/or pullback here.
Transports
The transports have had a huge run, and the long-term chart just does not do this most recent run justice...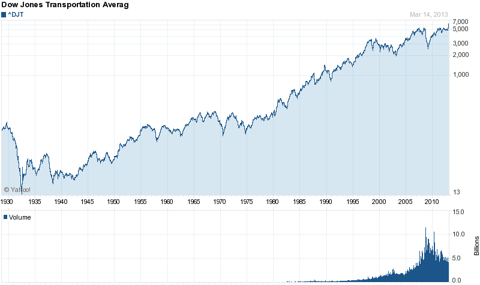 This one year tells the story though...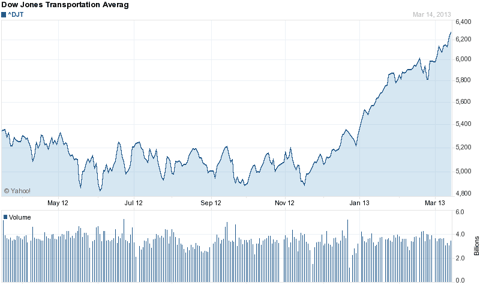 Charts courtesy of Yahoo Finance.
We have had a great run in the overall market over the past few months and it is not lost upon us where the strength initiated, the transports. If the strength initiated there we are left to believe one of two things at this point, the first being that they will be the last to correct, or the second being that they will be the first (because they are the transports after all). That is something to keep in the back of one's mind as we approach the all-time high on the S&P 500 and as many of these names like Union Pacific (NYSE:UNP) and Berkshire Hathaway (NYSE:BRK.B) - although not a pure-play on the sector it does have considerable exposure - continue to hit new highs, both on a 52-week basis and all-time basis. Our favorite name is Union Pacific, and we see them benefiting from a stronger America which actually manufactures stuff while names like Berkshire benefit from rebounds in coal exports and imports from China. We do think that investors should be watching these names as a potential canary in the coal mine so-to-speak and protect their portfolios against any correction or general move downwards in the overall markets.
Disclosure: I have no positions in any stocks mentioned, and no plans to initiate any positions within the next 72 hours. I wrote this article myself, and it expresses my own opinions. I am not receiving compensation for it (other than from Seeking Alpha). I have no business relationship with any company whose stock is mentioned in this article.