Facebook (NASDAQ:FB) has been going through a tough phase since its listing on NASDAQ. Is this just a matter of too high IPO expectations being spoiled or have the shareholders noticed a glitch in the financials of Facebook?
Here's something that might concern you as an investor. Facebook's share price is heading opposite to the NASDAQ index. That's strange! The main question is, whether you should buy (if you have not already) or sell Facebook (if you have already bought it).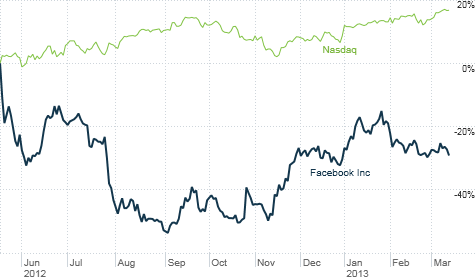 Qualitative Analysis
To analyze Facebook qualitatively, one must understand that Facebook is primarily multiple businesses rolled into one. It is a social networking site with huge commercial advertising spending and strong potential to cater for professional networking and social gaming purposes. Let us dig deeper into the current stature and future potential of Facebook.
1. Social Networking: While your monthly active users are 850 million and growing every day, you have nothing to worry about. Additionally, Asia is still a vast market yet to be captured, not to mention China. 21% of Facebook users are from Asia, which is only less than 4% of Asia's population. In short, Facebook has not reached its market saturation point as of yet. In the image below, we can clearly see the growth in monthly active users of Facebook.
Do you see that monthly active users (MAUs) in U.S. and Canada have not shown much improvement in the last couple of years? That does not set Facebook back since around 67% of U.S. Internet users visit Facebook every day, compared to 16% of Twitter, 15% of Pinterest, 13% of Instagram and 6% of Tumblr. And looking at the graph below, it is clear that even though U.S. MAUs have not risen much, it is still higher than most in the market.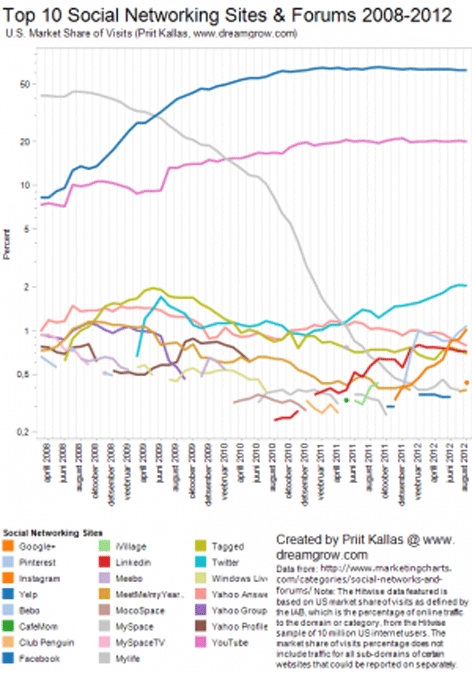 2. Social Advertising: When target consumers are using a social networking site, it is inevitable that businesses will want to take advantage of that. That is the case with Facebook.
And Facebook's popularity among social marketers has grown by 10% last year. Probably, that resulted in the ad revenue surge to $5.74 billion in 2012 over $4.05 billion in 2011.
It must be noted though that LinkedIn (LMKD) and Twitter are still ahead of Facebook. Should Facebook be scared? With the high user base, Facebook is the undisputed leader in the social networking industry. And while social marketers might advertise more on LinkedIn and Twitter since they have successfully created that professional brand image in the market, they will still want to come to Facebook for its informal charm among its users.
3. Facebook Graph Search: In a word, you can call this new Facebook feature, the "social search engine." You might not be able to get results on "top ways to market your business online," but when you search for "most watched movies of 2012," you will get a list of 2012 movies most liked and followed by your friends.
Now, this will have two implications on the business of Facebook. It will improve user visit frequency on Facebook and also give the users a new reason to connect with each other. It is like you will get to know your friends better and thus interact more and better. Although this is the theory behind Graph search, one thing needs to be understood here.
With Google (NASDAQ:GOOG) focusing more on social search via Google+, Graph search might just have nipped the idea right in the bud. And on top of that, Graph search gives actual answers as results, not links instead. Moreover, with the partnership with Microsoft's (NASDAQ:MSFT) Bing, Facebook can turn out to be a real competitor in the field of social search for Google.
Two other factors that might play an important role in Facebook's business in the upcoming future are as follows:
4. Facebook Gaming: After the recent separation between Zynga (NASDAQ:ZNGA) and Facebook, it certainly becomes a possibility that Facebook might venture into the gaming market. By 2011, around 12% of Facebook's total revenue came from Zynga. So, with the severance of ties with the gaming partner, Facebook has got two choices to keep the gaming revenue coming. It can build an in-house game development team or prepare a business contract with another gaming company.
It must be remembered that Facebook's gaming revenue has not been growing much with the rest of the gaming market, as says the image below. Although it is basically a social networking site, it needs to provide the necessary equipments for effective and fun social interaction.
(in billions)
In short, the gaming market might be an opportunity for Facebook.
5. Professional Networking: Facebook recently released an article on how interacting more with your "strong ties" may help you in finding a new job. Those who do so have an astounding 33.2% probability of getting a new job sooner.
This may be irrelevant to our topic at hand, but the question is whether professional networking and hiring is the next possible step for Facebook or not. Facebook has already started the marketplace where you get to buy stuff from your friends. What if you can hire someone you already know as a person beforehand? That's a nice concept, right? Are we seeing this as a threat to LinkedIn yet? Not at all, but this is highly likely that Facebook might want to leverage its 800+ million members in a new way in the future.
In other words, Facebook, with its strong member base, growing worldwide audience and diverse business potential, has lot of growth prospects. Even if the growth might not be as remarkable as was in the last few years, it still can make the stock price fetch double-digit returns.
Competitive Analysis
With Facebook indicating strong fundamental aspects, it must be noted though that Facebook is still a young growth company and does not have long historical records of performance to show for. So, you, as an investor, cannot confirm whether your investment in Facebook is going to be a right decision or not. Moreover, it will not be right to compare Facebook with other mature tech companies such as Google and Yahoo! Yet, it does help to look over the numbers just for a quick comparison.
Companies

P/E (Forward)

Ratio

P/S Ratio

Return on equity (ROE)

Current Ratio

Net Margin

Operating Margin

Debt/Equity Ratio

Facebook

71.37

8.95

3.86

10.71

1.04

8.33

0.17

Google

21.41

5.27

16.94

4.22

20.9

21.94

0.04

Yahoo!

20.76

4.95

10.14

4.38

79.12

28.25

0.00

AOL

24.85

1.30

3.99

1.74

47.83

4.34

0.03

LinkedIn

655.7

10.65

19.85

2.45

8.34

8.56

0.00
With idle capital in hands (high debt-to-equity ratio and high current ratio) and poorer net margin than the biggies such as Google, Yahoo! (NASDAQ:YHOO) And AOL (NYSE:AOL), it is not understandable how the P/E ratio of 71.37 is justified. Having said that, even the price-to-sales ratio is high at around 9. The only other company with such high current valuation is LinkedIn. So, is it that the investors are deeming these social tech companies far more future-profit worthy than the other tech giants? It might be. It is a far-fetched idea but still, Facebook and LinkedIn do have a lot of growth potential.
Street Analysis
It is expected that Facebook's revenue should grow strongly by 2017. After that, it might shift into a more matured business stage, whereby double-digit growth might not be possible. So, the stock price has a strong chance to show some strong upward momentum during the next 4-5 years.
EPS should grow along with surge in revenue, thus tending to push the stock price up.
In others words, Facebook, with the steep fall in price, is a strong buy at the moment.
Source: Investor Guide
Conclusion
To sum up the whole thesis on Facebook, I would rate Facebook as a"'Buy" provided the next few quarters prove to me that revenue, along with operating margin, is going up.
As I already said before, there is a lot of business potential for Facebook. But we need to see whether Mark Zuckerberg has the capability to sail through the initial tough waters, leading to the land of profits lying ahead.
Disclosure: I have no positions in any stocks mentioned, and no plans to initiate any positions within the next 72 hours. I wrote this article myself, and it expresses my own opinions. I am not receiving compensation for it (other than from Seeking Alpha). I have no business relationship with any company whose stock is mentioned in this article. Numerical data vary according to sources. Better for comparison, rather than exact measurement.