The investment case for Russia is often justified by its perceived cheapness. But is it really that cheap?
On some measures it is. But on one tangible metric - dividends - Russia is not cheap. In fact, Russian ETFs barely returned more dividends than the average emerging market last year.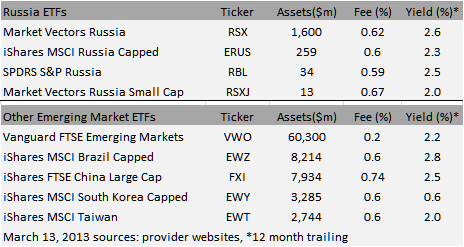 The next question to ask - since we are looking at dividends paid in 2012 - is whether dividends will grow this year and the next? This is where the case for Russia breaks down.
Energy drives the economy and equity market
Russia's equity market and economy are dominated by the energy sector. There is no other country (except Norway) that is close to having such a high concentration of energy companies represented the invest-able market.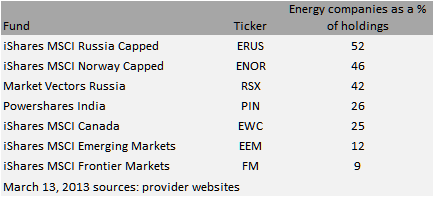 The sector is also crucial to the broader economy and government. Revenues from a crude oil export duty and mineral extraction tax represent around one-half of the state's entire budget revenue.
The easy oil is gone
Russian companies have been milking the country's oil fields in West Siberia and Urals/Volga region for decades. The fields are depleting and new projects are barely able to offset this decline. Oil is becoming more costly and harder to come by.
A look at the production results of the major producers tells the story. Rosneft, the country's largest oil producer, was able to grow its oil production by 2.5% in 2012 thanks to new production coming on-stream in East Siberia. Lukoil is seeing its second year of declines (-1.3% in the nine months 2012) following a 5% output drop in 2011. TNK BP, the country's third largest oil producer, grew oil production by 1% last year. TNK BP is in the process of being acquired by state controlled Rosneft by the way. Tatneft, another large producer, grew production by 0.5% in the first nine months of 2012. This growth doesn't come close to keeping up with the increased costs of production.
Natural gas is another concern
Russia has plenty of natural gas (and oil for that matter). The problem is that its main export customer, Europe, has been buying less of it due to an economic slowdown and uncompetitive pricing terms offered by Gazprom. European countries have been diversifying their sources of natural gas and shale gas in places like Poland and Hungary is a looming risk. A look at the most recent data from Gazprom shows natural gas deliveries to Europe declined by 7.5% in 2012 compared 2011.
Cash flow pressure is already here
Efforts to stave off production declines are coming at a cost. Lukoil's exploration and production capex grew by 29% in the first nine months of 2012 over the same period last year. Rosneft's capex grew by 19% in 2012 and its free cash flow deteriorated.
Preliminary reports from Gazprom are concerning. In the first nine months of 2012, Gazprom's operating profit under international accounting standards declined by 26% compared to the same period in 2011. The company is guiding a 15% drop in net profit for 2012 according to its latest investor presentation.
While some state companies raised dividends last year it's hard to imagine this trend continuing.
The cow has been milked
Russia's energy sector has been badly managed. Without rising commodity prices there is little prospect for improving returns. While there have been some changes to the punitive taxation system through incentivization of green-field production, it will take time for more benefits to be realized. Any growth is coming at a material cost.
Let's take a look at the funds.
Market Vectors Russia (NYSEARCA:RSX) is the largest and most liquid Russia ETF. The fund's main exposure is energy (42%) but it is less heavily exposed to the sector than its peers. RSX also has significant exposure to materials (18%), financials and telecoms. The fund has 47 holdings and is relatively top-heavy with its top 10 holdings representing 60% of total holdings. Its largest holdings are Sberbank, Lukoil and Gazprom.
iShares MSCI Russia Capped (NYSEARCA:ERUS) has the largest energy sector exposure of the funds (52%) and financials (18%). The fund is highly concentrated with 28 holdings and its top 10 holdings represent more than 75% of the total portfolio.
ERUS follows the MSCI capped index, which is a methodology designed to limit any single issuer to a 25% weight in the fund and limit the sum of all issuers representing more than 5% of the fund to not exceed 50% of the fund's total assets. This is to protect the fund from being too concentrated in a few holdings. Well the methodology doesn't really work. ERUS' top 3 holdings (Gazprom, Sberbank and Lukoil) currently represent 45% of the portfolio. Its not in breach of the methodology but still very concentrated.
SPDR S&P Russia (NYSEARCA:RBL) has more moderate sector exposures than RSX and ERUS. Energy is the largest sector (49%) followed by financials, materials and telecoms. The fund has 48 holdings.
Market Vectors Russia Small Cap (NYSEARCA:RSXJ) holds companies that are below $5bn market cap and is relatively diversified from a sector standpoint. The fund holds companies involved in pharmaceutical manufacturing, freight and logistics, pipeline distribution, real estate, media, retail and some smaller oil, chemicals and materials companies.
Finally SPDRS Emerging Europe (NYSEARCA:GUR) is a regional fund but mostly a Russia fund (58%). GUR also gives exposure to Turkey (21%) and Poland (13%) both of which have large financials exposure.
Liquidity is generally good
RSX trades $100m/day, ERUS around $20m/day, GUR $1.5m/day. RBL and ESXJ are less liquid trading $500k/day.
Dismal performance
23-month chart: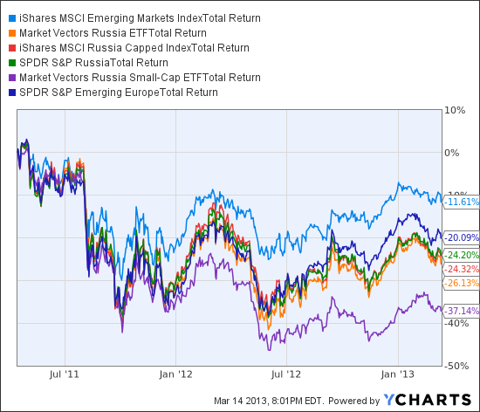 Over the period the major funds have been closely correlated and all under-performed broader emerging markets represented by iShares MSCI Emerging Markets (NYSEARCA:EEM). GUR showed the best performance thanks to some diversification outside of Russia. RSXJ was the worst performer. In markets that depend heavily on foreign fund flows, like India and Russia, small caps have tended to underperform due to a liquidity premium placed on large caps and more challenging execution.
Stay out
Barring major oil/gas price rises or drastic changes in government policy, Russian ETFs must be avoided.
The country has great potential. It is educated, large, resource rich and geopolitically influential. Unfortunately the power-brokers and their friends have stolen the show.
Disclosure: I have no positions in any stocks mentioned, and no plans to initiate any positions within the next 72 hours. I wrote this article myself, and it expresses my own opinions. I am not receiving compensation for it (other than from Seeking Alpha). I have no business relationship with any company whose stock is mentioned in this article.