Oil and gas production volumes have increased throughout America, putting midstream companies in the spotlight. There has suddenly been a massive build-out in midstream infrastructure and acquisitions.
Here let me discuss Plains All American Pipeline, LP (NYSE:PAA), which with its strong growth prospects and dividend yield will reward any investor handsomely for several years.
Plains' primary business is transport and storage of crude oil on its way from the oil drilling plays to the refineries. Additional businesses include transport and processing of natural gas liquids and the storage of refined petroleum products and natural gas. It has three segments Transportation, Facilities and Supply and Logistics. See below the pros and cons of the business.
Benefits:
The biggest benefit from Plains is that 60% of the FY12 cash flows comes from stable, fee-based businesses such as crude oil transportation and terminal fees. The remaining comes from supply and logistics operations, which have some exposure to changes in commodity prices. For FY13, the company has guided for 70% fee based cash flow with ~15% growth in fees due to acquisition and expansion capital investments. Further it assumes baseline supply and logistics profitability after 1Q13.
Both shale gas and oil are poised to accelerate over the next few years. In 2000, shale gas provided only 1% of U.S. natural gas production; by 2010 it was over 20% and the U.S. Energy Information Administration predicts that by 2035, 46% of the United States' natural gas supply will come from shale gas. Plains has a competitive advantage due to its strategically-located crude pipelines and storage centers mainly in shale regions like Bakken, Permian, and Eagle Ford, that allow it to take advantage of the burgeoning crude supply and the growing need to get that crude to refiners or other end-users.
Plains has a solid operating performance track record. It has a history of consistently increasing its guidance and meeting it. In Nov. 2012, it increased mid-point of the Adjusted EBITDA guidance for 2012 to $2,017 million, a ~7% increase vs. the guidance provided in August 2012 and ~22% over the full year guidance provided at the beginning of the year. It reported a strong 4Q12 EBTDA almost 15% above consensus and announced distributions of $0.5625 per unit, in line with expectations. This represented a 9.8% increase over last February's distribution, and a 3.7% increase over the distribution paid just last quarter. Further, Distributable cash flow (DCF) was 20% above consensus and covered the distributions paid by 1.7x, well above the 1.1-1.2x MLP average.
It has guided for FY13 EBITDA of $1.975 - $2.075 billion and distribution growth of 9-10%. However, it has guided for a slightly lower growth for FY13 as according to the Management the market conditions were extremely favorable for the Supply and Logistics segment in FY12, which will see a return to baseline after 1Q13. Notably, it increased the mid-point FY13 Adjusted EBITDA guidance to $1.975 billion from previously announced $1.925 billion.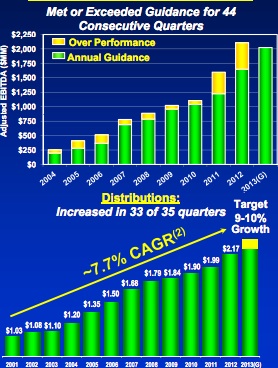 Next comes its strong cash flow generation capabilities. Over the past 5 years (2008-2012) net cash from operations generated a cumulative excess of ~$962 million (after deducting maintenance capital expenditures, net income from non-controlling interests, and distributions). This excess cash flows can be used to reduce debt, re-investing in business or to issue additional units that dilute existing holders. This is especially important to Plains limited partners because issuing new units is very expensive due to the general partner's incentive distribution rights (IDR), as explained below.
Cash flows
Cons:
IDR is the main factor which goes against MLPs. These are essentially bonus payments that an MLP issues to its general partner once it hits previously agreed upon performance standards. Hence, these payments generally increase the cost of capital for MLPs as companies have lesser money to pay out to investors or retain internally for growth.
For Plains, the IDRs entitle the general partner to 48% of amounts distributed in excess of $0.3375 per unit. Therefore at the current distribution rate of $0.5625 per quarter, each additional unit issued consumes ~$0.88 of DCF per quarter. This is a heavy burden that pushes up Plain's cost of capital. However, the management at the recent earnings call has stated that the IDRs do not hinder its organic growth as there is a large spread between the returns from its projects and cost of capital. The issue arises only at the time of acquisitions but the Management has mentioned the GPs have been considerate by deferring IDR payments in the wake of large acquisitions.
Another risk is that the company has been investing heavily in rail projects. Depending on competition, there may be certain regions in which Plain's rails may compete with pipelines and receive lower margins (as pipelines have higher margins). This is a chance that investors must take in assessing any of the midstream energy companies. We can take comfort from the fact that generally Plains has added rail where large pipeline alternatives do not exist.
Competition:
Its key competitors are Enterprise Products Partners L.P. (NYSE:EPD) and Magellan Midstream Partners, L.P. (NYSE:MMP). These are outstanding MLPs with excellent operational results and have driven up unit prices, thus generating significant capital gains for the partners.
Again Plains, loses out against its peers on IDR payments. Enterprise (recently absorbed its general partner) and Magellan are not burdened by IDRs while Plains pays 48% at the margin.
Conclusion:
Plains currently provides a 4.0% yield. There are higher yielding MLPs and faster-growing MLPs but few MLPs have the depth of operations, infrastructure, and well-regarded management that Plains brings to investors.
Disclosure: I have no positions in any stocks mentioned, and no plans to initiate any positions within the next 72 hours. I wrote this article myself, and it expresses my own opinions. I am not receiving compensation for it (other than from Seeking Alpha). I have no business relationship with any company whose stock is mentioned in this article.