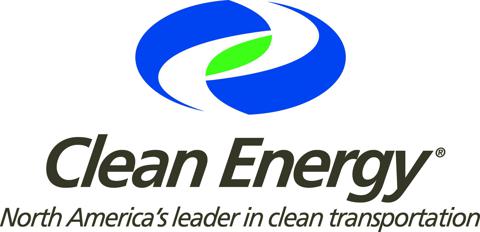 Click to enlargeClean Energy Fuels (NASDAQ:CLNE) was up 5.46% on March 14. The move was likely due to news that a Chinese company, ENN Group, was building natural gas refueling stations across the US. You can read about it here.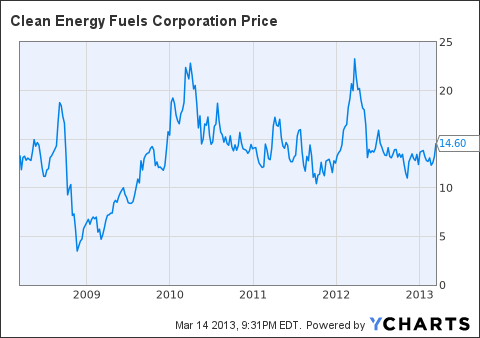 ENN Group is run by billionaire energy tycoon Wang Yusuo. The company has already built natural gas stations in China. According to NGV America, China is much further ahead in adopting natural gas transportation with a fleet of 1,000,000 NGVs. This puts China at 6th place in the world with 6.5% of the total NGVs in operation. The US has less than 1% of the world's NGVs and ranks 17th. It is amazing that a country like China that imports most of its natural gas can be ahead of the US at deploying natural gas powered vehicles. Even more so when one consider natural gas in the US is trading at $3.60 MMBtu, almost 1/3 of what China pays for it.
ENN Group plans to build 50 stations in the US this year alone. According to industry experts, the average liquefied natural gas station costs around $1 million to build. This puts ENN's investment this year at about $50 million.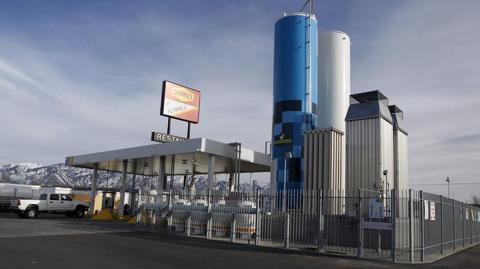 Click to enlarge
A Blu LNG Station In Salt Lake City, Utah.
CLNE reportedly had no comment on this development although they are said to have turned down ENN when the company reached out for a collaborative deal. As a result, ENN turned to CH4 Energy Corp. (love the name!), a small Utah Company. CH4 Energy Corp. had opened a single LNG and CNG fueling station in Salt Lake City. A deal between these two companies created Transfuels LLC, which operates natural gas stations under the "Blu LNG" brand. ENN has a majority stake in the joint venture and controls its board of directors.
Blu LNG is moving rapidly. Merritt Norton, who founded CH4, and is Blu's chief executive, said:
We have five stations in operation right now, and within I would say two weeks we will have another three stations.
Last month, ENN reached an agreement with Westport Innovations (NASDAQ:WPRT). The partnership between the two companies is aimed at the proliferation of natural gas transportation solutions and fuel for on-road, off-road, rail and marine applications.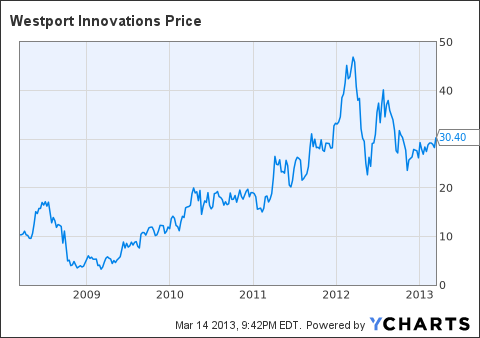 WPRT was down $0.33 at the close of trading today (March 14). Westport is not helping ENN with its U.S. LNG stations. The president of Westport's China business said:
They don't need us. They know what they are doing and they have the money for it.
This is very bullish news for companies like WPRT and CLNE that are involved in the natural gas transportation business. It could also be bullish for companies like General Electric (NYSE:GE) that make compressors, valves, and other natural gas related industrial equipment.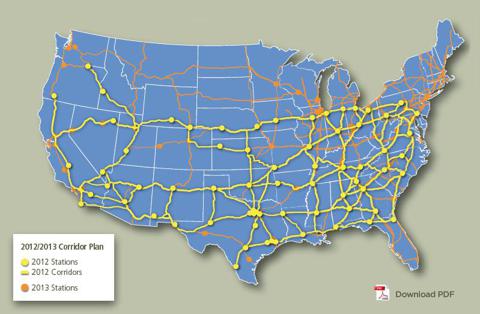 Click to enlarge
Could it be that a private Chinese company will help the US build out a natural gas refueling infrastructure on its interstate highway system? If so, I welcome it with open arms. And so do the companies in this article that will profit from it. This is great news for American consumers too because it means CLNE's "America's Natural Gas Highway" may well be built much faster than previously thought. And that means more NGVs will be able to take advantage of America's most abundant, cleanest, and cheapest fuel: natural gas.
Disclosure: I have no positions in any stocks mentioned, and no plans to initiate any positions within the next 72 hours. I wrote this article myself, and it expresses my own opinions. I am not receiving compensation for it (other than from Seeking Alpha). I have no business relationship with any company whose stock is mentioned in this article.
Additional disclosure: I am an engineer, not a CFA. Please do your own research and contact your investment adviser. I am not responsible for investment decisions you make. Thanks for reading and good luck!