March 14th, 2013, was an ugly day if you were a municipal bond closed-end fund (CEF) holder. Virtually across the board, all muni bond CEFs got hit especially hard after a dreary week of selling culminated with large losses on heavy volume this past Thursday. Here's a screen shot reflecting the closing prices of a number of the larger national municipal bond CEFs from Nuveen, BlackRock (NYSE:BLK), Invesco/Van Kampen and PIMCO. I didn't include any state specific (CA, NY, etc.) muni bond CEFs, but their declines were just as ugly.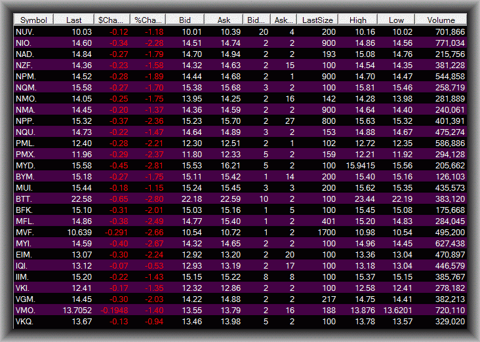 This has been going on all week and many muni bond funds that were trading at 52-week highs and even all-time highs not that long ago in late 2012 are now all of sudden skirting closer and closer to 52-week lows. Here is a screen shot of the 5-day market price performances of several of the largest municipal bond CEFs. The first is the Nuveen Insured Municipal Opportunity fund (NIO) at over $2 billion in total net assets.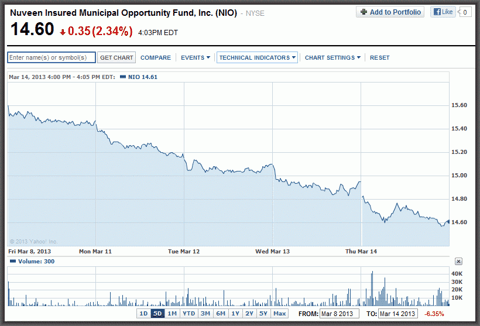 The second is the BlackRock MuniYield Insured fund (NYSE:MYI), which is the largest BlackRock national muni bond CEF at $1.38 billion in total net assets.
The third is the PIMCO Municipal Income fund II (NYSE:PML) at $1.1 billion in total net assets.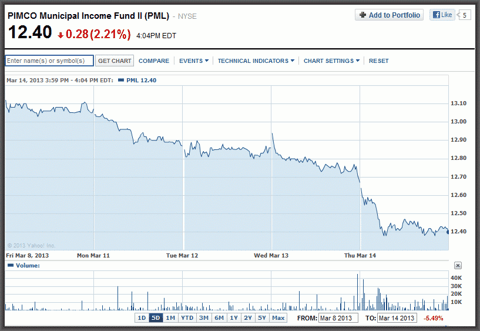 And the fourth is the Invesco Van Kampen Municipal Opportunity Trust fund (NYSE:VMO), the largest of the Invesco/Van Kampen muni bond funds at $1.3 billion in total net assets.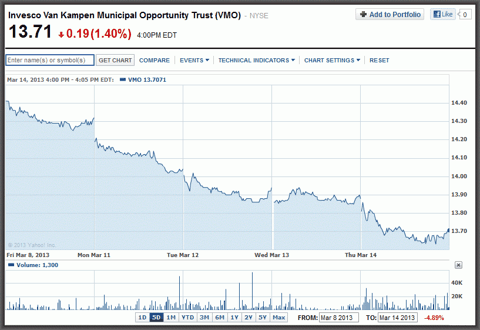 So what's going on? I don't profess to be as knowledgeable on the fixed-income CEFs as I am on the equity CEFs, but certainly there are some takeaways here. First, whatever is going on in the municipal bond markets is magnified exponentially in the municipal bond CEFs. That's because unlike municipal bond ETFs or mutual funds, most municipal bond CEFs use 30%-40% leverage to enhance their income from their leveraged portfolios and thus, are able to offer distribution yields significantly higher than individual muni bonds and muni bond funds. How much higher?
On a tax-equivalent basis, municipal bond CEFs that were yielding say 5% on a tax-free basis meant that investors could receive closer to 7.7% on a tax-equivalent basis assuming a 35% federal tax bracket. That is very attractive to conservative investors in a near zero interest rate environment and much more attractive than buying individual muni bonds. 10-year AAA or AA rated municipal bonds that yield less than 2% means that on a tax equivalent basis, investors would only receive around a 3.1% tax-equivalent yield. Even muni bond mutual funds and ETFs could not compete with the yields muni bond CEFs could offer. So as you might imagine, municipal bond CEFs became wildly popular and many hit all-time high market prices and lofty premium market prices over their Net Asset Values (NAVs) just in the second half of 2012.
However, as these funds' premiums moved higher and higher, so did their risk and I began to write articles late last year pointing out that premium pricing coupled with leverage in CEFs can be a deadly combination when conditions turn against you. In one of my first articles on the subject on November 5th of last year, I compared the valuations of municipal bond CEFs with high Return-of-Capital (ROC) equity CEFs and argued that high ROC equity CEFs could offer similar tax-free distributions and even higher tax-equivalent yields at much lower valuations. You can read that article here, Best ROC Funds.
It became pretty obvious to me late in 2012 that investors were not at all aware of what could happen to these funds if interest rates started to rise or if the tax-free status of municipal bond payments was ever called into question. That latter concern first hit the muni bond market in November and it appears that a more recent Barron's blog this past Monday may have been a catalyst for this week's high volume rout in muni bond CEFs. You can read that article which came out on March 11th titled Morgan Stanley: 30% Chance That Munis Lose Tax Exemption, here.
More concerning to me however, is the trend of distribution cuts that appears to be picking up speed in muni bond CEFs. BlackRock was the latest fund sponsor to declare distribution cuts for a few of their national and quite a few of their state specific muni bond CEFs just in this last declaration period on March 1st. The press release included these state-specific funds which cut their distributions.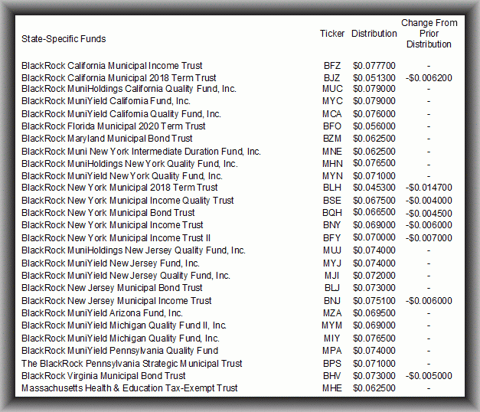 My concern is that this may be just the beginning of distribution cuts in this space as these bond funds get more and more of their older and higher yielding securities either called away or maturing. The problem is that there are not many options that these funds have to replace their higher yielding securities with new issues that will be even close to the yields necessary to maintain their income levels. Many of these funds can't go down in rating if their mandate is to include only insured bonds so that leaves going out to longer maturities which can be especially dangerous with leveraged bond funds if interest rates rise.
This latest sell-off in municipal bond CEFs has pushed their tax-free yields to well over 5% to even 6%+ and many investors might be inclined to buy here. I would be cautious, however, about jumping into these funds even at these levels where many are now at discounted market prices. Though my focus is on equity funds, I did spend many years at Citigroup Smith Barney (NYSE:C) and Morgan Stanley (NYSE:MS) dealing in fixed-income and municipal bond securities and if there is one thing I learned, it's that in the world of fixed-income, trends are like moving a battleship. They may take awhile to get started, but once they get going, they are hard to stop.
Conclusion
As I pointed out in several articles late last year, there are alternatives to muni bond CEFs that I feel are much more attractive for investors looking for tax-free to tax-advantaged investments. Many of the option-income CEFs still offer 9%+ market price yields in which most of the distribution is Return-of-Capital... i.e. ROC, which is not taxable in the period received. Though ROC may sound rather ominous, it is really just a tax description and not necessarily an economic one. In other words, many of these option-income funds specialize in designating much of their distributions as ROC without necessarily being forced to return a portion of your investment back to you at the expense of the fund's NAV. For a more complete analysis, please read over this article I wrote on October 29th, 2012 titled Demystifying ROC. In it is a white letter publication from Eaton Vance (NYSE:EV) which provides an excellent explanation of what ROC is and how it can be often misunderstood.
And finally, this article I wrote on December 17th, 2012, titled 9% Yields Being Given Away explains why I think the opportunities in high ROC equity CEFs are so advantageous and why these funds are often ignored by income investors and trade at such low valuations. I'll be back with a list of equity CEFs that I believe are particularly advantageous right now as the rotation from fixed-income to equities picks up steam.
Disclosure: I have no positions in any stocks mentioned, and no plans to initiate any positions within the next 72 hours. I wrote this article myself, and it expresses my own opinions. I am not receiving compensation for it (other than from Seeking Alpha). I have no business relationship with any company whose stock is mentioned in this article.