A key indicator for investors remains transportation stocks. The Dow Jones Transportation average was used as a crucial element in measuring the health of the stock market in the late 1800's. For example, if the major shipping and trucking stocks began to fall dramatically, this would indicate a market heading south as it had done in 2007.
Currently, the transport sector is near record levels as the market has also inched its way to historic highs. Should investors put their hard earned money to work in these transport stocks that have been chugging along to new highs? Let us analyze why 3 railroad stocks in particular are poised to outperform their counterparts in the transportation sector.
The discovery of a plethora of new oil with the advanced hydraulic drilling is now lacking sufficient pipelines to transport this oil. Pipelines take years to build and also are environmentally unfriendly. Needless to say, there is much opposition about building more pipelines. Let us now examine the history of oil production and its forward looking projections to better understand why railroad stocks are in a great position to realize tremendous gains.
In the beginning of 2012, United States oil production was over 7 million barrels per day, a record since the early 1990s. The even better news is that analysts expect oil production to be over 10 million barrels per day in approximately 8-10 years. So, how does the United States compare to the global giants in the industry? Saudi Arabia is currently the world's largest oil producer with producing slightly over 9 million barrels per day. The United States oil dependency will greatly diminish as it has in recent years.
The alternative to pipelines is railroad transportation. The Railroads are the most efficient way of transporting this oil in terms of speed and cost. Union Pacific (NYSE:UNP) is positioned to benefit from this surging oil discovery. Major railroads such as Union Pacific, Canada Pacific (NYSE:CP), and Norfork Southern (NYSE:NSC), carry approximately 1 percent oil compared to the total goods carried on board. However, the transportation of oil is expected to account for 3 percent of Union Pacific's earnings per share and 6 percent of Canada Pacific's earnings per share. The chart below illustrates the major rail competitors in the industry and how they have fared in the last year.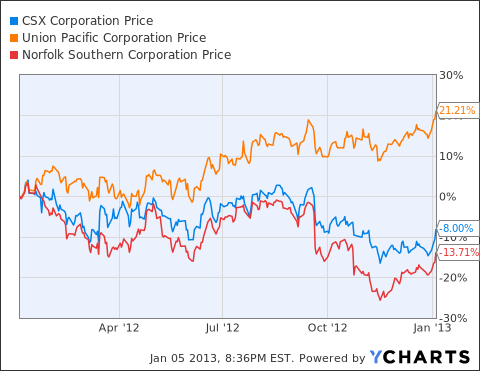 Union Pacific is trading at all-time highs at $139.56 as of the close on Wednesday, March 13. Its 2 percent dividend provides a small cushion to this larges market cap company. Union pacific has strong fundamentals. It expects pricing gains in the next few years, as several big contracts are renegotiated. Union Pacific has the largest book of business has not been renegotiated since 2004. Over 60 percent of the company's revenue comes from coal and a diversity of agriculture. A potential negative impact is the rising fuel costs that continue their climb. The addition of oil transportation will alleviate the rising fuel costs and make Union Pacific's balance sheet stronger. UNP announced that its Board of Directors raised a quarterly dividend on its common stock by 26% to 0.60 per share in 2011. This reveals the management's commitment to its investors and further incentive to own UNP for future dividend growth as the company strengthens the business. UNP's inflation adjusted earnings per share growth rate is 19.46 percent. Inflation adjusted earnings per share growth rate greater than 15% is a strong characteristic that David Fisher looks for. Union Pacific gained roughly 11 percent since the beginning of 2013, however has more room to run with a low historical P/E ratio and a strengthening economy.
Another major subset in the transportation industry is the freight business. Freights stand to benefit from the overall improving global economy. Companies such as UPS (NYSE:UPS) and FedEx (NYSE:FDX) are expanding their businesses into emerging markets to capture even more profits. UPS has a 52-week range of $69.56 to $85.32. Its 2.9 percent reliable dividend provides a safety net as well. UPS and FedEx are trading lower than their historical P/E ratios, however they are not extremely undervalued presently. Patient investors with a focus on future expansion globally, will be rewarded for their foresight of global expansion. As with most companies that venture internationally, a general expansion in the company's business and growth is inevitable.
With the stock market at all-time highs, it is important to analyze which sectors and companies are most likely to outperform and to continue their steady climb. There remain many variables that are prone to impacting any investment. However, it is important to look for the major variables and key concepts as outlined above, that will most likely propel a stock higher.
Disclosure: I have no positions in any stocks mentioned, and no plans to initiate any positions within the next 72 hours. I wrote this article myself, and it expresses my own opinions. I am not receiving compensation for it (other than from Seeking Alpha). I have no business relationship with any company whose stock is mentioned in this article.