When many people each contribute a small bit of information or work, they can together create tremendous value that none of them could have produced alone. Today there are several publicly traded companies that are premised on this notion. For example: TripAdvisor (NASDAQ:TRIP) with a market cap of over $7B, Yelp (NYSE:YELP) and Zillow (NASDAQ:Z) with a $1.5B valuation, Angie's List (NASDAQ:ANGI) valued at over $1B, and Trulia (TRLA) valued at over $800M. All these are premised on the value of small pieces of information contributed by a mass of people, and collated and presented in a way that is actionable and therefore valuable.
These companies have been drastically outperforming the markets. Over the last 12 months, TripAdvisor is up 66%, Yelp is up 20%, Zillow is up 70%, Angie's List is up 24%, against 6% for the NASDAQ 100 and 13% for the S&P. The least of the "distributed knowledge" companies outperformed the gains of both the NASDAQ and the S&P taken together.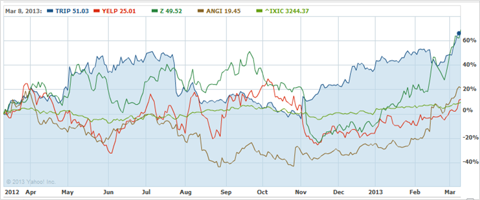 Historically, outside of free markets (such as stock markets) such systems could never be built on mass participation because there was no infrastructure to support it. But, as one MarketWatch journalist recently put it, "If the Internet has demonstrated anything, it may be to show how easily people's opinions can be disseminated and how powerfully they can matter." These "distributed knowledge" companies are all new, and they are demonstrating the immense value that can be realized by collating distributed knowledge in a given market, and presenting it to the most interested parties.
Strategy Goes Social
Corporate strategy, along with finance, is probably the most important area of competence expected and demanded of executives today. The more senior one is within an organization, the closer one is to dictating that organization's strategy. Many of the best minds coming out of business schools are attracted to the strategy consulting industry, and CEOs and Boards of Directors spend billions every year hiring these bright minds through the services of McKinsey, Bain, BCG and others. Strategy remains the exclusive preserve of a corporation and industry's elite.
But things are changing. In The Lords of Strategy (HBR 2010, p.321), Walter Kiechel describes the new wave of strategy development as "adaptive strategy," meaning iterative learning of strategy fed from the periphery of the company back to HQ. Strategy at its best has become bottoms-up, and the best strategists are now those who build the skills and environment required to build a strategy by engaging with others and learning from them rather than by dictating it from on high. According to a 2011 HBR article by BCG partners, this form of "adaptability is the new competitive advantage." Competitive advantage is no longer about speed, or change, it's about the speed at which you can change. It is about being adaptive. This is not dissimilar to what has happened in the news journalism industry; journalists used to pride themselves on the thoroughness of their research and the depth of their contacts. Today, a lot of the research is done for journalists by the crowd, but journalists still distinguish themselves by their ability to collate that information effectively, and present it coherently. The same goes for strategists: the next wave of strategy is no longer driven by Porter's 7Cs or some other framework determined by the c-suite in its occupants' infinite wisdom. Rather, the organization that can identify and filter strategic insight from its many constituents, and amalgamate that into a coherent, actionable strategy, and do so continually, will have a considerable competitive advantage. In other words, the company with an adaptive strategy will win out.
Social Strategy Goes Mainstream
McKinsey stated in a recent report (McKinsey Global Institute's July 2012 report 'The Social Economy') that "the secret to good idea generation is to involve many internal and external stakeholders in the process - to leverage the 'wisdom of the crowd'. By tapping into a broad range of inputs, you can begin to see deeper threads of ideas emerging - which can then be woven together into possible solution options." We can pause to recognize how remarkable it is to hear this advice from McKinsey. In the past, the only "secret to good idea generation" you could hear coming from McKinsey was … McKinsey. But even that venerable idea generator is bound to recognize the reality that it is well nigh impossible to think outside the box when you're standing inside it. McKinsey is standing inside the box, right next to the executive who ultimately makes the proposed strategy into company policy. McKinsey does us a great service by recognizing that the next great idea for a company cannot come from within the box, but only from without.
The crowd - people like you - can participate in activities that used to be the preserve of dedicated experts. On TripAdvisor you're the travel agent; on Yelp you're the food critic; on Zillow and Trulia you're the realtor, and here you are the strategist.
Bottom Line
From the forgoing demonstration of the value of crowdsourcing strategy there are three main takeaways for investors:
1. Invest in crowd-sourcing stocks - they're premised on a new business model, and their value ought to grow as more and more people participate in crowd-sourcing in all fields.
2. Participate in crowd-sourcing for your own portfolio - it will improve your decision-making, and you can add value to others and the markets by providing your own views too. Most who are reading this are already participating by crowd-sourcing stock ideas on Seeking Alpha, many also contribute ideas.
3. For companies your follow and care about, be a strategist. You probably have some very good ideas for some of the companies you follow and are invested in, and you can now promote those ideas from the ground up.
Disclosure: I have no positions in any stocks mentioned, and no plans to initiate any positions within the next 72 hours. I wrote this article myself, and it expresses my own opinions. I am not receiving compensation for it. I have no business relationship with any company whose stock is mentioned in this article.