Last week, Bloomberg featured Audiocodes (NASDAQ:AUDC) in an article titled: "AudioCodes Rides Microsoft Wave to Beat Nasdaq". The article noted that Audiocodes had been the best performer on the Nasdaq Telecommunications Index over the past six months. As the title of the article suggests, Audiocodes' relationship with Microsoft is a big reason for its outperformance. I believe that this article magnifies the importance of Audiocodes as the direct beneficiary of Microsoft's crown jewel, its Enterprise division (Office, Lync and Skype).
Audiocodes One Voice
I believe that Audiocodes' relationship with Microsoft (MSFT) has it in pole position. No small feat. As Audiocodes' CEO Shabtai Adlersberg commented on the last conference call, "AudioCodes growth is a derivative of Microsoft Lync penetration and its Lync revenue has been growing more than 35% annually. We do expect that we will see our revenues from that ecosystem growing substantially." Adlersberg was speaking of results for the Q4, 2012, this was before the introduction of Audiocodes' One Voice. One Voice is a full suite of products and services that enables a purchaser of Microsoft Lync to have everything they need to be up and running from one vendor. As Adlersberg explained the benefits of One Voice, "What separates AudioCodes from the pack, from our competition in that space is the fact that AudioCodes is the only single source provider for Microsoft buyers for complete end to end voice solution. We provide all of the products, all of the expertise, service solutions, practically a complete headache removal for the Lync voice ecosystem." Audiocodes' importance to Microsoft was recently highlighted by its competitor Cisco Systems (CSCO), when Cisco went to the blogosphere to shoot down Microsoft Lync for its lack of equipment and lack of expertise in service. This is precisely the void that Audiocodes fills with its One Voice product. With One Voice, Microsoft can now bid directly against Cisco and present a price per seat something that it had been unable to do previously. Audiocodes' One Voice has an opportunity to be a game changer in front of a strong Microsoft Lync voice product cycle.
Lync Voice Growth
When you consider that there are 750 million Microsoft Office users around the world, and only 5 million Lync voice seats currently, then the potential to dramatically increase the number of Lync voice seats over the coming quarters is tremendous. Add in the good reviews for Lync voice and the fact that Microsoft is pushing its sales force hard to convert existing users of Microsoft Office, to Microsoft Lync voice then you can see that Lync voice has room for dramatic growth. We could see a big catalyst in June when Microsoft will integrate Skype into Lync voice. This could be another game changer and is what investors have been waiting for ever since Microsoft's purchase of Skype for $8.5 billion back in May, 2011. When Microsoft bought Skype, the question from investors was "Why buy a low margin business for $8.5 billion?" I believe that Microsoft's answer is that with the integration of Skype (which has over 250 million users) into Lync, Microsoft is attempting to solidify its dominance of the desktop this time as a replacement of the Public Branch Exchange (PBX). The PBX is the telephone system that most enterprises use that allows you to make internal calls, conference calls and connects to public phone network to make external calls. Microsoft is hoping Lync will become the new phone on every desk and in addition to internal, external and conference calls, Lync phones will let you IM, register presence and make video calls. This will all be done less expensively than using a PBX as Lync is done over an IP network.
Lync is Microsoft's fastest growing segment and with the coming integration of Skype, I believe that we could see triple digit growth in Lync voice seats. On February 19th, 2013, Tony Bates, confirmed that, "We now have 5 million seats of enterprise voice deployed, up from 3 million just 14 months ago." With the integration of Skype and the push by its sales force, I believe we could see Microsoft Lync growing by 150-200% annually.
Tony Bates
Lync is run by Tony Bates, President of the Skype Division. Considering that Mr. Bates comes from Skype (he was the CEO of Skype when Microsoft purchased it), I believe that we will see the best features of Skype in the upcoming integrated Lync voice. In fact, Microsoft could not have a better person leading Lync. Prior to being CEO of Skype, he had a long career at Cisco where he held some high level positions including being in charge of Cisco's router business. His knowledge of Cisco will be invaluable as Microsoft takes on Cisco head to head for dominance of the Unified Communications (UC) market. My money is on Mr. Bates, not only does he have a great track record, but he has at his disposal a large cash war chest to spend on developing Lync, making the integration with Skype work, and on marketing.
Microsoft missed out on search, social media, and mobility, it cannot afford to miss out on being the PBX replacement and of losing control of its desktop dominance. As such, the marketing budget will be huge. A direct beneficiary of Microsoft's cash pile will be Audiocodes who can expect to see revenues from Lync voice rise dramatically while they leave the marketing costs to Microsoft. This could result in significant leverage to Audiocodes' earnings power.
Microsoft Lync is Now Mobile
This week Lync 2013 became available as an app on mobile devices. It is available for the iPhone, the iPad, Windows' phones and will be coming soon to Android devices. This is a big deal and could lead to a surge in orders as employees who are becoming increasingly more mobile are now be able to connect to Lync when out of the office. This is something that IT managers could have been waiting for before committing to Lync. Now employees, some of whom are on the road non-stop, can be connected to Lync when out of the office. In addition to IM and presence they are able to make video or VoIP calls using Lync over 3G, 4G, or Wi-Fi networks.
I am awaiting news from Audiocodes on its mobile strategy. Audiocodes has been working hard on its VMAS solution, but it has been very quiet when discussing its strategy, this leads me to believe that something exciting is coming. Mobile is the one aspect of the business that could provide the type of multiple expansion we saw at Acme Packet and which we see at other high flying, high barriers to entry, technology names.
Analyst Upgrade?
The Bloomberg article also included an interview with Oppenheimer analyst Andrew Uerkwitz and in my opinion, the article uncovered that he has a much more bullish view on Audiocodes, especially in its relationship with Microsoft than the one you would extract from reading his most recent research report. Here are some of his quotes from the article:
"The Microsoft people are crazy excited about it, and there is a real opportunity here for AudioCodes to make a name for themselves."
"Sales of AudioCodes' Lync products, which range from Internet handsets to call recording software, may grow as much as 40 percent in 2013".
Uerkwitz currently has a $5 price target on Audiocodes, but I think we could see an upgrade to $8 if Audiocodes delivers again this quarter and provides increased guidance.
Northland Securities
Northland Securities invited Audiocodes to present at its investor conference in NYC on March 13th 2013. I believe that this increases the chance that Northland Securities could initiate coverage on Audiocodes. The Northland Securities analyst, Catharine Trebnick is a well respected and credible analyst. She is a veteran with an additional 15 years work experience in the sector and an initiation would bring Audiocodes to the attention of a whole host of institutions that follow her recommendations.
Here's a snapshot of the companies Northland Securities currently follows in the Communications Equipment sector: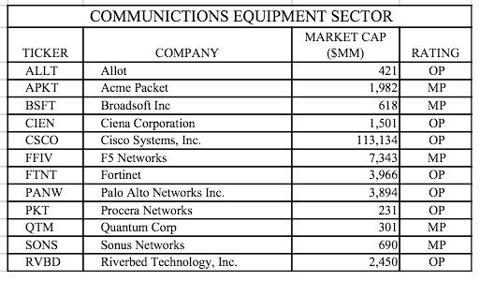 Needham & Company
Another analyst who could initiate coverage in the near term would be Rich Valera of Needham & Company. Rich has been a regular feature on Audiocodes' recent conference calls and from his Lync-related questions, I believe that now that Audiocodes has solidified its relationship with Lync we could see a report out from Needham soon.
Valuation
I believe that with One Voice, Audiocodes will do at least $5 million more in revenue this year than the street consensus of $135 million. For 2014, I see revenues of $155 million as we see Skype and Lync become main stream and as Audiocodes beats Cisco and Avaya at their own game. With revenues of $155 million, Audiocodes will be trading at 1 times its 2104 revenues. Acme Packet was recently purchased by Oracle for 6-7 times its 2014 revenues. I'll let Audiocodes CFO, Guy Avidan in talking about Oracle's purchase of Acme Packet explain why I believe Audiocodes is worth 2-3 times its 2104 revenues, "The transaction reduces competition and we feel it immediately. Oracle buying them was a surprise to everyone. It created competition in the telecom world and the enterprise world between Microsoft and the desktop, and Cisco and connectivity, and Oracle - everybody against everybody. Secondly, because the deal was closed at a 6-7 multiple on the EV (doubles profit flows) it means that the value is very high in VoIP." Microsoft now views Oracle as a threat and as such Microsoft is no longer bringing Acme Packet to the table for bids and deals. This will result in an increase in the number of bids and deals in which Audiocodes will be involved in and I believe that we will see this increased activity reflected in Q2 2014 numbers. At 2 to 3 times 2014 revenues Audiocodes will be trading at $8 - $12. At 5 times revenues which is still less than the multiple Acme Packet was bought out for, it will be trading at $20.
Chart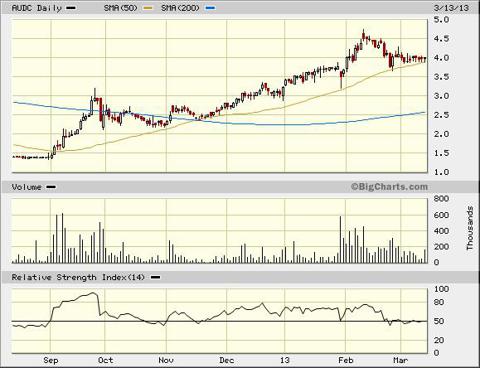 When I look at the daily chart, I see an identical situation between today and October 2012. In both cases we have seen a pull back from recent highs to strong support at the 50 day moving average, volume after accumulating on the move up has retreated on the pullback (a bullish sign) and likewise, the RSI has pulled back from oversold readings to the 50 level. I believe that Audiocodes is in a better position today to make a move higher than it was back in October. Today, it is profitable and it recently garnered a buy rating from Oppenheimer. As such, Audiocodes has set the stage for a major run higher. In October, it ran up 90%, I believe the move this time will be greater than 100%. The 50 day moving average has been the place to buy and this occasion is no different. Buying here on this pullback will give you the opportunity to ride the trend higher when Audiocodes breaks out. Remember, the trend is your friend and I see this next move taking the stock to $8.50.
Smart Money
Like the trend is your friend on the chart, so is following smart money. One Investment company that I follow is Rima Senvest Management. I was excited to see it increase its stake in Audiocodes to over 10% on the 10th of December, 2012. I was a holder of Authentec (at $2.75 per share) in late 2011 and Rima Senvest Management was the 2nd largest holder. Approximately eight months later Apple acquired Authentec for $8 a share. More recently, Radian Group (NYSE:RDN) in which Rima Senvest is the second top holder went from $4 in November to $10.95 earlier this month. Probably more relevant is its investment in Radware (NASDAQ:RDWR). Rima Senvest went from the largest to the second largest holder of Radware as it made a long-term move from $5 to $40. I believe that Rima Senvest has more resources and more smarts than the average retail investor and it pays to follow its lead.
M & A
On February 4th, 2012, Oracle Corp, (ORCL) stepped in to buy Audiocodes' competitor Acme Packet (APKT) for $2.1 billion. This acquisition increases the likelihood that a suitor will make an offer for Audiocodes. While there are many possible suitors out there, I would say that the two most likely candidates are Microsoft and Cisco. Microsoft is the most suitable candidate as Audiocodes' One Voice fits seamlessly into its Lync voice ecosystem and it cannot afford for a rival to get its hands on it. For Cisco, the reasons could be twofold; 1. to thwart Microsoft from bolstering its Lync voice offering and 2. to bolster its own product portfolio as it prepares for increased competition from Oracle after its purchase of Acme Packet. On any buyout, I would expect Audiocodes to be $10 overnight.
Conclusion
Microsoft generates billions of cash flow off the Enterprise division (Office, Lync) and the acquisition of Skype for $8.5 billion illustrates how far it will go to keep these cash flows alive and well. The Enterprise division is the crown jewel of Microsoft and Audiocodes has the complete solution in One Voice to keep this asset protected and shining for the next generation of products to be released in June. I believe all Microsoft holders should step in and buy Audiocodes for the growth of Microsoft's crown jewel as I believe Audiocodes will crest to $15.
Disclosure: I am long AUDC. I wrote this article myself, and it expresses my own opinions. I am not receiving compensation for it. I have no business relationship with any company whose stock is mentioned in this article.