Hot off the heels of my article, "BlackBerry: Lenovo Can't Afford It, Buying Opportunity Coming," I raised concerns that Samsung's (OTC:SSNLF) Galaxy S IV launch, coupled with the realization that Lenovo (OTCPK:LNVGY) couldn't afford to buy BlackBerry (NASDAQ:BBRY) even if it wanted to, would lead to a healthy pullback. In the article I advised people to protect their profits and/or wait for a pullback.
Interestingly, the pullback did come, but it was fleeting as the next day, BlackBerry announced that a customer placed an order for a million Z10 phones. While the customer remains unnamed, it is clear that there is significant interest in the device from at least one major carrier. Quite frankly, while I am not surprised that BlackBerry's Z10 is drawing quite a bit of demand, the mid-day timing of the press-release, especially a couple of weeks before the earnings report, was a little bit shocking. Perhaps BlackBerry wanted to give investors time to update their estimates for the next quarter, but in any case the longs won again as shares were squeezed to near 52-week highs on the announcement.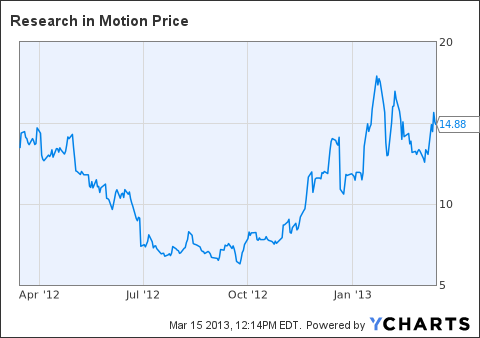 However, the push to $15.60+ was short lived and the stock yet again trades at $14.90 +/- a couple of cents. I still firmly believe that despite the positive news of the million phone order that Samsung, HTC, Lenovo and perhaps even Apple (NASDAQ:AAPL) will be building the hype machines for their recently or soon to be released smartphone products. This means that the short sellers will probably have a little more "fun" with the stock until a couple of days before the earnings report.
But see, I believe that everything leading up to the earnings report is likely just noise, and that March 28th will be the "make or break" day for the stock's direction. If the management comes out and says that demand for Z10 is booming (and that sell-through and not just sell-in looks good), and that the company is seeing a real clamor for the upcoming Q10 device, then analyst estimates get revised upward, and more hot money flows from the "tired" growth names like Apple and into BlackBerry. I suspect that there is actually a pretty strong chance of this, and that's part of why I'm long the stock.
Conclusion
However, I have to caution you: don't try to "fight" the news. If the data suggests that BlackBerry 10 is a flop, don't try to "argue" with the market - you'll be wrong and you will lose a lot of money. Have an exit strategy for in case the market doesn't agree with you that the Z10/Q10 is "awesome." If the data suggests that BlackBerry is making a comeback, then, on the flip side, short sellers should make their way to the exits as quickly as possible. This is a highly shorted stock and as such is a coiled spring. Any whiff of good news will send this stock to $30+ as the "dream" of a world dominated by BlackBerry 10 comes back alive for investors.
That being said, barring some crazy cash burn, the downside risk here is about $5, but the upside risk is $15+, even in the near term, which means that the risk/reward is squarely on the side of the longs. And, at the end of the day, my goal is to find bets with such a positively skewed risk reward and exploit them. Nothing is a sure thing, but I think the odds are quite good that BlackBerry longs will make good money on their investments. Forget your loyalty to your personal device preferences and focus on making money by considering these informed bets - that's why you're here, right?
Disclosure: I am long BBRY. I wrote this article myself, and it expresses my own opinions. I am not receiving compensation for it (other than from Seeking Alpha). I have no business relationship with any company whose stock is mentioned in this article.