Don't look now, but the price of natural gas is on the verge of breaking out to the upside as the winter season winds to a close: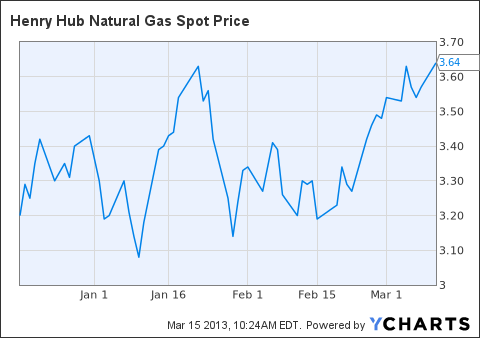 Henry Hub Natural Gas Spot Price data by YCharts
Year-to-date, the Henry Hub spot price is up 10.3%.
This is due to a number of factors. As fellow Seeking Alpha contributor David White points out today, the natural gas drilling rig count has bottomed out. Much of the drilling and production for leasehold (the so-called produce-or-lose contracts) is winding down.
In addition, large natural gas producers such as Exxon Mobil (NYSE:XOM) and ConocoPhillips (NYSE:COP) have shut in significant U.S. natural gas capacity due to its low price.
The large growth in U.S. dry gas production that occurred in the two years beginning in 2010 to the end of 2011 looks to have leveled off at about 2 Tcf.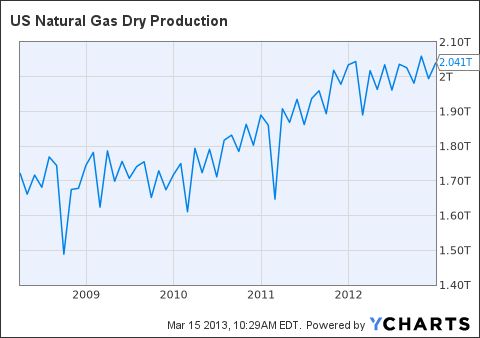 US Natural Gas Dry Production data by YCharts
Historically, before the shale boom, natural gas prices would normally be weak this time of year. However, with many coal fired plants being shut-down and/or converted to natural gas electrical power generation, the seasonal cyclicality of the natural gas market is a thing of the past: there is now substantial natural gas demand during the summer months for power generation And, as most of us know by now, 2012 was the hottest year ever, and this means more natural gas demand for air-conditioning.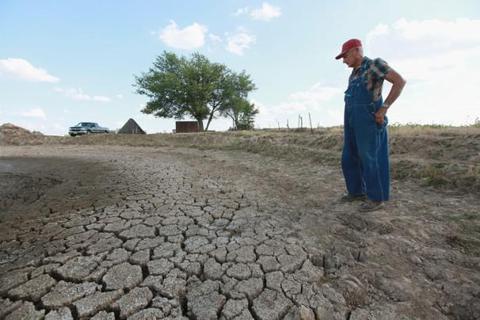 Click to enlarge
Natural Gas: A Sleeping Giant
Kevin Kerr, president and CEO of Kerr Trading International, recently said:
Demand on a massive scale is coming. Supplies are getting tighter and demand is increasing. Natural gas is like a sleeping giant, waiting to be awakened.
Supply and demand are coming back into alignment. In addition to substantial growth in the electrical generation sector, natural gas is also making significant progress in the transportation sector:
Combined, these are bullish catalysts for a continued recovery in natural gas prices. These will be most welcome developments for Exxon Mobil. XOM has been basically flat over the last five years - mostly due to the price tag of its XTO takeover and the subsequent drop in natural gas prices.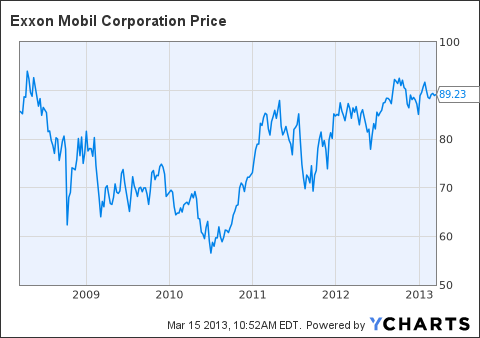 XOM data by YCharts
However, Exxon is trading at the top of its five-year range, and I expect a breakout to the upside in 2013. The company is expected to significantly raise its dividend this year, which at 2.5% is the lowest of its peer group. And, as I pointed out in my article Why Exxon Mobil Should Support Natural Gas Transportation, the company's natural gas production was around 4 MMBtu/day in Q1 2012. This means for every $1 rise in the price of American natural gas it corresponds to roughly $4 million/day to Exxon Mobil, or close to $1.4 billion dollars over the course of a year.
Exxon Mobil is a BUY.
Disclosure: I am long COP, XOM. I wrote this article myself, and it expresses my own opinions. I am not receiving compensation for it (other than from Seeking Alpha). I have no business relationship with any company whose stock is mentioned in this article.
Additional disclosure: I am an engineer, not a CFA. Please do your own research and contact your investment adviser. I am not responsible for investment decisions you make. Thanks for reading and good luck!