When EnergyPoint Research published results from its first oilfield customer satisfaction survey back in 2004, Key Energy Services (NYSE:KEG) was an organization seemingly on the brink -- and EnergyPoint's survey results reflected just that. To be sure, the picture was not a pretty one as the 2004 survey showed the company finishing dead last among the 24 oilfield service companies rated. And here's what one 2004 evaluator of Key shared about the company:
The worst service company that I have ever worked with in my 14 years of experience. Not responsive to any of our needs, even after three years of doing business and over $10.0MM of revenue to them. I would NOT recommend them to anyone.
Few companies can prosper with even a small percentage of customers harboring this kind of negative opinion.
In the five years since that first survey, Key has clearly taken steps to move away from the precipice. While grappling with an accounting mess inherited from prior management, current CEO Dick Alario began the process of rebuilding the company from the ground up. And there was a lot to rebuild. Key's troubles were widespread, with its satisfaction ratings especially weak in the influential areas of reliability, technology and job quality. The company scored particularly low (i.e., its ratings were more than 20% below the survey median) in the areas of applying lessons learned and continual improvement (important in the oilfield) and in the ability to develop in-house, and apply third-party, technologies.
The good news is that we can now see signs that the changes implemented by management since those darker days are reverberating with customers. Results from evaluations collected as part of EnergyPoint's ongoing independent surveys suggest Key is closing a number of gaps with its competitors. In particular, we note that Key's scores in the categories of reliability, including the ability to apply lessons and continually improve, are now essentially on par with median ratings for peer service companies. Moreover, and in possibly the most encouraging sign yet for the company, survey results show Key beginning to vie for a top-tier ranking in its mainstay activity of workovers and well servicing, outpacing even BJ Services (BJS), Halliburton (NYSE:HAL) and Schlumberger (NYSE:SLB).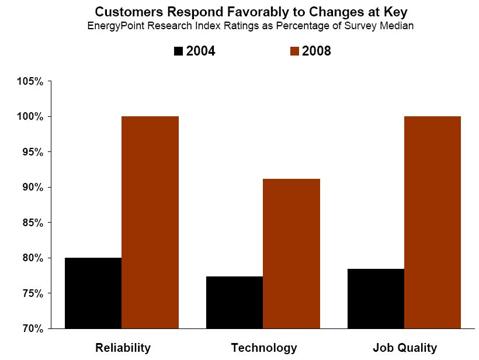 While Key certainly has a ways to go before it gains the kinds of marks that would allow it to claim any leadership mantle in terms of customer satisfaction, we nonetheless believe in giving credit where credit is due. Apparently, so do an increasing number of its customers. The following comment from a recent survey respondent seems to underscore the progress that appears to be underway at the company:
Key has been very proactive in providing productive ideas and working both safely and in accordance to environmental regulations. It is a great pleasure to do business with a company that strives to accommodate the customer's needs into their own corporate business plan.
With testimonials like this, Key and its stakeholders certainly have reason to be encouraged.