"When the facts change, I change my mind. What do you do, sir?" - John Maynard Keynes
I wrote about EMC Corporation (EMC) two weeks ago, with a quite negative view on the company's short-term prospects. However, there have been new developments recently, that prompted me to change my view, and the market responded in a similar manner, taking the share price up 10% in the last 10 days.
EMC had two negative catalysts in late January. The company reported earnings that slightly beat analyst estimates, but the management warned about the economic headwinds the company was facing in 2012, and that it was expected to experience further difficulties in 2013. The second negative catalyst was the earnings report of VMware (NYSE:VMW), which also reported earnings above analyst estimates, but provided weak guidance. The companies have also experienced slowing growth rates over the last two years. Those negative catalysts were received with selling pressure in both stocks. EMC's share price was at the lowest levels since early summer 2012, and VMware gapped down to the lowest levels since June 2010.
A change for the better
On March 13, EMC announced that it plans to create a new company named Pivotal Inc. The company would be 69% owned by EMC and 31% by VMware. EMC's CEO Joe Tucci also said that it eventually intends to take the newly formed company public. Pivotal Inc will include VMware's Cloud Foundry application service, and EMC's Greenplum data analytics software and other products. The company is expected to generate $1 billion in revenue by 2017.
VMware announced that revenue growth will increase in the 15% to 20% range from 2014 through 2016 from the expected growth rate of 11.2% to 13.8% for 2013. This is a significant change from an overall expected decline of growth.
On the acquisition front, IBM Corp. (NYSE:IBM) and EMC are said to be in talks to buy privately held database web hosting company SoftLayer Technologies Inc., in a potential $2 billion deal.
These recent developments show the determination of both EMC and VMware to keep delivering above-average growth levels.
Price action
Recent price action shows the bullishness of the new developments around EMC. In the last 10 days, EMC managed to cross above the 50-day moving average line, then the 200-day moving average line, both in above-average volume. And together with a bullish MACD cross, and an upward break of the downtrend line, it presents a compelling turnaround of the technical picture.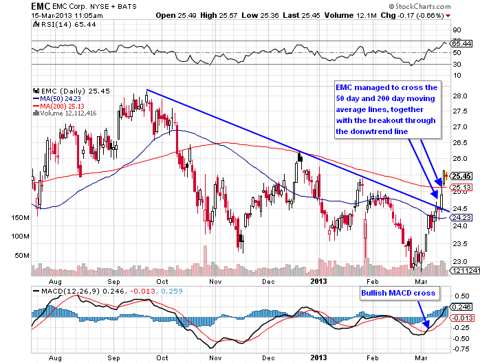 Source: Stockcharts
Conclusion
It is important to be flexible in your views, and be prepared for the situation to change dramatically over such a little time frame. Positive fundamental changes have driven the price up, and made a much better and bullish technical picture. Further advances might be determined by the follow through of the plans that were recently announced.
Disclosure: I have no positions in any stocks mentioned, and no plans to initiate any positions within the next 72 hours. I wrote this article myself, and it expresses my own opinions. I am not receiving compensation for it (other than from Seeking Alpha). I have no business relationship with any company whose stock is mentioned in this article.
Additional disclosure: This writing represents my personal opinion, and is for informational purposes only.