Here is a look at a sector of the real estate market that has been relatively resilient despite the world-wide downturn in real estate: Farmland.
(From the Economist): "Farmland has outperformed the property market in many countries. Investors rushed into agricultural land as food prices soared, helping to push up prices. A hectare of farmland in England increased by 16% (in sterling terms) in the year to January 2009, according to a new report by Knight Frank and Citibank. And even against a resurgent dollar this equates to $17,100 a hectare, the highest among the countries shown. Canada looks a bargain by comparison with neighbouring America: prices are around a tenth of the $11,000 a hectare paid in Ohio. The prospects for eastern Europe are bleaker, thanks to poorer infrastructure and economic prospects. Farmland in Ukraine fell by 75% to $125 a hectare."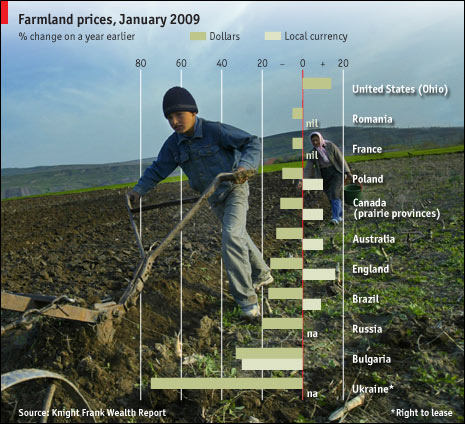 Graphic courtesy of the WSJ
While rising food prices or investors looking for a new asset class could conceivably cause some "bubble" like activity here, I think the sector looks sound overall because investors are making decisions based more on the value they can get from the land as opposed to being able to quickly flip it/sell it later. Furthermore the worldwide economic downturn and slow down in commodities prices should temper any speculative activity. Finally I think the bio-fuel push and the coming economic recovery (probably 12-18 months out) should put some upwards pressure on prices in the future.
Disclosure: at the time of publishing the author didn't own a position in any of the companies mentioned in this article; the ideas expressed are solely the opinions of the author and shouldn't be viewed as financial or investment advice.