Panera Bread (NASDAQ:PNRA) is one of the fastest-growing and most successful casual food chains in operation to date. I was a former Panera addict, hooked on soup in a bread bowl and panini sandwiches to start off my lunches during the weekend.
From its website, "Panera Bread is expanding quickly across North America, operating 1,652 company-owned and franchise-operated bakery-cafes in 44 states and in Ontario, Canada as of December 25, 2012, under the Panera Bread®, Saint Louis Bread Co.® and Paradise Bakery & Café® names. With the single goal of making great bread broadly available to consumers across America, Panera Bread freshly bakes more bread each day than any bakery-cafe concept in the country. Every day, at every location, trained bakers craft and bake each loaf from scratch, using the best ingredients to ensure the highest quality breads. "
Panera has become extremely popular, on the heels of Cosi's (NASDAQ:COSI) lackluster performance stock-wise and business-wise over the past few years. Panera has shown incredibly strong growth over the last 10 years, yielding four or five-baggers for investors that were able to purchase at the right times.

Both companies pride themselves on their freshly baked breads, and "comfort food" that includes lite fare like soups, sandwiches, paninis and coffee drinks. Often, stores are set up to give off feelings of warmth; a lot include fireplaces and living room-like furniture in the place of where plastic booths and chairs would be.
Here's Panera's vitals, as of March 15, 2013:
| | |
| --- | --- |
| Range | 164.21 - 164.21 |
| 52 week | 135.40 - 175.26 |
| Open | 164.21 |
| Vol / Avg. | 0.00/654,019.00 |
| Mkt cap | 4.88B |
| P/E | 27.88 |
| | |
| --- | --- |
| Div/yield | - |
| EPS | 5.89 |
| Shares | 29.74M |
| Beta | 0.89 |
| Inst. own | 85% |
Panera, on the surface, appears to be almost a perfect opportunity at an investment in a steadily growing company. However, here's a reason I'd be taking profits or opening a short position in Panera. Here's a couple of Panera's dirty little secrets:
Panera's Food is Perceived As Healthy, But is Really Far From It
Paired with the feeling of comfort food, Panera boasts on its website about the quality of the ingredients it uses. It talks about its antibiotic-free chicken and quality ingredients. The general sentiment of Panera patrons is that they're getting fresh-made food that's healthy for them. People don't see it along the same lines as fast food, and that's one of the reasons it's becoming so popular. Panera has consciously worked to move away from the stigmas of fast food, similar to the way Subway has done, and it's paid dividends.
Panera does bake the breads and bakery items fresh every night. I've seen the bakers come and go before open and after close. There is no doubt about how fresh those items are, and I'm not contesting that.
It's just that the "everything is fresh and healthy at Panera" reality of the situation is a bit different. Take the soups, for example. Soup is great comfort food, but anyone who peeks over the counter while waiting for their food sees that the "homemade" soups, while made by Panera somewhere, aren't made on site; they're reheated on site. I've noticed them being pulled from and put into thermalizers, which means they're shipped to your local store frozen. A thermalizer for soup works exactly the same way you steam your frozen broccoli sides from the grocery store in boiling water. It's a big huge vat of boiling water that thaws out and then heats soups before it is moved on to the serving line.
While perusing the Panera nutrition facts, I was absolutely floored when I discovered some of the commonly ordered menu items at Panera appear to be absolutely horrible for you. Here's a couple of eye-popping examples:
(All Facts from Panera's Nutrition .pdf)
| ITEM | Calories | Sodium (MG) | Carbs (G) | Fat |
| --- | --- | --- | --- | --- |
| Sourdough Bread Bowl | 660 | 1340 | 131 | 3 |
| Whole Paninis | 710-980 | 1190-2460 | 67-103 | 26-39 |
| Whole Signature Sandwiches | 690-980 | 940-2820 | 39-95 | 22-55 |
| Large Pastas | 680-980 | 1250-2470 | 75-88 | 24-61 |
| Whole Hand-Tossed Salads | 380-790 | 480-1620 | 15-49 | 11-54 |
The "You Pick 2" is the most common thing I've seen people eat during lunchtime at my local Panera. When combining a soup & salad, sandwich & salad, or sandwich & soup combination -- in addition to a side and a drink -- it is a bit too easy to come up with combinations that easily yield 1,000+ calories, 2,000+mg of sodium, 40+ g of fat and 100+ g of carbohydrates. Yes, there are healthier choices you could make, but more often than not the customers I witness ordering lunches while I'm there just seem to assume that everything is healthy. The fact is, I've had healthier lunches at McDonald's.
This is going to be an issue that comes up in the future; the inevitable equating of Panera with healthy food is going to have to be addressed. The company has one shot to avoid this, and it's being proactive about this before the general public finds out on its own and a "Super Size Me" like shadow is inevitably cast over the quality of food at the company.
Panera, Like Many Others, is Still Susceptible to Big Market Changes
I just used this same argument in my analysis of Yum Brands (NYSE:YUM). Yum has a very similar Beta (0.83 vs. 0.89) and a very similar institutional ownership percentage (79% vs. 85%). In my latest article about Yum, I wrote:
As I pointed out in my last macro-view article entitled "The End is Near : Why the Bull Market is Finished," I contend that we are in the extreme late stages of this bull run that began in 2009 and that we're due for a correction; whether it be before another run-up or the beginning of a serious recession-style pullback.
As I said about Yum, with Panera's tendency to move in close correlation with the market in general, this is bearish news if you're like me and your macro-view on the market suggests a correction coming up. Even Cramer, earlier this week, warned investors not to nosedive into stocks. From CNBC:
If you're not already in stocks, Cramer thinks now is not the time to dive in.

There are developments in the market that he doesn't like.

"I see people all over the place right now trying to join me in the bull camp," Cramer explained. "I see people coming onto CNBC saying they were wrong; now they like the market."

Too many bulls gives Cramer pause.

"I'm seeing investors reach and chase, and as a result they've now driven the Dow Jones Industrial Average higher for eight straight days." There haven't been nine straight days of gains in the Dow since 1996.
Panera is Trading at an Aggressive P/E Ratio & Technicals Indicate a Price Dip
Panera's P/E ratio in the 20s commands consistent growth; anything short of that is going to lead to trouble for the stock. To date, the company has been opening up to 200 stores a year and has been growing sales between 10-15% per annum. If this growth does not stay very consistent, you can expect a pullback on Panera's share price.
The technicals are calling for a near-term pullback on the price as well. If you examine the chart below, you'll realize that you don't need to be a charting expert to see we are topping out again for a near-term pullback to the $155 support level. The stochastics and candlesticks together support this theory.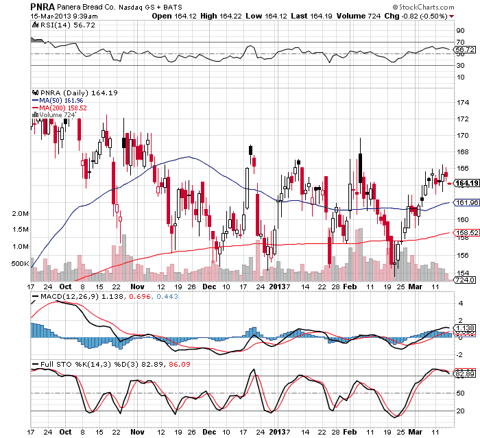 With the price hitting these four months of continued identical volatility, the moving averages start to creep closer and closer to one another. Like isobars dictating wind speeds on a weather map, the closer the moving averages get, the more potential for downward volatility; especially if the 50 day crosses under the 200 day.
Standing on Shaky Ground
It's going to be the position of this investor to either stay away or go short on Panera. My main argument is that the stock has been overbought and with its P/E ratio we have shifted to more risk for less reward. I'd contend that people who have been in Panera for years have already made a profit and that it's time to take some off the table. Opening a long position at this stage in the game appears risky to me.
As always, best of luck to all investors.
Disclosure: I have no positions in any stocks mentioned, but may initiate a short position in PNRA over the next 72 hours. I wrote this article myself, and it expresses my own opinions. I am not receiving compensation for it (other than from Seeking Alpha). I have no business relationship with any company whose stock is mentioned in this article.