JPMorgan Chase (NYSE:JPM) was one of four banks that did not receive the thumbs up from the Federal Reserve for their 2013 capital adequacy plan on Thursday. While not rejecting it outright, the Fed did say that it exhibited "weaknesses" and will require the bank to resubmit their plan by the end of the 3rd quarter.
The company's failure to get its capital plan approved by the Fed certainly won't do any favors to a public image that has already taken a significant hit thanks to the ongoing fallout from the London Whale trading fiasco. The Fed response would indicate that JPMorgan isn't using very realistic expectations when developing its balance sheet forecasts - one report said that JPMorgan estimated its potential losses in a worst case scenario at $200 million compared to the Fed's estimate of over $32 billion.
With all this happening within such a short period of time, these incidents seem to paint a very clear picture of a management team that is negligent at best and almost criminal at worst. If I'm a JPMorgan Chase shareholder, am I using the recent news as a reason to begin dumping my shares? I don't think so.
Fundamental Analysis
Let's take a look at the basic chart for JPMorgan over the last 12 months.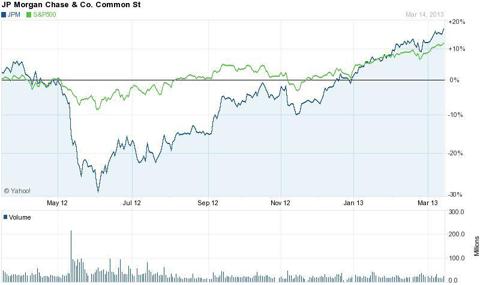 After the price of JPMorgan stock bottomed out around $31 at the beginning of June last year it's been on an almost straight-line upward trajectory. Since then, it's risen to its current price of around $50 and has lapped the performance of the S&P 500 during that time. Wall Street reacted decisively to the fallout from the London Whale trades but since then traders have bid the stock price up to levels even higher than before the $6 billion loss became public.
Lined up against its peers, JPMorgan is more of a middle of the road performer.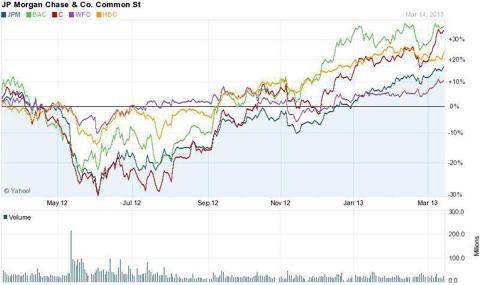 Considering the fact that 12 month performance trailed every peer as recently as the beginning of the year, the fact that it's moved up to "average" is still positive in its own right.
But the company's capital plan is what's of shareholder interest currently. Judging by what's been in the news, it could be assumed that JPMorgan's capital plan was rejected. The Fed actually gave it a "conditional approval". In reality, the Fed is asking the bank to address the weaknesses in their capital planning process and resubmit the plan by the end of the 3rd quarter. What it is not doing is standing in the way of JPMorgan conducting business as usual. That includes the fact that the Fed will not be preventing the bank from returning capital to shareholders.
And that is exactly what JPMorgan is going to do. Shortly after the Fed announcement, JPMorgan said its going to raise the quarterly dividend from 30 to 38 cents a share and will repurchase up to $6 billion in shares over the course of the next year. The $6 billion number comes in well short of the planned $15 billion share repurchase but in response to the Fed's report as well as a desire to improve its capital ratios more quickly this seems like an appropriate response.
The increased dividend and share buyback will act as a further boon to shareholders of a stock that already looks like a compelling value. The stock carries a forward P/E ratio of just 9 which compares favorably to the industry average of 13. Its price to sales ratio (2.12 versus 2.74 industry average) and PEG ratio (1.35 versus 1.38 industry average) both suggest a stock that is fairly valued if not somewhat undervalued.
Consider how JPMorgan again stacks up to its peers.

In addition to the numbers already detailed above, earnings numbers are solid, operating margins continue to be above industry average and the company expects to continue growing at a reasonable pace.
And let's not forget that JPMorgan is a revenue generating machine. It's a well-diversified bank that generates billions of dollars across its commercial banking, private banking and investment banking lines of business in over 100 countries around the world. As an added bonus, it also currently has buy or strong buy ratings from 28 out of 35 Wall Street analysts.
Technical Analysis
The technical indicators for the company show a stock that may be hitting a near-term ceiling.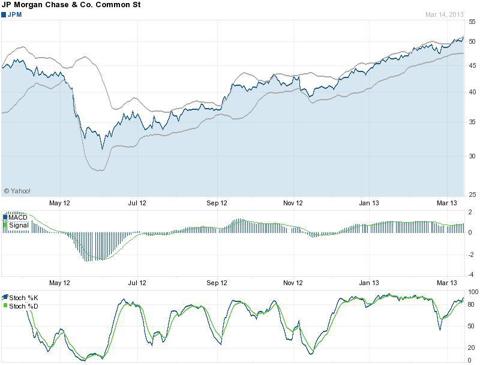 This chart shows the Bollinger Bands, MACD indicator and stochastics for JPMorgan.
The Bollinger Bands show that the stock price continues to rub up against that top bad providing theoretical upside resistance for the stock. The MACD indicator still shows a bullish trend that has continued for the entire year of 2013 so far. A stochastic number above 80 indicates an overbought condition and you can see that with the exception of that small blip in the beginning of March JPMorgan stock has looked overbought for the last few months.
The basic chart and the technical chart seem to indicate a stock price that might have limited upside in the near-term.
Conclusion
Let's be clear. I'm not advocating for buying JPMorgan Chase stock. Management's behavior related to the London Whale case along with the issues raised from the company's capital adequacy plan should give investors reason to maintain caution. In fact, if I were a shareholder I'd be placing greater scrutiny on every bit of news coming out of the company for the foreseeable future.
But I don't think it's a reason to sell. Not yet at least. If the financials start turning south or there's another issue of lax oversight, it might be time to consider a bank stock with a bit less penchant for finding itself in the news.
For now though, JPMorgan is still worth hanging onto.
Disclosure: I have no positions in any stocks mentioned, and no plans to initiate any positions within the next 72 hours. I wrote this article myself, and it expresses my own opinions. I am not receiving compensation for it (other than from Seeking Alpha). I have no business relationship with any company whose stock is mentioned in this article.