With the global business cycle (possibly) shifting out of first gear, we continue to look for mid-cycle industries to outperform the early cycle names found in the consumer discretionary and financial sectors. Last week we looked for opportunities in the material sector, which saw a mixed bag of valuations at best. This week's sector review of industrial names shows more reasonable valuations as a group and some promise for contrarian investors willing to own companies tied to the U.S. defense budget.
As shown in figure 1, the S&P 500 Industrial sector (NYSEARCA:XLI) as a group has underperformed the broad market since 1H'11. Since October of last year, the group has shown some improvement against the overall index.
Figure 1: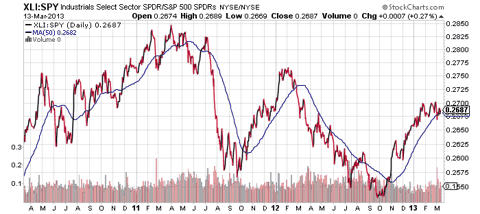 Click to enlarge
As we saw with the materials group - the sub-industries can play a key role in valuations. It comes as no surprise that the housing market rebound has been very positive for companies within the materials group. For industrials the opposite has occurred with those companies operating in the defense sector.
Figure 2 plots the current valuations of 20 of the top names in the S&P 500 industrial sector (SPDR XLI). (We held out General Electric due to its large financing arm and Eaton due to its recent purchase of Cooper Industries.) The solid black line reflects a demarcation line of fair value. Companies valued above the line are pricing in additional growth and/or margin improvement while companies below are pricing the opposite. (We could adjust for growth but it quickly becomes impractical with cost of capital typically at 10% or lower.)
As a quick reminder, the EV/IC valuation multiple is the company's Enterprise Value (EV) divided by its Invested Capital (IC). Companies that generate economic profits will have a return on capital (ROIC) that is greater than its cost of capital (OTC:WACC). A company's firm value should be greater than the invested capital of the firm when ROIC is greater than WACC. Expected growth in invested capital and expanding profitability of the deployed capital (rising ROIC) should generate an additional multiple premium.
Figure 2: Valuation Plot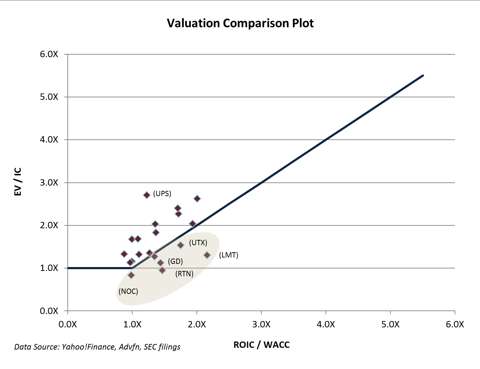 Click to enlarge
What we see from the group is that the majority of companies are trending slightly above their implied fair value based on the ROIC/WACC multiple. Noticeably the defense-oriented names are all trading below fair value based on lower forward expectations given the sequestration impact on the U.S. defense budget. (UPS has been singled out given that two large pension adjustments in 2007 and 2012 were kept as part of reported operating profits which materially lowered the five-year ROIC average of the firm. The market is clearly not discounting the pension adjustments at this time.)
Figure 3: Data for Valuation Plot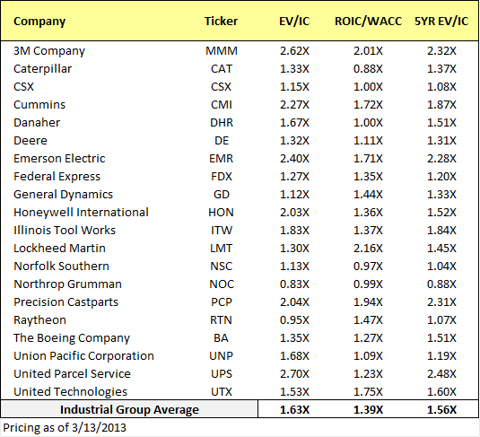 Click to enlarge
Note that the group is trading at just over 5% of its five-year average and 17% above its implied multiple. This compares favorably to the materials group average that we reviewed, which was trading at over 80% of its implied fair value multiple (2.03X versus 1.12X based on pricing last week)
As Figure 2 suggests, the defense names are all trading at below implied fair value. The easiest explanation is that the decline in the U.S. defense budget has and will continue to negatively impact these companies' ability to grow earnings and find new investment opportunities. I would suspect that these are near-term risks and items worth considering but long-term, most of these companies should be able to navigate through this rough patch and valuations already discount a negative impact.
One company worth highlighting is Lockheed Martin (NYSE:LMT), which also is part of our current advisory large cap value portfolio (and a personal holding). The fact that this is owned is straightforward:
Invested capital has grown over past 20 quarters by 6.8% a year. This could slow but Lockheed has shown willingness to invest outside of the defense sector.
Estimated ROIC of 15.7% over 20 quarters over cost of capital in the 8%-10% (depending on equity premium and risk free rate). Even if invested capital stagnates, one should expect the companies profitability to remain above its cost of capital.
Dividend Yield of 5.1%. Despite recent large pension contributions, it appears that the companies free cash flow supports the continued dividend payouts.
A low Beta of 0.6.
History of sustainable earnings and dividend payouts; included in the S&P 500 High Quality Index
Thinking from a valuation perspective based on the five-year average EV/IC of 1.45X versus 1.3X, Lockheed has an implied valuation of approximately $103. While this valuation doesn't present significant upside, the combination of an attractive valuation along with an above-average dividend yield should provide an attractive total return investment opportunity.
Figure 4: Lockheed Martin Enterprise Value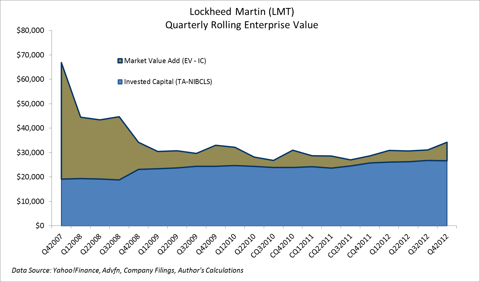 Click to enlarge
Wrapping Up
If the global economic growth engine can accelerate out of the bottom set last summer - one should expect continued outperformance in the mid-cycle industries such as industrials. Valuations indicate that there could be upside if outlooks improve although the only groups showing attractive valuations are defense-related names such as Lockheed Martin.
Disclosure: I am long LMT. I wrote this article myself, and it expresses my own opinions. I am not receiving compensation for it (other than from Seeking Alpha). I have no business relationship with any company whose stock is mentioned in this article.
Additional disclosure: Clients of Smith Patrick Financial Advisors own Lockheed Martin at the time of this writing. This is article is written for informational purposes and we believe investors should due their own due diligence before making investment decisions.