Looking for undervalued, oversold dividend stocks with dividend growth? In one of our recent articles, we covered another blue chip stock that pays a big special dividend, which we felt was undervalued at the time. This week's article covers Noble Corp., (NYSE:NE), an offshore drilling company which has stated that it intends to nearly double its quarterly dividend payout in 2013, from $.13 to $.25: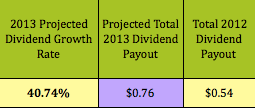 The higher payouts will begin in August, and will significantly increase Noble's dividend yield: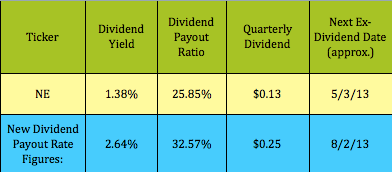 Selling Covered Call Options: If you're looking to further increase your income from Noble, here's a shorter term trade with a 6-month time horizon. This covered call trade expires in September 2013, and has a call option that outpays NE's next 2 dividends by nearly 7 times. The $39.00 strike price, which offers you $1.19 in potential price gain, ($39.00 minus $37.81 share price), more than compensates you if the shares get assigned/sold prior to the ex-dividend dates.
You can find more details on this and over 30 other trades, in our free Covered Call Table.

Selling Put Options: This trade, from our Cash Secured Puts Table, also offers a higher payout then the next 2 dividends, and has a breakeven of $34.06, 10% below NE's share price. (Note: Put sellers don't receive dividends.):

Undervalued Earnings Growth: Companies don't double their dividends without having confidence in strong future earnings growth, and Noble's future looks very bright, with nearly 50% 2013 growth estimates, and over 54% 2014 growth projections. Even though its current P/E is at the high end of its 5-year range, these big EPS growth numbers make NE very undervalued on a 2013 and 2014 PEG basis:

Where's the growth going to come from? Noble is transforming its fleet, and "is building 11 of the world's most advanced drilling units. These units, comprised of six high-specification jackups and five ultra-deepwater drillships, will begin entering service in 2013."
In addition, as NE's CEO Williams said recently, "Our business appears poised for another year of cyclical expansion, supported by solid market fundamentals. We continue to see strong customer demand across all the regions in which we operate and are fortunate to have technologically advanced drilling units to offer clients as they plan exploration and production spending beyond 2013." (Source: Noble website)
Bouncing Off Of The Bottom: The market had largely ignored NE in 2013 - it had only risen 1.46% as of Tuesday, 3/12/13, BUT, my how things have changed in the past 3 days. NE is now bouncing off of its oversold stochastic line: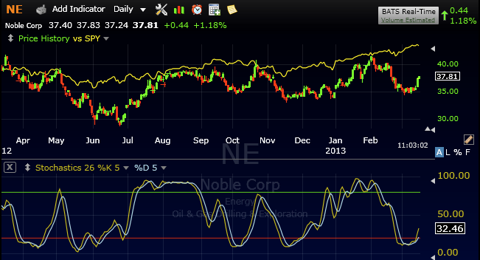 Financials: Noble's ratios are in line with industry averages, and it has a higher operating margin. Its Interest Coverage Ratio is 9.4.

Additional Valuations: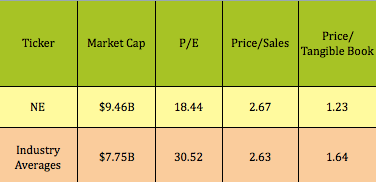 Disclaimer: This article was written for informational purposes only and is not intended as investment advice.
Disclosure: The author was short Noble puts at the time of this writing.
Disclosure: I am long NE. I wrote this article myself, and it expresses my own opinions. I am not receiving compensation for it (other than from Seeking Alpha). I have no business relationship with any company whose stock is mentioned in this article.
Additional disclosure: I'm long NE, via being short NE put options.