"Tough day for rubber product maker Newell Rubbermaid. The company will issue $250 million in convertible notes and cutting the dividend by 50% and lowering outlook." - CNBC's Closing Bell, 3/24/2009
Newell Rubbermaid (NYSE:NWL) halved their dividend for the second time in the last six months. It is not uncommon for company's to cut their dividend in this environment but to do it twice is not insignificant. Since dividend payout policy is strictly a management decision this shows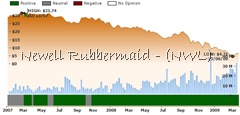 there are serious problems within the company that need to be addressed.
Also, included in the company's announcement yesterday was a reaffirmation for first quarter guidance for EPS of $.07 to $.12 per share, and sales in the quarter should show a decline compared to last year. Lower input costs and cost management allowed the company to remain profitable as sales have begun to sag. Furthermore, the company is raising $250 million through convertible senior notes due 2014. Long term debt is becoming a major concern for this company unless they can translate it into greater sales and earnings quickly.
Clearly, the company is facing some difficult times and if the price of oil continues to rise there could be even more trouble as input costs rise. Although NWL may be rated Undervalued compared with historical norms, the serious headwinds facing Newell Rubbermaid make us think there are far better places to invest right now. Even the company's own management has displayed a lack of confidence about future earnings and is conserving cash with its second dividend cut in rapid succession.