Caterpillar's (NYSE:CAT) continued growth is increasingly tied to China. In the company's Q4 2012 earnings call held on January 28, 2013, Douglas R. Oberhelman, Chairman and CEO, noted China is the world's largest market for construction equipment and is the world's largest producer of coal -- for which Caterpillar seeks to sell its wares. Caterpillar claims to be the world's largest manufacturer of construction and mining equipment, diesel and natural gas engines, industrial gas turbines and diesel-electric locomotives.
To get a better toehold in the Chinese mining business, Caterpillar acquired Chinese company Siwei which manufactures hydraulic roof supports for coal mining. However, following the acquisition of Siwei discrepancies were found with company's accounting records where deliberate misconduct was uncovered related to product sales and costs. As a result of the discovery, Caterpillar took a $580 million goodwill impairment, which negatively impacted the company's profit for 2012. On a positive note, Mr. Oberhelman noted Caterpillar had made progress in lowering Siwei's largest cost driver which is related to steel.
For 2012, Caterpillar recorded record revenues and profit. The company had sales of $65.9 billion which represents 10% growth over 2011 and profit of $8.48 per share which represents an increase of 15% over 2011. On a negative note, Caterpillar's sales for Q4 of 2012 were $16.1 billion or about $1.2 billion lower than for Q4 of 2011. The lower sales represented negative growth of about 7%.
Caterpillar's record performance was in spite of its poor Q4 and world economies starting to slow near the middle of the year. Due to the slow world economic growth, Caterpillar's and its dealer's inventory was too high. Due to the high inventory situation, Caterpillar reduced its inventory by $2 billion and its dealers reduced their inventory by $600 million.
For 2013, Caterpillar's outlook was basically flat as compared to 2012. Even though the company is expecting world economic growth of 2.5% in 2013, improvement in growth related to China and is optimism about the positive impact of the U.S. housing recovery, the company is forecasting a poor economic outlook for Europe. Additionally, Mike DeWalt, the Corporate Controller and Director for Investor Relations, noted the company expects sales in the Power Systems and Construction Industry segments to be flat. Additionally Mr. DeWalt reported its mining customers lowered their planned capital expenditures for 2013 and the company observed weak mining equipment related orders starting in the middle of 2012. Caterpillar is very bullish on the mining market segment, but doesn't know when robust world economic growth of between 3% and 4% will occur in order to fuel demand for the segment.
On a positive note, the company noted cash flow for the company should improve in 2013 over 2012. Caterpillar has a very attractive Price-to-Earnings (P/E) ratio of 10 and Price-to-Sales (P/S) ratio of 1. Caterpillar's P/S ratio of 1 puts the company in the value category and probably indicates the company's stock price can only go up from where it currently is - unless something really negative occurs. Caterpillar's stock price is down from a year ago, appears to have formed a base in the $85 range and is currently up from its $85 base as shown below: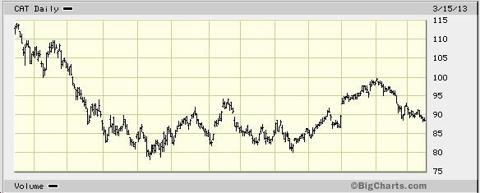 If growth in China resumes in 2013, then Caterpillar and its stock price should perform very well. Since issues related to the Siwei acquisition could still bite Caterpillar, a protected position is considered. A protective stock option position to consider is a married put, as it provides for unlimited upside with limited downside. The married put position may be entered by purchasing a put option against a long position in the stock. The expiration month for the put option is typically selected several months out in the future in order to reduce the per-day cost of the "put insurance."
Using PowerOptions, several married put positions for Caterpillar were found for August 2013 expiration as shown below: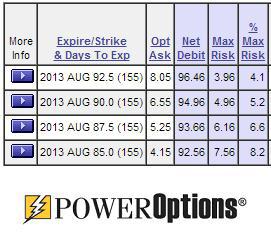 The married put position using the CAT 2013 Aug 90 put looks attractive, as it has a maximum potential loss of 5.2%, however, the 5.2% maximum potential loss does not consider expected dividend payments during the holding period. After taking into consideration expected dividend payments, the maximum potential loss for the married put position is reduced to 4.2%. The details for entering the Caterpillar married put position are shown below:
Caterpillar Married Put Position:
Buy CAT stock (existing or purchased)
Buy CAT 2013 Aug 90 put at $6.55
A profit/loss graph for one contract of the Caterpillar married put position is shown below: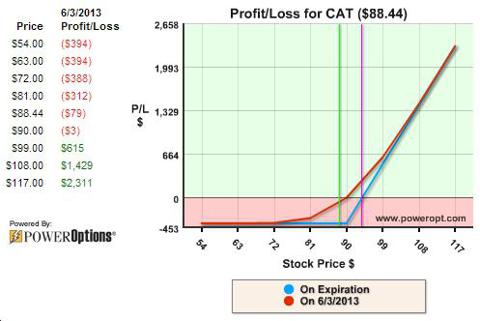 For an increasing stock price, the value of the married put position also increases. For a decreasing stock price below the $90 strike price of the put option, the value of the married put remains unchanged. And, if the price of the stock increases to above the $90 strike price of the put option, then income methods can be applied in order to receive income and reduce risk as taught by RadioActiveTrading.com.
Look forward to hearing your comments below!
Disclosure: I have no positions in any stocks mentioned, and no plans to initiate any positions within the next 72 hours. I wrote this article myself, and it expresses my own opinions. I am not receiving compensation for it. I have no business relationship with any company whose stock is mentioned in this article.