Blockbuster (NYSE: BBI) has recently announced that they are teaming up with TiVo (NASDAQ: TIVO) to provide customers with instant access to media. The move is intended to make the rental retailer's products more accessible to the changing marketplace, which rival Netflix (NASDAQ: NFLX) has had a clear edge in to date.
As is reported in the recent Reuters article by Franklin Paul, "Blockbuster aims beyond stores with TiVo deal", Blockbuster's management has finally admitted that physical locations are only one aspect of the company's growth. By adapting their business model to incorporate digital media through the TiVo partnership, Blockbuster has upped the ante in the industry considerably.
MSSI statistics from February show that average spending at both of these firms, Netflix and Blockbuster, have also been affected by economic conditions that face Americans. From November, spending has fallen 7.81% overall at Blockbuster and 3.79% at Netflix.
click to enlarge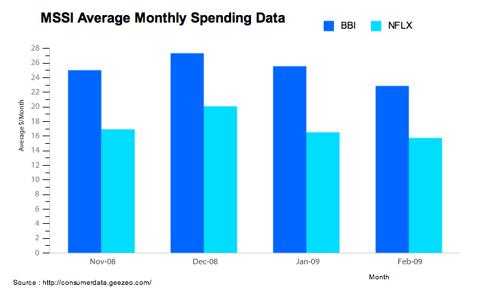 Click to enlarge

This deal comes just in time for Blockbuster to reassert its position in the industry and perhaps even take some market share back from Netflix's primarily mail-order model. Both TiVo and Blockbuster benefit from this arrangement, Blockbuster gets access into an already established infrastructure to sell its content to and TiVo gets more exposure through Blockbuster's network of stores.
Spending at Blockbuster is up 1.85% from January '08, as MSSI data shows, but this is still a full percentage behind the increase observed at Netflix over this same period.
Customers want access to media and do not really care too much from which company they get it. By teaming up with the subscription based service provider TiVo, Blockbuster sidesteps the crucial pricing question and immediately has a customer base on which to refine their product against.
With year-on-year data showing that the firm is seeing double-digit percentage declines in consumer spending, something had to change. This step is clearly in the right direction.
This data was compiled by the Geezeo Main Street Spending Index (MSSI).