Introduction
Chipotle Mexican Grill (NYSE:CMG) will undergo another period of growth as long as it is able to manage its supply chain and increase its store foot print in a larger number of demographics. Investors have undervalued the growth prospects of the company going forward.
Qualitative Analysis
Source: Information pertaining to CMG came from the shareholder annual reports, shareholder quarterly reports, Chipotle Mexican Grill Investor Presentation, along with YCharts.
Chipotle Mexican Grill has been emphasizing a lot of its cash flow usage on stock buybacks. While this can be seen as a positive catalyst by some, I think the opposite. I think that Chipotle Mexican Grill is forced to initiate share buybacks because it is having difficulties with securing suppliers.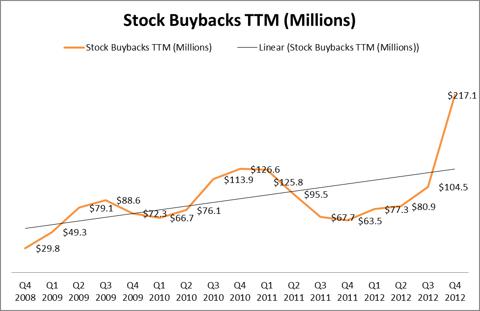 Chipotle Mexican Grill's limited restaurant deployment comes from the limited amount of available supply of organically grown food crops. This assumption can be further backed by CMG's Annual Report, which states:
We do, however, face challenges associated with pursuing food with integrity. For example, current economic conditions have led to naturally raised chicken and steak supply shortages. It can take longer to identify and secure relationships with suppliers that are able to meet our criteria, and there are higher costs and other risks associated with purchasing naturally raised or sustainably grown ingredients. Growth rate and weight gain can be lower for chickens, cattle and pigs that are not fed sub-therapeutic antibiotics and for cattle that are not given growth hormones. Organic and sustainable crops can take longer to grow and crop yields can be lower for organically or sustainably grown produce. Given the costs associated with natural and sustainable farming practices, and recently due to decreased demand as a result of the weak economic environment, many large suppliers have not found it economical to pursue business in this area.
The average Chipotle Mexican Grill restaurant generates a return on investment of 71.8% (refer to table below) within the first year. These kinds of returns are phenomenal, so why is the company growing at a slower rate if each store is able to return 70% of invested capital within one year?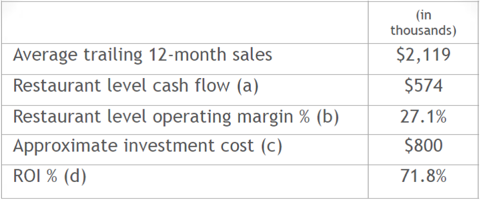 Chipotle Mexican Grill is unable to open more restaurants because of the difficulty in locating, buying, and securing food products for its customers. The whole organic concept of the food is what makes Chipotle Mexican Grill different from its competitors; losing that would make it equivalent to Taco Bell. That being the case, Chipotle Mexican Grill decided to initiate a share buyback program in order to maintain the higher growth rates in net income. The share buybacks is just a stop-gap measure to keep growth from decelerating; by no means is it a practical replacement for opening additional restaurant locations.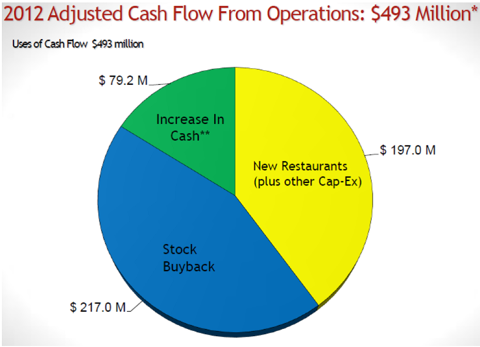 This can be further backed by the way cash flow is being spent. The amount dedicated to new restaurants is 40% of the cash flow. This portfolio allocation of buybacks to new restaurants seems counter-intuitive which further supports my suspicion that Chipotle Mexican Grill's primary downside is its inability to secure long-term supplier relationship for organically grown food.
So what would happen if Chipotle Mexican Grill was able to secure longer-term suppliers for organically grown food? The cash flow would be managed differently with capital expenditures taking up a larger percentage of its cash flow. It would not be difficult for management to justify investments into its store footprint based on the average return on investment each store is able to produce (70%).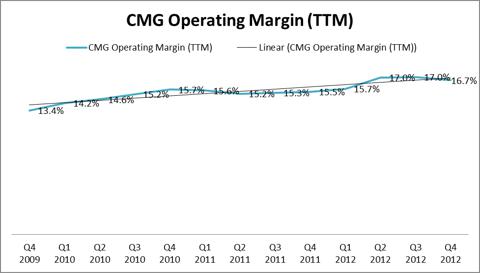 Chipotle Mexican Grill's operating margin has consistently improved over the past three years. Operating margins have increased from 13.4% to 16.7%. The company's profitability is in the 75th percentile in the restaurants industry which implies that Chipotle Mexican Grill is operating closer and closer to full capacity. Chipotle Mexican Grill's operations will continue to maximize the profitability of each of its stores as there is some idle capacity left. Furthermore, profit margins could also improve due to price increases on its products.
The income elastic demand of restaurant meals is 1.61. This means that for each percentage increase in income, consumption of food will increase by 1.61 times. This is an important indicator as CMG's net income from foreign markets will continue to grow and will represent a larger percentage of net income going forward. In 2010, income GDP per capita worldwide was at $7,329-- by 2020 this is forecasted to be at $9,388. Income on a worldwide basis is likely to grow by at least 28% over the decade. This improvement in income will make for a larger number of CMG store visits, and will contribute to CMG's foreign revenue growth by an additional 45% over a 10-year period. CMG's international growth strategy when fully developed could represent a substantial amount of growth going forward.
Overall I am extremely optimistic on Chipotle Mexican Grill as it is highly likely that the company will be able to secure longer-term supplier relationships. When supplier relationships are more fully established, the company will be able to pursue international growth opportunities which will maintain CMG's high growth rates. The current growth rates analysts have estimated do not take into consideration CMG's ability to open a higher number of stores due to better supply chain management of organically grown produce. Chipotle Mexican Grill will be able to open an added number of stores when the supply chain is better managed which would cause a substantial amount of growth in both revenues and net income.
Technical Analysis
Chipotle Mexican Grill has been able to break out of the symmetrical triangle formation while trading in a multi-year up-trend which keeps me optimistic on future stock prices.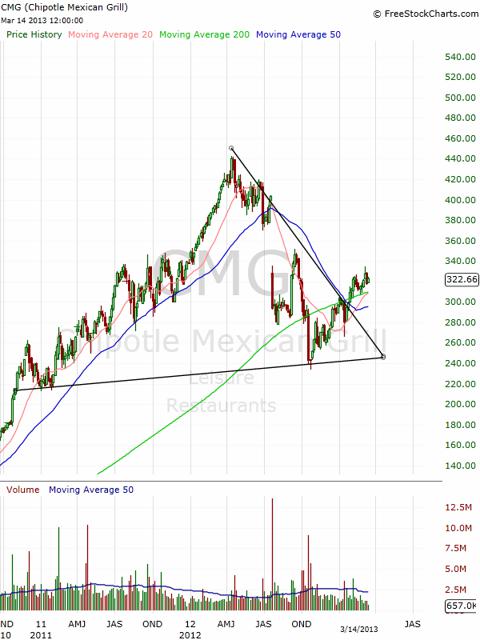 Source: Chart from freestockcharts.com
The stock is trading above the 20-, 50-, and 200- Day Moving Averages. The stock has broken the upper trend line of the symmetrical triangle. The stock will appreciate over the long term.
Notable support is $240.00, $300.00, and $320.00 per share. Notable resistance is $360.00, $380.00, and $420.00 per share.
Street Assessment
Analysts on a consensus basis have high expectations for the company going forward.
| | | | | |
| --- | --- | --- | --- | --- |
| Growth Est | CMG | Industry | Sector | S&P 500 |
| Current Qtr. | 8.60% | 27.00% | -14.50% | 10.70% |
| Next Qtr. | 7.80% | 175.80% | -3.80% | 16.20% |
| This Year | 17.10% | 30.90% | 24.10% | 8.10% |
| Next Year | 20.00% | 17.60% | -10.80% | 12.90% |
| Past 5 Years (per annum) | 36.67% | N/A | N/A | N/A |
| Next 5 Years (per annum) | 20.22% | 14.76% | 14.23% | 9.03% |
| Price/Earnings (avg. for comparison categories) | 31.45 | 17.57 | 12.65 | 21.12 |
| PEG Ratio (avg. for comparison categories) | 1.56 | 1.47 | 0.83 | 2.14 |
Source: Table and data from Yahoo Finance
Analysts on a consensus basis have a 5-year average growth rate forecast of 20.22% (based on the above table). This growth rate is above the industry average for next 5-years (14.76%).
| | | | | |
| --- | --- | --- | --- | --- |
| Earnings History | 12-Mar | 12-Jun | 12-Sep | 12-Dec |
| EPS Est | 1.93 | 2.3 | 2.3 | 1.96 |
| EPS Actual | 1.97 | 2.56 | 2.27 | 1.95 |
| Difference | 0.04 | 0.26 | -0.03 | -0.01 |
| Surprise % | 2.10% | 11.30% | -1.30% | -0.50% |
Source: Table and data from Yahoo Finance
The average surprise percentage is 2.9% above analyst forecast earnings over the past four quarters (based on the above table).
Forecast and History
| | | |
| --- | --- | --- |
| Year | Basic EPS | P/E Multiple |
| 2003 | $ (0.34) | - |
| 2004 | $ 0.24 | - |
| 2005 | $ 1.43 | - |
| 2006 | $ 1.29 | 44.19 |
| 2007 | $ 2.16 | 68.09 |
| 2008 | $ 2.39 | 25.93 |
| 2009 | $ 3.99 | 22.1 |
| 2010 | $ 5.73 | 37.11 |
| 2011 | $ 6.89 | 49.02 |
| 2012 | $ 8.82 | 33.73 |
Source: Data from YCharts
The EPS figure shows that throughout the 2003- 2012 period, the company was able to grow earnings.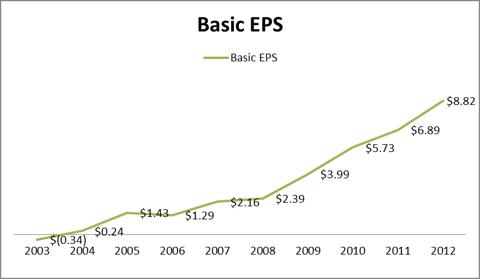 Source: Data from YCharts
By observing the chart we can conclude that the business has a unique business model because it is able to grow earnings even through economic recessions. I also believe that so as long as product supplier relationships improve, the company will generate reasonable returns over a 5-year time span based on the forecast below.

By 2018 I anticipate the company to generate $26.16 in earnings per share. This is because of product growth, improving global outlook, cost management and continued development overseas.
The forecast is proprietary, and below is a non-linear chart indicating the price of the stock over the next 5-years.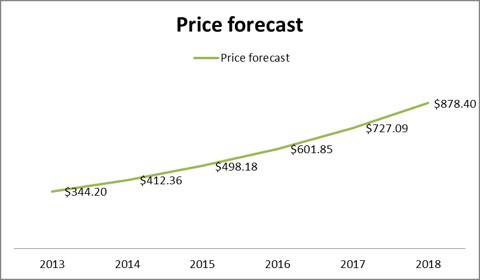 Below is a price chart incorporating the past 7 years and the next 6 years. Detailing 13 years in pricing based on my forecast and price history on December 31st of each year.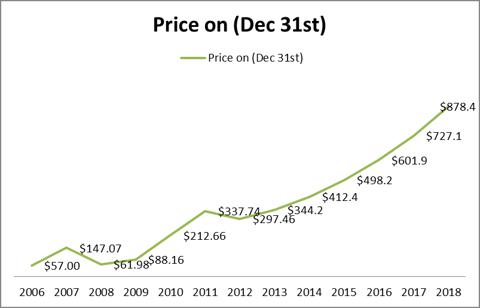 Source: Data from YCharts and price history is from Yahoo Finance.
Investment Strategy
CMG currently trades at $321.35. I have a price forecast of $344.20 for December 31st 2013. The stock is currently trading below valuation, and should be bought at pull backs as a part of a longer-term accumulation strategy.
Short Term
Over the next twelve to twenty-four months, the stock is likely to appreciate from $321.35 to $412.40 per share. This implies 28.33% upside from current levels. The technical analysis indicates a long-term up-trend. While the previously mentioned price forecast using fundamental analysis further supports the assessment.
Investors should buy CMG at $321.35 and sell at $412.40 in order to pocket short-term gains of 28.33% between 2013 and 2014.
Long Term
The company is an exceptional investment for the long term. I anticipate CMG to deliver upon the price and earnings forecast despite the risk factors (competition, regulation, economic environment). CMG's primary upside catalyst is international expansion, supply chain management, share buybacks, and cost management. I anticipate the company to deliver upon my forecasted price target of $878.40 by 2018. This implies a return of 173.35% by 2018. This is a great return for a restaurant stock.
A higher yielding investment opportunity albeit having higher risk is to buy the Jan 17, 2015 calls at the $330.00 strike. The call premiums trade at $50.68. The price forecast for the end of 2014 is $412.36. The rate of return if the calls expire at $412.36 is 62.51%, the option will break even when the stock trades at $380.68.
The risk-to-reward on the option is not compelling. The risk however is somewhat low (0.8 beta).
CMG has a market capitalization of $10 billion; the added liquidity makes this an investment opportunity appropriate for smaller growth oriented investors who have a higher appetite for risk.
Conclusion
Chipotle Mexican Grill will ramp up growth through better supply chain management. In the meantime, stop by Chipotle Mexican Grill and enjoy the burritos.
The conclusion remains simple: Buy Chipotle Mexican Grill.
Disclosure: I have no positions in any stocks mentioned, and no plans to initiate any positions within the next 72 hours. I wrote this article myself, and it expresses my own opinions. I am not receiving compensation for it (other than from Seeking Alpha). I have no business relationship with any company whose stock is mentioned in this article.