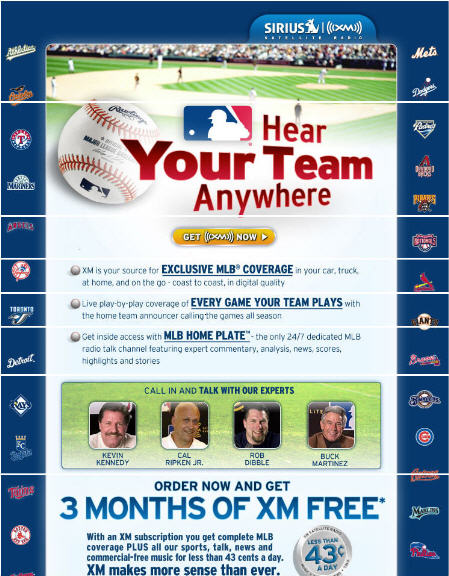 Yesterday, Sirius subscribers that do not have the "Best of XM" package received an email from Sirius XM Radio (NASDAQ:SIRI) asking them to buy an XM radio in order to receive Major League Baseball content. Sirius subscribers were hopeful that a deal could be worked out with MLB to get all the Major League Baseball games via the "Best of XM" package. As recently as March 12th's Q4 2008 conference call, Sirius XM CEO Mel Karmazin said the following in regards to negotiations with MLB,
We are hopeful to work with Major League Baseball to be able to get the games. All of our content partners so far but for Major League Baseball we have been able to work it out and we're having discussions with Major League Baseball about getting the games and we think that will also drive more of the SIRIUS subscribers toward getting that content.
Sirius XM Radio pays Major League Baseball an enormous $60 million dollars a year to broadcast baseball on XM Radio. Based on the recent email advertisement to Sirius subscribers from Sirius XM Radio it would appear that talks with MLB in regards to getting baseball games on Sirius have broken down, thus the need to ask Sirius subscribers to buy an XM Radio in order to get the MLB games. The package that Sirius XM Radio is offering offers 3 months free of XM when buying a XM radio for Sirius subscribers.
Sirius XM Radio's David Frear said on the Q4 2008 call,
Note that since year end, restricted cash on our balance sheet for the benefit of Major League Baseball and NASCAR was released to those parties in satisfaction of obligations that would otherwise be paid from cash on hand. In the case of baseball this means we have pre-paid all of our obligations through March of 2011.
Sirius XM Radio has already pre-paid Major League Baseball through the rest of its current contract with XM and now MLB wants additional money to broadcast the games on Sirius.

It is good to see Sirius XM Radio being more fiscally responsible in not overpaying for content. To date, only a quarter of the "Best of" subscribers subscribe to "Best of XM" due to MLB not being a part of the package. The "Best of XM" package costs an additional $4 per month to Sirius subscribers. Sirius XM Radio must take care to not give that entire "Best of" additional $4 per month to Major League Baseball. Due to the fact that the Mirge interoperable radio is now available for purchase, and for many other reasons, care should be taken to use the bulk of that $4 per month for interest payments as part of the Liberty deal, to pay Sirius XM Radio shareholders, and not to pay Major League Baseball an additional unreasonable amount.
Disclosure: Author holds a long position in SIRI