What does the future hold? Tell me what the market is going to do tomorrow. I get a lot of questions like that, and if I really knew, I would be sitting in a five star resort right now with my laptop computer and a few close friends, not worrying as much about what the future held. I am no expert in technical analysis, or fundamental analysis, but here is my opinion, for what it's worth:
click to enlarge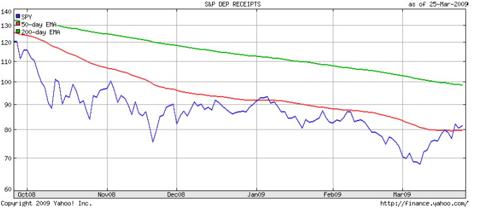 I will use this chart of SPY, the S&P 500 proxy, to represent the entire US stock market.
This six month chart clearly shows the spike downward in October, and the even sharper spike downward in November, the recent bottom around March 13th, and the strong rally since then. The 50 day moving average appears to be flattening out since mid March, but in my opinion, we will test the March lows before moving onward and upward. This should result in a classic "W" bottom forming, and will lead to a possible cyclical bull within the secular bear, which is traditional in years following a steep loss on the S&P. In other words, I expect the S&P 500 index to fall to 675 to 725 in the near term. SH might be a good way to play this for the next few weeks if you agree with this analysis. The index bounced off its 50 day moving average in early January and again in mid February, and even though it pierced it on Monday, I believe that this was due to manipulative buying, and don't expect it to hold above it. I expect the bear market in US stocks to continue until at least 2017, and I believe that buy and hold investors will get slaughtered.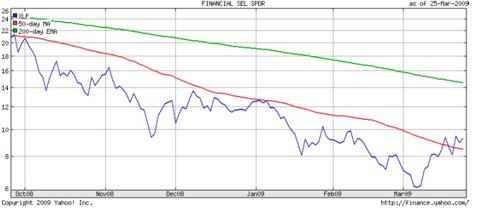 I will use this chart of XLF to represent the entire financial sector, primarily big banks. This has also repeatedly bounced off its 50 day moving average, and recently pierced it for the first time since last autumn's panic, but again, I don't expect that it can hold above it. The 50 day moving average is still slanting straight down with no sign of leveling off, so I don't expect a bottom and a rally in the financial sector this year. The best investment appears to be going short this sector, which is why I am now holding SKF.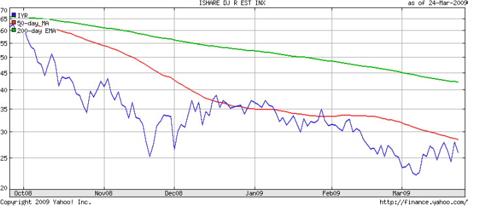 I will use this chart of IYR to represent the entire real estate sector. The 50 day moving average appeared to be flattening out as the stock price held near the 50 day EMA from mid December to late January, but since then, it has resumed its decline. Since mid March, it has rallied higher in very choppy trading, but has not really challenged the 50day EMA, so I would say to steer clear of any real estate stocks at this time, or to short the real estate sector, as I have done using SRS as the vehicle of choice.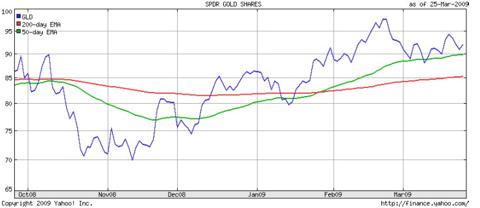 I will use this chart of GLD, the gold ETF, to represent the price of gold in general. GLD has been holding steadily above its 50 day moving average since mid December, and bounced off it in mid January and several times in mid March. The 50 day EMA crossed over the 200 day EMA around February 4th, which is an extremely bullish sign for gold. If you must buy gold in paper form, I recommend GLD (or CEF, which also holds silver) at current prices since it is the most liquid, but in the long run, steady accumulation of pure gold investment coins (not collectible numismatic coins) and gold bars is a far better strategy. Use your imagination to come up with a storage solution. Gold is very compact, and does not corrode.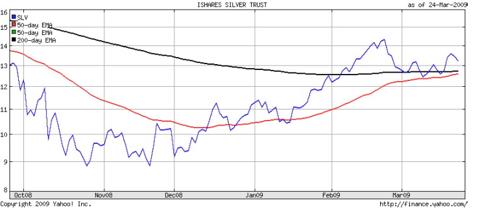 I will use this chart of SLV, the silver ETF, to represent silver prices in general. Silver has been holding above its 50 day EMA since mid December, and crossed over its 200 day EMA in mid February, where it has been holding ever since. The 50 day EMA has been rising steadily since mid December. As this chart shows, the 50 day EMA appears about ready to cross over the 200 day EMA, which is an extremely bullish sign. Also, the 200 day EMA appears to have flattened out in early February and begun a slow rise. If you must buy silver in paper form, I recommend SLV, but in the long run, steady accumulation of 1 oz silver rounds and 100 oz silver bars is a much better strategy. You will be paying a fairly high premium over spot price, ever since September, due to the extreme shortage of silver investment coins, especially the 1 oz rounds, so call several coin dealers to compare price before buying. Silver is much more volatile and more easily manipulated than gold, so be prepared for a longer holding period to lower your risk, and dollar cost average into it over a period of time.
Silver fell much further and much faster than gold in last autumn's panic selling and has been lagging it ever since, but as the above chart shows, it has nearly caught up now, and the difference between the two may be statistically insignificant. If you ever see this divergent pattern again, buy silver at the bottom, or the point of maximum divergence.
Disclosure: I am long SRS and SKF