By Siraj Sarwar
In the low interest rate environment, retirees can achieve far higher returns through investments in high-dividend stocks than by sticking with government bonds. While the conventional wisdom is that such stock investment exposes investors to higher risks than are encountered through the purchase of bonds, much of this risk can be minimized by the careful selection of companies with strong fundamentals indicating the financial health.
Such sound high-dividend stocks worthy of investment are characterized by the presence of good cash flows to give support to dividends. Consistently stable cash flows benefit investors even if the capital appreciation in such stocks tends to be lower. Investment in these kinds of stocks can also have the effect of lowering a portfolio's volatility. In the context of markets turning bearish, having such high-dividend stocks in a portfolio translates into having highly valuable assets.
In this article, I pick three companies with solid and safe dividends for inclusion in an income portfolio. Over the years, these companies are famous for paying high dividends along with a strong track record. Each has displayed solid financials together with a strong investment strategy. These companies have distributed a considerable portion of their cash flows to the investors. With solid year-over-year financial performances they have an ability to raise their dividends in the future. These stocks are BreitBurn Energy Partners (BBEP), Main Street Capital Corporation (NYSE:MAIN) and ConocoPhillips (NYSE:COP).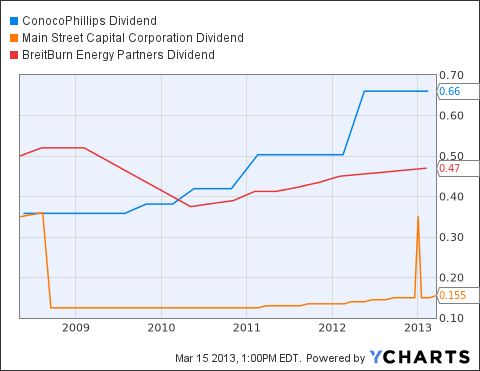 COP Dividend data by YCharts
BreitBurn Energy Partners is an independent oil and gas partnership. At present, BreitBurn offers a quarterly distribution of $0.47 per share. In 2012, the partnership paid cash distributions of $1.85 per unit, yielding at 9.41%. In the last year alone, the partnership was able to increase its distributions by 7.2%.
Recently, the partnership announced full year results with record production and EBITDA results. For the full year, BreitBurn's total production stands at 8,318 Million Barrels of Oil Equivalent (MBoe), an increase of 18% over the past year. Record production and EBITDA represent a strong management and a solid investment strategy.
Over the years, the partnership has displayed strong revenue growth. At the end of 2012, it was able to increase natural gas, oil and Natural Gas Liquids (NGL) sales by 5% over the past year. In the past three years, on average, the partnership's revenues grew by 27%. On a quarter over quarter basis, it managed to increase sales by 60%.
Furthermore, over the years, the Master Limited Partnership (MLP) has been displaying a continuous solid financial performance. For the full year of 2012, the partnership generated record adjusted EBITDA of $295.8 million, reflecting an increase of 31% over the past year. In addition, the partnership's earnings per unit stands at a record $1.79 per unit.
The partnership has shown exceptional cash flows. At the end of 2012, this MLP had generated $192 million in cash flows from operations. The partnership's capital expenditures have been considerably high as the partnership is looking to expand its size by aggressive acquisitions. Over the year, the partnership has completed $600 million of acquisitions.
Moreover, the partnership has exceeded its current year's acquisition target of $300 million to $500 million. Thus, free cash flows were negative at $507 million in the last year alone. BreitBurn is well positioned to execute on its capital program and its growth through its acquisitions strategy. The partnership will make a hefty rise in its distributions as it reaches the goals of its expansion program.
Main Street Capital Corporation is a principal investment firm that provides equity capital and long-term debt to lower middle market companies. Currently, Main Street Capital offers a monthly dividend of $0.155 per share. For the full year of 2012, the company has paid dividends of $1.71 per share, representing an increase of 10%.
In addition, with an exceptional financial performance and business strategy, in the last year alone, the stock gained nearly 34%. The stock's outstanding performance has pressed its dividend, which exhibits solid growth. As another representation of a solid financial position, the company recently paid a special dividend of $0.35 per share.
Over the years, Main Street has shown strong growth in both revenues and earnings. For the past three years, on average, its revenue growth stands at 78.2%. Since 2010, it has been able to grow revenues by $54 million. At the end of 2012, the company revenue stood at $91 million. Recently, the company announced full year results with a total investment income of $90.5 million, an increase of 37% over the past year.
Main Street documented a Q4 distributable investment income of $0.51 per share, demonstrating a year-over-year increase of 33% over the previous year's quarter. Total distributable investment income for the corporation was elevated by 51% from the same quarter last year.
On the whole, 2012 remained a strong year for Main Street Capital. The strength and performance of its investment portfolio provided it with meaningful growth in its net investment income. The company generated over $15 million of net realized gains in 2012. The growth in net investment income enabled it to raise its monthly dividend three times in 2012. Main Street offers one of the best month-to-month dividends in the industry. Main Street looks like a safe monthly dividend stock for an income portfolio.
ConocoPhillips works as an integrated energy corporation. ConocoPhillips is well known for paying solid dividends. At present, ConocoPhillips offers a quarterly dividend of $0.66 per share. In 2012, the company paid cash dividends of $2.64 per/share, yielding at 4.4%. The company is currently sustaining a dividend of $0.66 due to its aggressive assets acquisitions and dispositions strategy. In 2012, the partnership provided a massive annual dividend of $2.64 per share.
Over the year, the partnership has been displaying unmatched growth in both earnings and revenue. Since 2009, the company increased its revenue over $98 billion to $251 billion by the end of 2011. Last year remained quite difficult for ConocoPhillips mainly due depressed commodity prices. The company reported earnings of $8.4 billion which was short compared to earlier year. However, it has been able to achieve its production objective and continues to profitably execute drilling growth projects and programs.
Furthermore, ConocoPhillips has been able to make considerable progress on its asset disposition program. Most recently, the company signed an agreement for the sale of its Cedar Creek Anticline Properties for about $1.05 billion. Additionally, its investment strategy mainly focuses on organic growth. The company has a goal of improving by 3% to 5% of volume with margin growth, and it is a compelling dividend payer.
Disclosure: I have no positions in any stocks mentioned, and no plans to initiate any positions within the next 72 hours.
Business relationship disclosure: Efsinvestment is a team of analysts. This article was written by Siraj Sarwar, one of our equity analysts. We did not receive compensation for this article (other than from Seeking Alpha), and we have no business relationship with any company whose stock is mentioned in this article.