Qualcomm (NASDAQ:QCOM) is probably one of the safest semiconductor names to play in a secular bull market. The company is, as I've stated in my other writings, the world leader in communications chip technology, designs formidable microprocessor and graphics cores for mobile applications, and has one of the healthiest income streams on the planet thanks to its large patent war-chest on everything involving mobile wireless. No matter whose processor or modem any 3G/4G device uses, sales of said device generate healthy, dependable royalty income for Qualcomm.
Better still, Qualcomm takes this cash and fuels its mobile chip development, which has helped propel the company to the #4 semiconductor vendor by revenue in the world: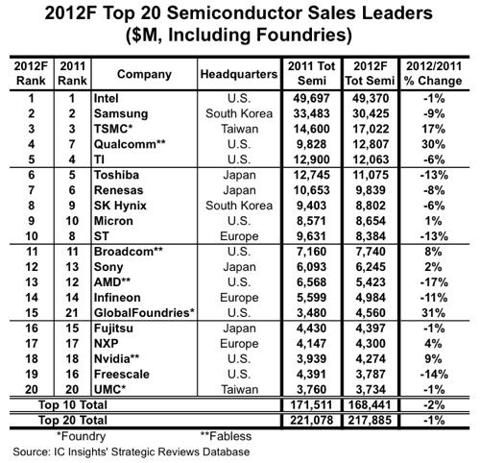 I'll try to make it as simple as possible, since the investment thesis for Qualcomm in the near- to medium-term is, itself, quite simple:
The company recently pulled a classic "beat and raise" in its most recent quarter, revising full year revenue and earnings guidance upwards by $400M and $0.13/share, respectively.
LTE solutions from competitors won't see high volume production until 2014, which gives Qualcomm a clear monopoly at this time. While competitive solutions will drive down ASPs, the market itself is still seeing quite explosive growth, which should translate into continued - albeit muted - growth in modems
Qualcomm's integrated applications processor & modem suite is first rate. Even Samsung (OTC:SSNLF), with its own chip manufacturing and design capabilities, chooses to use Qualcomm in its flagship phones in the US.
The incredibly lucrative 3G/4G device royalty stream, while likely to see some pressure as more developed regions start to offer LTE-only devices (less royalty than 3G), is not under any particular threat and should continue to grow steadily over the next several years (this is Qualcomm's main profit driver).
The stock itself is off of the $68 high printed after the most recent earnings report, and even below the $66 range in which it traded before the earnings beat
The company recently raised its dividend from $1/share annualized to $1.40/share annualized. There's even more room to increase that.
This is a dip that seems very "buyable", especially as I do not believe that the broad market bull run is quite over. We are due for a breather, however, so if you want to get some Qualcomm in your portfolio, scale in on the pullback, or employ my favorite strategy: put selling!
In particular, the May $62.50 puts are quite sellable, since they fetch a premium of $1.41 and expire in ~2 months. Best case, the stock stays above $62.50 and they expire worthless, netting you some nice premium. Worst case, you are forced to buy the stock at $61.09, or a significant discount to Friday's closing price of $64.97. Not a bad deal, right?
A Note Of Caution
While I believe in the fundamentals of the company, I noticed that in the 3/15 session, the stock actually broke through its 50 day moving average on abnormally high volume, which is a critical average to stay above in an uptrend: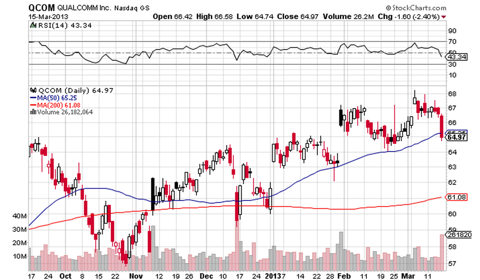 For those of you with more of a swing trading bent, I would actually wait to see if shares can bounce back on high volume. My guess is that the broad market sell-off just indiscriminately took everything down with it, so I wouldn't count on Qualcomm's stock being broken just yet, but it is definitely something that people with shorter-term time horizons should keep an eye on.
Disclosure: I have no positions in any stocks mentioned, but may initiate a long position in QCOM over the next 72 hours. I wrote this article myself, and it expresses my own opinions. I am not receiving compensation for it (other than from Seeking Alpha). I have no business relationship with any company whose stock is mentioned in this article.
Additional disclosure: I'll probably short some puts or initiate a bull put spread.