Actionable Items:
Highest Positive Spread: BlackRock MuniHoldings Insured Fund II
Focus Stock: BlackRock MuniAssets Fund
Last Week's Focus Stock: H&Q Healthcare Investors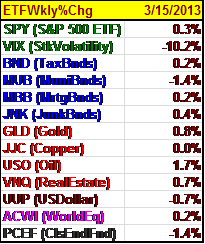 Municipal Sales: For years, Illinois, one of the U.S. underfunded pension systems, misled investors about 40 cents of assets for every pension fund liability. In 2010, New Jersey was accused of misleading investors for funding two of its pension funds.
The SEC has taken this to task. It has sued Illinois and New Jersey for civil-fraud charges. While most states require government accounts standard by law, the SEC can only pursue charges against Illinois for what it's failed to provide investors.
Some Troubles: California's largest municipal bond offerings since 2010 ran into some trouble. The initial offer on its 20-year bonds was 3.38% on Tuesday; however, the offer on Thursday, for the same 20 year bonds, was 3.57%. Both California and Illinois have a "Single A" rating.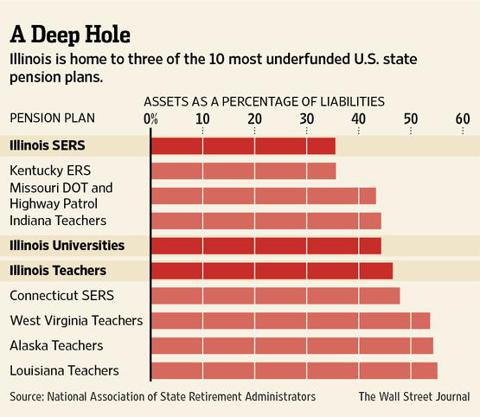 Muni Sales Decrease: Municipal bond funds sales have been slacking. Investors pulled $97 million from municipal-bond mutual funds last week, the first outflow in nine weeks, according to Lipper FMI, and saw another outflow of $113 million this week. ETF MuniBnds (NYSEARCA:MUB) declined 1.4% while interest rates were stable.
Commodity ETFs "went with the flow." Gold (NYSEARCA:GLD), copper (NYSEARCA:JJC) and Oil (NYSEARCA:USO) expanded 0.8%, flat and 1.7%, respectively.
The ETFs: The ETF sectors are arranged in order on 3/15/13. Mid-Cap, Health Care and Financial were leaders. Bonds, Pacific/Asia and Commodities were laggards.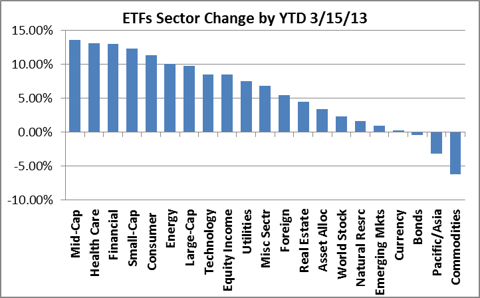 CEF Weekly Fund Type Performance: This week's price rise for CEFs was GenEqFnds which was a gain of 0.5%. The rest of the CEF funds were flat along with cascading to a negative -4.6% for NatlMuniBndFnds.
The debt-oriented CEFs securities were the laggards in the index. HiYldBndFnds, SingleStMuniFnds and NatlMuniBndFnds initially dropped for the week (-3.9%, -4.4% and -4.9%, respectively). Bond funds' NAVs were negative for the week but didn't cause the sharp drop in share prices. PrcNAVSprd dropped. HiYldBndFnds, SingleStMuniFnds and NatlMuniBndFnds dropped to 3.6%, 3.8% and 4.0%, respectively.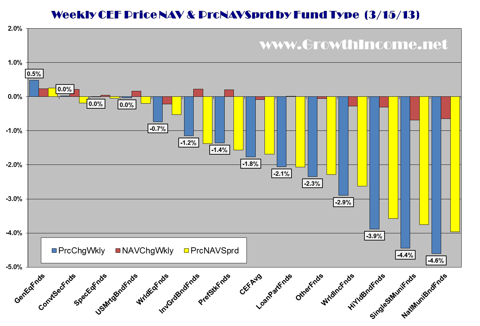 Highest Focus Stock for the Week: This is being held over for the last week. BlackRock MuniHoldings Insured Fund II (NYSE:MUE) was ahead by a price increase of +1.0% and NAV per share declined -1.2%. The PrcNAVSprd was +2.2% (positive number may be a decline for share price CEFs). There is a big buyer in the stock. On average the stock volume was 173,687 on eight days. The average volume for the stock is 74,033 for 3 months. As the volume dries up, the stock will likely decline. Stay in touch with the volume.
Of the 80 NatlMuniBndFnds, only 2 were up in price. The BlackRock MuniHoldings Insured Fund II was up 1.0% and Eaton Vance Tax-Advantaged Bond (NYSE:EXD) up 0.7%. All the rest were down.
The BlackRock II portfolio is $470 million. The structural debt is 27.6% (Variable Rate MuniFund Term Pref.) with non-debt leverage of 11.0%. The effective leverage to assets is 38.6%. The management debt is 1.52% of total assets versus a 1.4% for national munis.
BlackRock MuniHoldings Insured Fund II was 4.9% of its portfolio and is based in one of the critical ill states (Illinois). Black MuniHoldings ex-dividend date was on 3/13/13, long-ago historical.
Eaton Vance Tax-Advantaged Bond will be ex-dividend on 3/20/13 on a quarterly basis. Its dividend is 9.6%
Lowest Spread and Focus Stock for the Week: BlackRock MuniAssets Fund (NYSE:MUA) share price declined -7.9% with a negative -0.6% from its NAV per share. Its PrcNAVSprd decline was -7.3%. Net assets were $504 million and common equity is $501 million. There is no structural leverage, and non-debt leverage is $64 million (11.3%) from assets. The discount is 7.3% and the 52 week low is the same. Aggregated annualized monthly yield is 5.7% and its total taxable equivalent yield is 8.8%. From March 14th to 15th there was 269,300 and 385,400 in trading volume. Average annual 3 months daily trading volume was 84,293. Annual expense is 0.77% of its assets.
Focus Stock & High Price for Last Week: Last two weeks' Focus stock for the week was H&Q Healthcare Investors (NYSE:HQH), which was up 0.4% for the week ended 3/15/13.
Disclosure: I have no positions in any stocks mentioned, and no plans to initiate any positions within the next 72 hours. I wrote this article myself, and it expresses my own opinions. I am not receiving compensation for it. I have no business relationship with any company whose stock is mentioned in this article.