Last Thursday, the Dow logged its 10th-straight day of gains for the first time since 1996, with the help of a better-than-expected jobless claims report. So the question now remains, why have some stocks not participated in the market rally?
One word comes to mind; Litigation. The businesses of Vringo (VRNG), Parkervision (NASDAQ:PRKR), and VirnetX Holdngs (NYSEMKT:VHC) depends a great deal on their abilities to generate revenue through intellectual property and patents. This can be a good or bad thing for investors as such a bull or a bear market has little impact on these stocks.
When a market "correction" (bear market) occurs, these stocks tend to not be as easily influenced as other stocks are. However, when the market is in a full bull mode like we've been experiencing, these stocks can get left to the side. So why is this so?
Because these companies rely so much on generating revenue from their intellectual property, it doesn't really matter what type of mood the market is in. So long as these companies generate a good amount of revenue from their patents, they will be rewarded in due time. However, when things go bad, things can quickly get ugly. Just look at what happened to VHC on Thursday after a jury found that Cisco (NASDAQ:CSCO), did not infringe on VHC's patents. Shares plunged 28% after the news hit and were down another 15% on Friday.
Even though these three patent companies are in totally different litigation points right now (Markman hearing, post trial motions, court case finished), they do share the same elements of seeking compensation for their patents and intellectual property.
You're probably thinking to yourself, so what? These three patent companies are not dependent upon each other and neither are the cases they're involved in. But is that really true? Let's look at the chart of these companies to see if there is more to it than that.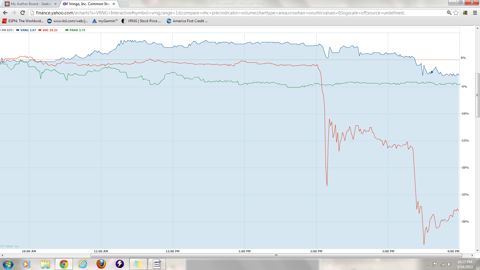 *VHC = Red, VRNG = Blue, PRKR = Green
Correlation
In the world of investing, correlation is a statistical measure of how two or more securities move in relation to each other. What we are seeing now is the correlation of these patent plays coming together. The correlation on the chart is a little hard to see with VHC's massive price swing Thursday, so I'll explain it in more detail.
Before the trial announcement was made Thursday between VHC and Cisco, Vringo was trading nicely for the most part of the day, between $3.10 and $3.15. After the announcement was made that VHC lost the case, Vringo fell simultaneously 10 to 20 cents and ended up closing at $2.95. Do you think that was just a coincidence? I don't think so, and because of the correlation between these stocks, investors should look to play off this strategy if you're not already playing it now.
Correlation Example: Let's take a look at two Biotech stocks in Arena Pharmaceuticals, (NASDAQ:ARNA) & Vivus Inc.(NASDAQ:VVUS). Both are biopharmaceutical companies that engage in discovering, and developing drugs. They share a correlation in that they are both biotech stocks, with similar drugs and medicines.
On November 6, 2012, Vivus reported lackluster initial sales of its weight-loss pill Qsymia, as a lack of reimbursement coverage prompted concerns about the drug's future. Of course, this was not good news with shares dropping over 20 percent. After the news came out, shares of rival pharmaceutical company Arena were down 5 percent at $7.60. So why did shares of Arena slip?
After seeing Vivus's poor results, shares of Arena slumped because investors feared that the same outcome would apply to Arena with its upcoming drug Belviq, which is a weight loss drug like that of Vivus's Qsymia.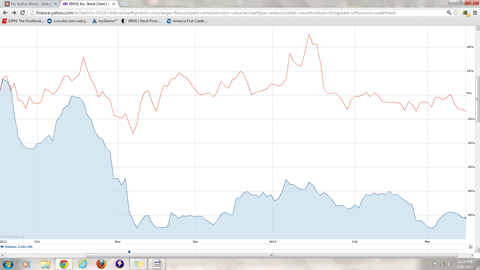 * VVUS = Blue, ARNA = Red
As you can see from the chart, these two biopharmaceutical companies' correlation to one another has quite the effect on each company. I believe the same thing is happening between patent litigation companies in VirnetX, Vringo and Parkervision.
Strategy
Some people call it gambling, while others call it investing. Call it what you want, but remember these speculative plays can be very rewarding-- as well as depressing. After seeing the outcomes of other patent plays, some strategies seem to be emerging in the patent space like I just mentioned.
Another useful strategy investors can pay attention to is playing the Markman hearing. The Markman hearing is one of the most important pieces when companies are going to trial. The Markman hearing is where the court determines what language the jury will hear the case to determine whether or not the patents in question have been infringed upon. Let's look at some examples of Vringo and Parkervision.
The Markman Hearings
The Markman hearing in the case of Vringo vs Google (NASDAQ:GOOG) took place on June 4, 2012, though the ruling did not come out till June 18. On June 15, 2012, the day before the ruling of Markman hearing was announced, Vringo closed the day at $3.67. Then, on June 19, 2012, a day after the favorable Markman hearing was announced, Vringo hit an all time high of $5.45 for an incredible gain around 50%.
On February 20, 2013, Parkervision closed the day at $2.43. Then on February 21, 2013, the day that the favorable Markman hearing was announced in the ongoing patent infringement case between Parkervision and Qualcomm (NASDAQ:QCOM), Parkervision shares skyrocketed 60% to $4.39 before closing the day at $4.21.
Investors should know that the Markman hearing is never an automatic win for the plaintiffs. However, looking over previous Markman cases and seeing how the outcomes turned out shows us that the hearings usually tend to favor the plaintiffs more than the defendants. So use that to your advantage.
Conclusion
When playing with speculative stocks you have to be on your toes at all times, as news at any time can shares send flying or diving in a very short amount of time. On top of that, the correlation effect can give investors patterns of what can happen when news of other patent companies get favorable or unfavorable rulings.
Investors are reminded that this article should be considered general information and to make sure they do their own proper due diligence with regard to the stocks mentioned in this article. Have a great trading day and I look forward to all of your helpful comments and insight.
Disclosure: I am long VRNG. I wrote this article myself, and it expresses my own opinions. I am not receiving compensation for it (other than from Seeking Alpha). I have no business relationship with any company whose stock is mentioned in this article.